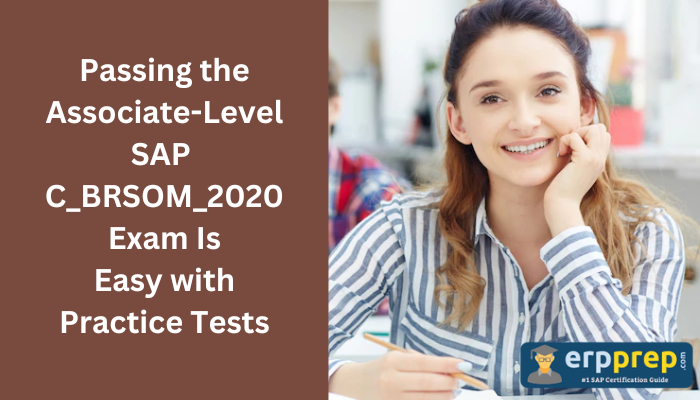 Acing the C_BRSOM_2020 exam and becoming SAP Certified Application Associate - SAP Billing and Revenue Innovation Mgmt. - Subscription Order Management could be your dream. But, the dream comes true with consistent study and rigorous practice test attempts.
C_BRSOM_2020 or the SAP Certified Application Associate - SAP Billing and Revenue Innovation Management - Subscription Order Management certification exam talks about the fundamental and core knowledge you possess in business process and high-level configuration needed to become an SAP Billing and Revenue Innovation Management - Subscription Order Management associate consultant.
What Else Is Proved through the C_BRSOM_2020 Certification?
The C_BRSOM_2020 certification proves that you have foundational knowledge to work as an SAP Billing and Revenue Innovation Management - Subscription Order Management project team member under a mentor's guidance.
What Is the Level of the C_BRSOM_2020 Certification?
This C_BRSOM_2020 certification exam is suggested as an entry-level qualification. Therefore, the C_BRSOM_2020 certification is open to every aspirant keen to learn SAP ERP and its different aspects.
What Are the Syllabus Domains?
The C_BRSOM_2020 exam covers the following domains-
Integration to CC / Integration to CI and SAP Fiori

Order and Contracts

Master Data (Business Partner, Contract Account, and Product Master Data)

Overview
Preparation Tips to Ace the C_BRSOM_2020 Exam:
Earn Knowledge from the C_BRSOM_2020 Training:
Preparing for an SAP exam could be tricky, but learning becomes simple when the candidate joins the C_BRSOM_2020 training and clears his doubts from the SAP experts. You will earn knowledge regarding the syllabus domains from the experts; therefore, whenever you will read the theoretical topics in detail, you won't feel stuck.
Grasp the Syllabus Topics from the Core:
The best thing about the SAP C_BRSOM_2020 syllabus is the domains are divided into almost percentages. Therefore, it requires your attention to answer successfully in the exam hall. If your base and grasp are stronger with the associate-level exam, you can perform well in the exam and do well in your future projects.
Make the Exam Challenge Better with A Study Plan:
If you are ready with a study plan from the beginning, covering the syllabus becomes smoother. Therefore, choose the most productive time from your daily schedule and dedicate two to three hours to learning the syllabus topics. Chalk out the domains you want to cover, and always remember to accomplish your daily goals. When you are dedicated, success comes to you with ease.
Join Groups and Forums for Healthy Discussions:
Joining a study group helps you to raise questions regarding the C_BRSOM_2020 exam syllabus and expand your knowledge. Get to know about valuable study resources and learn about any successful candidate's journey. All of these are vital for any exam preparation. Join groups, communities, or forums for a regular discussion on C_BRSOM_2020 exam-related topics. Regular discussion with other candidates would boost your memory power and help improve your knowledge of the subject matter.
Where Do You Stand in the C_BRSOM_2020 Exam Preparation?
Self-evaluation helps you know where you stand in the exam preparation and helps improve your weaknesses into strengths. You can experience the real exam structure through time-based C_BRSOM_2020 practice tests. Once you are done grasping the syllabus, try to keep track of your preparation through continuous practice. The result sections will highlight the syllabus domains that need more attention. Follow the guidance and work accordingly.
What Is SAP BRIM?
SAP BRIM is a solution for organizations or users to boost the transparency of revenue management with flexible, scalable, and automated billing and invoicing. SAP BRIM (Billing and Revenue Innovation Management) replaces the traditional billing method and revamps it: BRIM makes the billing process flexible and powerful. Therefore, users and organizations can handle high billing volumes without any problems. BRIM can also be integrated into existing billing systems; thus, it is user-friendly.
Key Benefits of Using SAP BRIM:
Change from Selling Products to Selling Services:
With BRIM, you can offer your customers subscriptions and real-time outcomes, usage-based services, while offering support to revenue-sharing models across your extended ecosystem.
Business Model Operations Get Easier:
Implement any variant or blend of prepaid and pay-as-you-go business models with intelligent, rules-based automation of invoicing and accounting methods.
Support High-Volume Processing:
Support the IoT, Internet of Things, and connected devices with automated, high-volume, and transparent processing across usage-event and financial offerings.
Bottom Line:
SAP Billing and Revenue Innovation Management solutions, BRIM, allows organizations to monetize subscription and usage-based business models with agility due to its revenue management and recurring billing capabilities. The solution helps make the total revenue management process more transparent with flexible, scalable, and highly automated software for invoicing, billing, and revenue management. Therefore, if you are skilled with the knowledge of BRIM, you can help your organization and have a better career. Therefore, study hard and earn your associate-level SAP C_BRSOM_2020 certification.