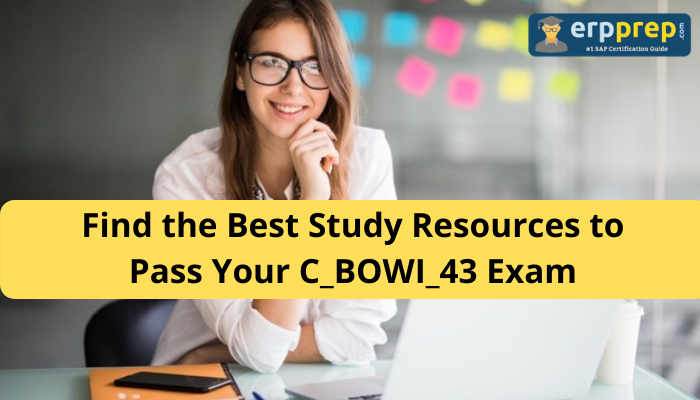 Make the path to SAP BOWI certification with the C_BOWI_43 exam. Pass the exam using the valuable C_BOWI_43 study guide and practice test.
C_BOWI_43 Exam: What Does It Check?
The C_BOWI_43, SAP Certified Application Associate - SAP BusinessObjects Web Intelligence 4.3 certification exam checks if the candidate has proven skills and fundamental knowledge of SAP BusinessObjects Web Intelligence 4.3. The certification also tests if the aspirant can design and maintain queries and reports to help organizations analyze and interpret essential information.
The exam thoroughly measures the candidate's SAP BusinessObjects Web Intelligence 4.3 knowledge to attain different related questions. This includes the making of queries and designing of reports to the analysis of data and document sharing. Having the C_BOWI_43 certification verifies that the candidate is able to use his knowledge practically in projects under any senior consultant's guidance.
What Topics Are Covered under the C_BOWI_43 Exam?
The following topics are covered under the C_BOWI_43 exam-
Drilling Functionality

Web Intelligence (Concepts)

Web Intelligence Document Formatting

BI Launch Pad and Web Intelligence

Web Intelligence Formulas and Variables

Web Intelligence Document Design

Web Intelligence Query Creation and Usage

Query Filters

Presentation of Data in Documents
How to Get Ready for the C_BOWI_43 Certification Exam?
Make the First Move with Registration:
You need to start somewhere, and what could be better than registration. Early registration means your money is invested, and you know the confirmed exam date; therefore, planning becomes easy. Many candidates take the associate-level certifications with ease and rush to take them, but taking at least two months would be of great help.
Make Notes Out of the C_BOWI_43 Syllabus:
Completion of the C_BOWI_43 syllabus could become easier if you follow few steps. You can make a chart and mention the syllabus topics. You should be clear about the regular goals. Don't decide on the spot what you want to study for a particular day. Mention a day-wise chart and write the topic names. Make a habit of studying at least two hours daily; if you could devote more time, that will be highly beneficial. Studying for long hours, the plan fails for many candidates, therefore use your two hours wisely.
Make Notes During C_BOWI_43 Exam Preparation:
You can follow online or offline resources during your study hours. SAP offers valuable book links to get ready for the C_BOWI_43 exam. Whatever material you use, be it online or offline, prepare notes out of it. Some candidates write down the topics roughly when they study anything. But making proper notes has many benefits. You can find out the most important topics with ease within just a few minutes if you mention an index.
Don't Forget to Take Breaks:
Don't think of studying at a stretch during your C_BOWI_43 exam preparation. Hard work is certainly the need of the hour, but that does not mean you can't take a break. If you keep studying back to back, a five-minute walk in the middle will help you boost your energy levels.
Get Engaged in Quality Training:
A candidate must have a source of knowledge from where he can improve the basics and get some advanced-level knowledge. SAP C_BOWI_43 training could be one of the best materials to learn from. You might choose to self-study or rely on some classes, but don't miss the training. Training helps a candidate to enhance their, practical and theoretical knowledge both.
Practice Hard:
A candidate must put special emphasis on practicing. Practicing plays a major role in acing the C_BOWI_43 exam. If you are serious about cracking the exam on your first attempt, assessing, your preparation would be great. Through the C_BOWI_43 practice test, you can get valuable insights about your preparation level and learn about the topics you are unable to attempt. It is always beneficial to explore the actual exam structure and then to face it. Therefore practicing becomes a must, as you become an expert in managing time through practice. Practicing also introduces the actual exam structure, which helps a lot to attempt questions swiftly on the actual exam day.
What Is SAP BusinessObjects Web Intelligence?
Web Intelligence solution is part of SAP BusinessObjects product suite, and it helps in ad hoc and analytical reporting to meet an organization's business needs. Web Intelligence is a Business Intelligence reporting tool that helps business users to analyze data in Data Warehouse. It helps business managers to make business decisions easily and make future plans.
Benefits of Using SAP BOWI:
Using Web Intelligence helps business users to create basic, medium, and complex reports from transactional data in the database. Multiple SAP and non-SAP data sources can be used to create reports in Web Intelligence.
Web Intelligence tool can act as a client tool of BusinessObjects platform and also as a standalone tool for reporting.
The ones above are the practical aspects and features of the Web Intelligence solution, which undoubtedly influence the decision-making and problem-solving method. The user gets to benefit on the
data access control

repeatable framework to support reporting and analytics

widened user autonomy

simplified access to data

completely new insights into data

enhanced productivity and efficiency

powerful report sharing capabilities

system resource usage control

universal tools for different tasks
Concluding Thoughts:
Every SAP certification helps a candidate get specialization about a specific SAP topic; the associate level C_BOWI_43 certification with SAP BOWI knowledge enables you to stay ahead in your career and bag an excellent salary.