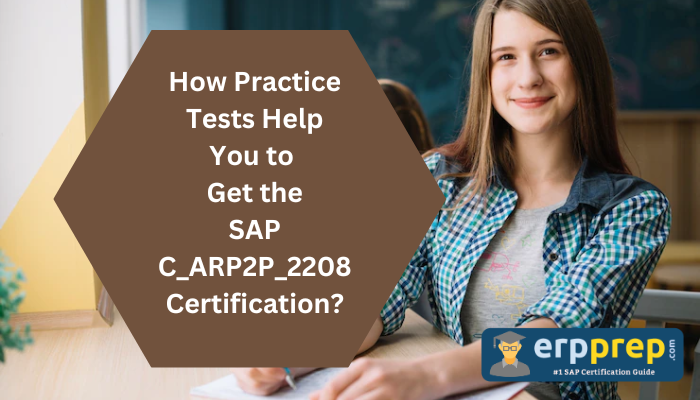 Passing the C_ARP2P_2208 exam requires quality preparation materials, and a practice test is one of them. Therefore study hard and keep on experiencing the actual exam structure with practice tests.
C_ARP2P_2208 or the SAP Certified Application Associate – SAP Ariba Procurement certification exam confirms that the candidate is knowledgeable about the SAP Ariba Procurement solutions. The C_ARP2P_2208 certification proves that the candidate possesses an overall knowledge within the SAP Ariba Procurement application consultant profile and can use his knowledge practically in projects under the guidance of a senior consultant.
What is the Level of the C_ARP2P_2208 Certification?
The C_ARP2P_2208 certification is suggested as an entry-level certification to help consultants to get known with the basics of the SAP Ariba product line. A candidate must note that the 2208 version of the exam is a part of the Stay Current with SAP Global Certification program.
Once a candidate qualifies for the 2022 version of the exam, the candidate must be sure to participate in the next stay current process. The aspirant will need to take the bi-annual Stay Current Assessment for all subsequent SAP Ariba Procurement solution releases via the SAP Learning Hub to maintain the SAP Ariba Procurement business consultant certification status and badge.
What Domains Are Covered Under the C_ARP2P_2208 Certification?
The C_ARP2P_2208 exam covers the following topics-
Administration

Guided Buying

Invoicing

Contract Compliance

Buying

Integration

Consulting
How to Prepare for the C_ARP2P_2208 Certification Exam?
Explore the C_ARP2P_2208 Exam Structure:
Planning and studying for any exam becomes easy when you are aware of the exam structure. Therefore, go through the official page and get details on exam numbers, passing percentages, etc. and plan properly. Facing a multiple-choice exam is completely different from writing a descriptive exam. When you are aware of the exam pattern, learning becomes convenient.
Learn from the C_ARP2P_2208 Syllabus:
You must score high if you want to stay ahead of other candidates. Therefore, study hard and grasp the C_ARP2P_2208 syllabus from the core. Covering the SAP C_ARP2P_2208 exam syllabus could feel a bit tricky, as every domain is almost equal percentage based and plays a vital role in the exam. If your grasp is high with the syllabus domains, chances are high that you will be able to attempt a maximum number of questions.
Study Notes Help in Boosting Your Memory:
Every candidate must develop a writing habit, as they need to memorize the topics for a longer time. The notes are handy during revision, as you don't need to go through the complete syllabus.
Join the SAP Training for the C_ARP2P_2208 Exam:
One must learn the theoretical part from the core, but improving the practical knowledge is vital to ace the C_ARP2P_2208 exam on your first attempt. SAP training helps a candidate improve their preparation with the help of experts.
Review Your Preparation Level with C_ARP2P_2208 Practice Test:
Are you studying well? You must review your learning level regularly. C_ARP2P_2208 practice tests work as the best self-analysis tool, as the aspirants get to attempt the real exam-like questions within a timed situation. Solving practice test questions helps get better with the timed situation. Many candidates fail the C_ARP2P_2208 exam as they cannot attempt the complete set of questions. Rigorous practice will help an aspirant to manage time better while you take the actual C_ARP2P_2208 exam.
Dumps are easily available for the C_ARP2P_2208 exam, but you will miss out on the self-assessment stage if you choose dumps. Therefore, choose C_ARP2P_2208 practice tests and improve your preparation level gradually.
How Is SAP Ariba Procurement Helpful to Users?
When users choose SAP procurement solutions, they are provided with many benefits. SAP Ariba is used for direct and indirect procurement and is integrated with SAP Fieldglass to support services procurement and external workforce management. Users can discover how SAP equips customers to respond quickly and effectively to constantly growing market conditions. So the organizations can move faster and spend better, recovering from disruption and reimagining the business in ways to emerge even stronger.
Procurement Strategy Helps in the Following Manner-
Get A Better Understanding of Spend:
Organizations can manage all kinds of spending by putting decades of SAP expertise and specific solution possibilities to work.
Have Real Business Process Integration:
Organizations can use a source-to-pay process that is truly flawless, integrated end-to-end with pay methods, back-end systems, and trading partners to offer optimal value.
Better Collaboration:
Get past portals to engage in collaborative commerce with a global community filled with current partners and millions of potential new suppliers with SAP Ariba.
Futuristic Actions:
Stay ahead with a future-focused platform of SAP solutions that can scale and grow with your organization, no matter where it stands today or tomorrow.
Bottom Line:
Procurement is one of the vital activities within every organization and operating an effective and efficient supply chain strongly impacts your bottom line. But, doing so is often easier said than done. Luckily, SAP Ariba, a single integrated platform, can help transform the supply chain, procurement, and contract process to help organizations attain higher sourcing savings and manage their spending. Therefore, grab the C_ARP2P_2208 certification to put your best with SAP Ariba.