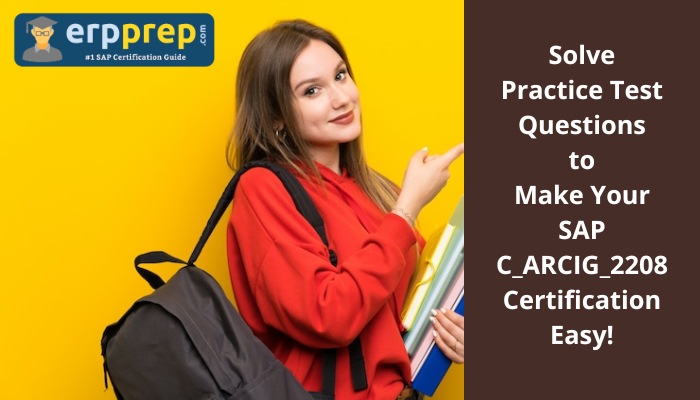 Are you ready enough to take the C_ARCIG_2208 exam? Avail of the practice test to learn more on your preparation level and get the certification with ease.
What Is Validated through the C_ARCIG_2208 Certification?
C_ARCIG_2208 or the SAP Certified Application Associate - SAP Ariba Integration with Cloud Integration Gateway certification exam validates that the candidate possesses the fundamental and core knowledge regarding SAP Ariba applications with each other and with other systems, required to work as an SAP consultant.
What Else Is Proved through the C_ARCIG_2208 Certification?
The C_ARCIG_2208 certification also proves that the candidate has the overall knowledge regarding the subject matters and can implement the knowledge practically in projects to contribute to the success of a project's planning and implementation phases under a mentor's guidance. Previous project experiences could be helpful but not necessarily a prerequisite to passing the C_ARCIG_2208 exam.
Syllabus Topics Covered Under the C_ARCIG_2208 Exam:
The C_ARCIG_2208 exam covers the following topics-
SAP Ariba Cloud Integration overview

SAP Cloud Connector

Custom Mapping Tool & Content-Based Routing

Supplier Lifecycle Performance

SAP Ariba AddOn Simplified Configuration (SPRO)

Master data

SAP Ariba Strategic Sourcing integration Configuration

SAP Ariba Procurement integration Configuration

CI to SAP Ariba Cloud Integration Gateway Migration

SAP Ariba Cloud Integration Gateway Configuration (enablement; access & project creation)

Ariba Network Integration IDOC flows and proxy flows
Preparation Strategy to Pass the C_ARCIG_2208 Exam:
Learn the C_ARCIG_2208 Syllabus Topics from the Core:
Going through the syllabus topics and understanding the percentage distribution is essential when you are doing preparation for the SAP C_ARCIG_2208 exam. But, you will discover that SAP has made the syllabus division in an almost equal pattern. Therefore, grasping the knowledge from each section is crucial. The knowledge you gain from the syllabus would distinguish you from other candidates with a better score, and you would be able to implement the knowledge practically in a better manner.
Don't Rush to Take the Exam:
Though the C_ARCIG_2208 certification is of associate-level, you must take enough time and learn the topics for a complete grasp of the syllabus. You must have a solid plan to cover the syllabus topics with ease. The more strength you have regarding the syllabus topics, the more is the scope to attempt a maximum number of questions. Therefore, keep studying to build your strength on the subject matters.
Stay Focused on Your Schedule:
Completion of the syllabus becomes easier if the aspirant follows a schedule. Making a schedule helps the candidate to use his study time productively. If you make a chart, mention what you want to study on a daily basis till the exam day, and follow the chart during the study, your studying could be focused. Try to work on two to three topics daily, and make a habit of writing the things you are learning. If you follow your schedule rigorously, covering the topics within two months will be possible.
Assess Your Preparation Level through C_ARCIG_2208 Practice Tests:
Some aspirants only devote their time to learning syllabus topics or studying from PDF dumps. But, they face difficulty in the exam hall due to poor tracking of their preparation. Every candidate must cover the syllabus topics and should start exploring quality practice tests. Through the time-based C_ARCIG_2208 practice tests, the candidate learns time management, which is highly needed to clear any multiple-choice based exam. Moreover, C_ARCIG_2208 practice tests offer valuable insights regarding their strengths and weaknesses. If you work hard, you can easily change your weaknesses into strengths.
Join the C_ARCIG_2208 training to Learn from the Experts:
You must learn from the experts to gain practical knowledge regarding the C_ARCIG_2208 exam. When you appear for the SAP exams, having knowledge in both theoretical and practical aspects is important. Therefore, take the help from SAP training.
What Is SAP Ariba Integration with Cloud Integration Gateway?
SAP Ariba Cloud Integration Gateway, blended by SAP Integration Suite, offers you a fast and simple way to connect your back-end systems without the need for multiple adapters. Intuitive self-service tools help to quickly extend, configure and test processes, while automated upgrades and monitoring helps in the easy flow of transactions.
How Could You Help Your Organization with the Use of SAP Ariba?
With this single integration gateway to Ariba Network, you can help your organization in the following manner:
Accelerate end-to-end integration process.

You can connect with all trading partners quickly.

Optimize procurement processes and your supply chain

Get touchless e-commerce transactions.
Benefits of Using SAP Ariba Integration with Cloud Integration Gateway:
Enjoy a Faster Market-to-Cash Cycle:
Understand a lower total cost of ownership and faster return on investment.
Lower the Overall Testing Time:
Automated tools help to lower the overall testing and setup time. It allows the user to go live with integrated transactions on Ariba Network far faster than the older time.
Get Seamless Alignment with SAP:
Enablement on SAP Cloud Platform Integration, along with prebuilt SAP S/4HANA and SAP ERP integration content for 20+ business scenarios, provides seamless alignment with SAP processes and solutions.
Real-time Observation Is Possible:
Automated monitoring helps the users identify problems in real-time to make sure their transactions continue to flow smoothly.
Security Safeguards:
Powerful security safeguards help protect the data and allow you to connect the cloud to your enterprise without changing the corporate firewall.
Get Automatic Upgrades for Maximum Benefit:
All SAP Ariba Cloud apps maintain the software. The user does not need to stay current on the latest enhancements, as they get automatic upgrades.
Bottom Line:
SAP Ariba Cloud Integration Gateway offers powerful features and functionality that have made integration faster and easier than ever before. The solution offers companies a single gateway to integrate their SAP ERP systems, SAP Ariba cloud applications, and Ariba Network with a simple three-step method. It helps the organizations cut costs, increase efficiency, and optimize procurement results. Therefore, get the associate-level SAP C_ARCIG_2208 certification, contribute to your organization's success, and boost up your career as well.