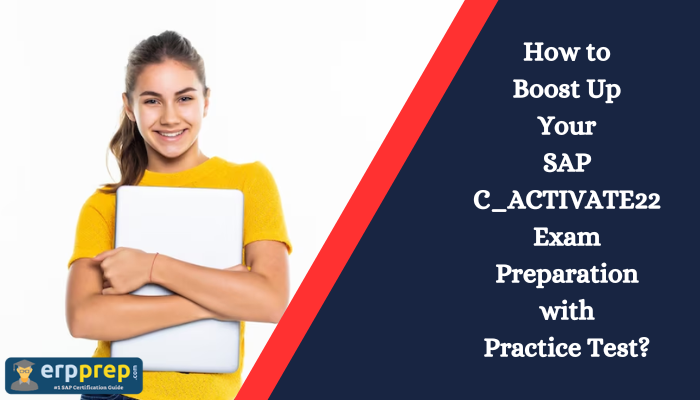 If you want to pass the C_ACTIVATE22 exam and earn SAP Certified Associate - SAP Activate Project Manager certification, solving practice test questions could greatly help. Learn more about the preparation tips and SAP Activate project management skills through this blog.
C_ACTIVATE22 or the SAP Certified Associate - SAP Activate Project Manager certification exam proves an aspirant's knowledge is needed in SAP project management. The C_ACTIVATE22 certificate builds the basic consultant skills and experience, which later get boosted by practical experience during several projects.
What Else Is Proved through the C_ACTIVATE22 Certification?
The C_ACTIVATE22 exam also focuses on proving whether SAP-focused project managers have advanced business skills and the ability to apply tools and methodologies.
Aside from validating advanced communication and presentation skills, the C_ACTIVATE22 certificate also confirms that the project manager possesses skills to manage internal and external stakeholders, basic knowledge of change management processes, and communication of these processes to others.
Earning the C_ACTIVATE22 certification validates that you can successfully manage the end-to-end transition of the project from Sales to Realization, make roadmaps for project execution, and understand testing and quality management. For SAP-related projects, the C_ACTIVATE22 certification confirms that you can apply SAP Activate Methodology.
What Topics Are Covered Under the C_ACTIVATE22 Certification?
The C_ACTIVATE22 exam covers the following topics-
Transition Path "New Implementation SAP S/4HANA Cloud public edition"

Transition Path "Selective Data Transition"

Transition Path Private and Public Cloud

Transition Path "New Implementation SAP S/4HANA on Premise"

Agile Project Planning

Workstreams Overview

SAP Activate Methodology Foundation and Tools

Agile Project Delivery

Introduction to SAP Activate
Preparation Tips to Ace the C_ACTIVATE22 Exam:
Understand the Exam Format:
Before you start preparing, it is essential to understand the exam format. The C_ACTIVATE22 exam is a computer-based exam that consists of multiple-choice questions with a time limit of 180 minutes. You will face 80 questions and must score 65% marks to pass.
Know the Exam Content:
The exam covers various topics, including SAP Activate Overview, Agile Project Delivery, and SAP Solution Manager. Familiarizing yourself with these topics and ensuring you clearly understand the concepts is crucial. The syllabus domains are almost equally divided, so you must focus on all syllabus domains.
Create a C_ACTIVATE22 Study Plan:
Create a study plan that works for you and stick to it. Allocate enough time to cover all the exam topics thoroughly and leave enough time for review and practice exams.
Use SAP Learning Hub:
SAP Learning Hub provides comprehensive training materials and resources to help you prepare for the exam. You can access training materials, practice exams, and other resources through SAP Learning Hub.
Take C_ACTIVATE22 Practice Exams:
Taking C_ACTIVATE22 practice exams is a great way to test your knowledge and identify areas you need to improve. SAP Learning Hub offers practice exams similar to the real exam, which can help you get a feel for the exam format and difficulty level. With continuous practice, you can achieve a high score in the exam.
Join SAP Community:
Joining the SAP community is an excellent way to connect with other professionals who are preparing for the exam. You can exchange tips and advice, ask questions, and learn from others' experiences.
Stay Motivated throughout the C_ACTIVATE22 Exam Preparation:
Preparing for an exam can be challenging, so staying motivated is essential. Set achievable goals and reward yourself when you reach them. Remember, passing the exam will help you advance your career and open up new opportunities.
What Is SAP Activate?
SAP Activate is a methodology developed by SAP for managing and implementing SAP solutions. As a project manager using SAP Activate, you will oversee the entire project lifecycle, from planning and scoping to deployment and post-implementation support.
What Are Your Responsibilities Being A SAP Activate Project Manager?
Plan and Scope:
Define project scope, objectives, timelines, and deliverables. Create a project plan that outlines project activities, resources, and timelines.
Manage Project Team:
Build and lead a project team, including functional and technical consultants, business analysts, developers, and testers. Manage team activities, monitor progress, and meet project goals.
Communicate with Stakeholders:
Communicate project status, risks, and issues to senior management, project sponsors, and end-users. Ensure that stakeholders are informed and engaged throughout the project lifecycle.
Manage Risks and Issues:
Identify, assess, and manage project risks and issues. Develop mitigation strategies and contingency plans to minimize the impact of potential risks and issues.
Manage Change:
Manage change requests and ensure that changes are properly assessed, approved, and implemented. Ensure that changes are aligned with project goals and objectives.
Monitor and Control:
Monitor project progress, track project expenses, and manage project budgets. Ensure that project activities are aligned with project goals, timelines, and budgets.
Deploy and Support:
Plan and execute project deployment activities, including system testing, user acceptance testing, and end-user training. Provide post-implementation support to ensure the solution functions as expected and meets business requirements.
Bottom Line:
In summary, as a project manager using SAP Activate, your role is to ensure that the project is completed on time, within budget, and meets business requirements. You will need strong leadership, communication, and problem-solving skills and a deep understanding of the SAP Activate methodology and solutions. Therefore, when you are C_ACTIVATE22 certified, it will improve your associate-level skills to manage a project and help you get noticed by employers.