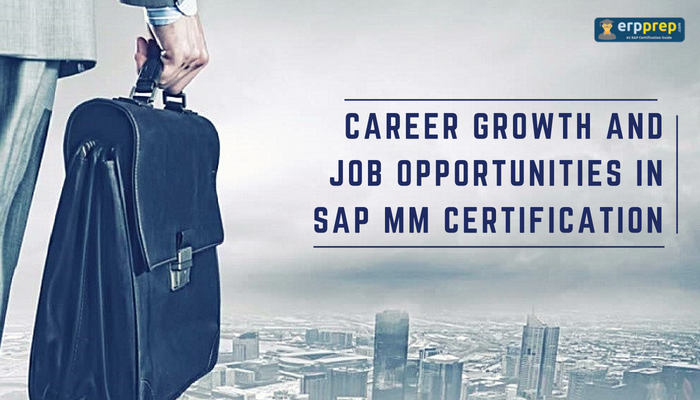 ​
SAP MM is a Material Management Program, operated by "System Applications and Products," i.e., SAP. It is designed to keep a check on every minute detail related to the things the company is dealing with. SAP MM takes care of Procurement & Inventory management at its best.
It's a perfect Career Choice
SAP ERP is having SAP MM (C_TSCM52_67) as the most excellent Certificate, especially in Manufacturing & Trading Industries. If you are looking forward to a career with SAP MM, then it has a proper scope in delivery firms and manufacturing firms which implement SAP MM module.
The Career Options for SAP MM Certified Candidates are:
SAP MM certification provides well-paid jobs in ERP Market in many domains. What's essential for SAP professionals is knowledge of business processes running in material management. The work sectors for SAP MM holders can be:
SAP MM consultants

SAP MM Plant Maintenance analyst

Purchase Executive

SAP MM functional Configurator

Sap End User

SAP Functional Analyst in MM

Team Leader

Material Manager
The above-stated profiles require experience of full lifecycle implantation with proper planning and analytical skills. Many companies seek professionals with 2- 4 years experience. SAP MM is designed to facilitate the following business processes in an organization.
Invoice Verification

Evaluation of Materials

Inventory Management

Purchasing

Consumption-Based Planning

Vendor Master and Material Master Data
Chances of SAP MM Growth and Salary
SAP MM Trainee Consultants or SAP MM Associates with required skills are offered high salary packages. It is the leading logistics area which comprises Production Planning, Warehouse management and modules of sales and distribution. For further career growth, you can upgrade to SAP MM /WM or EWM. There is a global demand for SAP MM consultants. That much said a serious commitment and dedication is required to meet the prevailing standards. Although certification is seldom mentioned on job postings, it will go a long way to establish your worth.
The salary paid to SAP MM holders in the US is around $115,538, and the experience will help in upgrading your salary figures.
Benefits of SAP certification:
Being the most sought-after certification, IT professional having a certification and experience in SAP platform are highly valued. It requires years of experience to gain expertise. It is a difficult certification exam and involves quality training. It is acceptable for small companies to big enterprises.
SAP Certification will help you to secure:
5 Figure Salary

Quality Job

New Job Opportunities

Skill Recognition

Promotion Prospects
SAP MM has two levels of SAP Certified Application Associate
Procurement with SAP ERP 6.0 EHP7

Procurement with SAP ERP 6.0 EHP6
SAP Conclusion
SAP certification requires adequate knowledge of related terminologies, for which you can prepare yourself, For the job, your knowledge and skills matter a lot, along with certification, as having certification is not everything, you must have the knowledge of how to deal with the management related issues.