SAP becomes the most demanding after career option these days. Numbers go upward and down letting in new trends to play the game of the day. SAP as an industry is no different in this regard. SAP scene is constantly changing day by day. To help SAP aspirants understand which direction they should move here. According to, several IT research data about SAP Modules which are in demand that will shape up the rest of year ahead.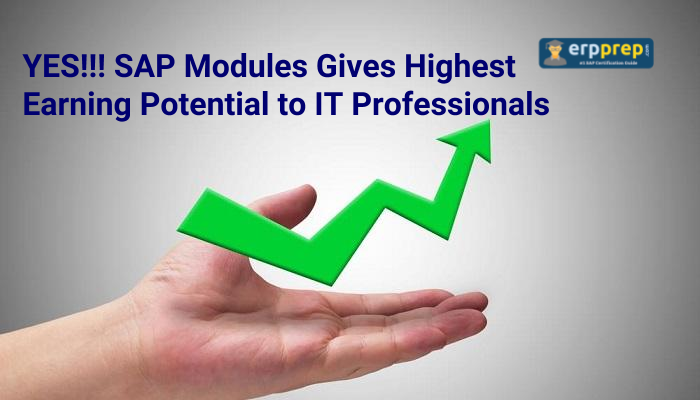 Highest Paying SAP Modules
SAP HANA is a rapidly growing Module and is expected to create more lucrative career opportunities in the coming years. Any large scale organization prefers anyone who develops a skill set in SAP HANA module. This particular module helps in dealing with complex query processing and enables high transaction rates on the same platform.
To give a clear picture of how much a professional can expect after completing HANA module, Indeed.com has mentioned an average amount which around $131,057 per year.
SAP BI/BW is mostly used for the analysis of transaction data information on various companies, so as to update their quality of business performance and make related operations simplified. It reduces the time from minutes to seconds and hence, is in high demand with the high package salary for the qualified. Those who pursue this module can presume a salary approximately $121,915 p.a. The skills that improve pay for this job the most are SAP ABAP, and Advanced Business Application Programming (ABAP), Experience strongly influences income for this job.
SAP PI or SAP Process Integration
SAP PI Certified is in demand in all large organization with a higher level of remuneration. This certificate proves that the candidate not only has the pre-requisite understanding of PI but is also able to apply these skills in a practical manner under the supervision of a project lead. A certified SAP PI professional can expects approximately $131,056 per year as salary.
SAP FI (Financial Accounting)
SAP FI remains a hot functional area as it forms the core of any ERP system. That is mainly because all enterprises are required to do financial reporting. SAP FI Professionals can earn $120,852 p.a on an average.
SAP Fiori becomes more Popular skill as a rapidly growing number of companies are looking to personalize and simplify the user experience for their business applications. Anyone who completes this module hired at $131,056 according to the survey by Indded.com.
SAP SD (Sales and

Distribution)
SAP SD is a recommended for those looking for further advancement in their career graphs. A SAP SD consultant shows to be the key figure in the growth of specifications and elements, implementation of product order to delivery chain processes, managing sales/Distribution operations and all activities linked to order packaging, delivery, and shipping. SAP SD consultant can aspect salary approximately $109,948 p.a.
SAP SCM (Supply Chain Management)
Certified SAP SCM professionals may earn the highly paid job in reputed companies that utilize SAP as a valuable ERP tool for inventing their business processes. With SAP SCM certification, one can seek for the job posts of SCM consultants, trainers, senior consultants, managers, analysts. SCM Certified rank high on the list of highly paid professionals in any company, and the salaries vary by their skills, experience levels and the working methods of specific organizations. SAP SCM Professional earn $109,089 per year.
Besides these seven modules, there are two modules which are predicted to be in-demand. And these are SAP ABAP which helps certified professionals earn around $109,089 per year and SAP HCM where the standard pay scale is approximate $120,800.
If you are aspiring to grow in the SAP industry, choosing any of these modules will help you find an ideal job which will eventually make your career success.