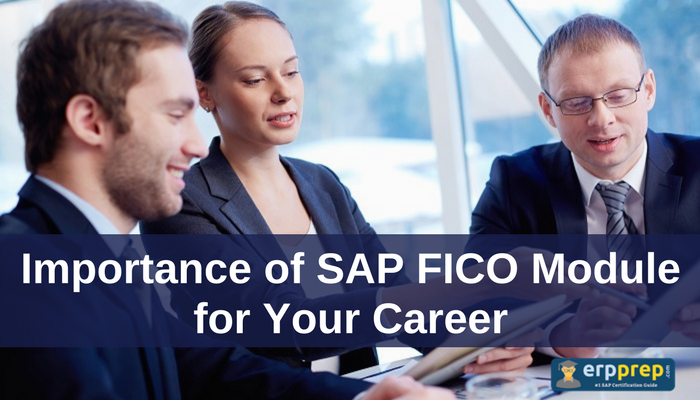 The SAP is one of the global leaders in delivering Enterprise software applications towards better business modules in SAP were determined for various processes. With many modules in SAP being available to Businesses across multiple domains, SAP FICO or Finance and Controlling is one of widely used SAP module. SAP FICO consists of SAP FI and CO configurations, along with SAP FI and CO users.
SAP FICO Module always stays ahead in its demand when compared to finance solutions delivered by other platforms like BAAN, Oracle many more, as it's easily compatible with other systems. Besides, it can integrate with other essential modules like SAP PP, SAP HR and so on.
Skills and knowledge you required as
a SAP
FICO Consultant:
Financial & Management Accounting knowledge

Familiar with the business processes

Passions in providing solutions and supporting the business people

Configuration, researching, and testing skills

Be a patient person
If you don't have an accountancy qualification, it will be the great scope for you if you can get into accountancy job in the company using SAP. It will not only familiarize you with SAP software but more importantly, you will understand and feel the end-users needs.
Roles and Responsibilities of
a SAP
FICO Consultant
The actual role of SAP FICO Functional Consultant will vary based on the type of task they are employed. The assigned project may be SAP Implementation, Upgrade, Rollout, SAP Support, and more. Following are the key roles and responsibilities of an SAP FICO Consultant in an enterprise:
SAP FICO Consultants are known as Business Experts, as they design the SAP implementation solution based on the requirements of your company.

They use the acquired process knowledge to measure the influence of the SAP implementation on the company's processes.

They should also interact with the customers to collect the requirements based on that SAP implementations are customized.

SAP FICO Technical Consultants perform an important role in migrating the data from the legacy system to new SAP ERP implementation.

Simplify the support and deployment of SAP Financials.

Conduct a comprehensive analysis of complex Business process requirements and provide appropriate system solutions.

Perform workshops to meet Business requirements.

Interconnect the client Business requirements, processes, and objectives

Work as a mediator with a client to troubleshoot, investigate, analyses, and resolve software problems.

Deliver consulting services on both new executions and existing support projects.
Importance of SAP FICO in Finance Industry
Companies need to deal with lots of complexity that arises in the Business process. This has enhanced the necessity of software that can help them in conducting their Businesses smoothly and quickly. Appropriate software not only aids you in doing works in the present but also enables you to keep an eye on the future. SAP FICO is a software that provides organizations well-structured and efficient financial as well as controlling mechanisms. These mechanisms include almost every aspect of Business operations to get wide-reaching and in-depth changes with benefits.
Another benefit of the SAP FICO module is that it can be easily integrated with sales and distribution, and materials management and so on. With proper use of SAP FICO software, one can address issues and areas such as Accounts receivable, Accounts payable, Bank accounting, General and other ledgers, Cost and profit centers and Management of different financial assets.
Financial statements, master data, etc. can be transferred or migrated to SAP FICO system. SAP FICO also helps in well organizing the financial management systems. Which results in better record management, and ease in the decision-making process. Managing variances, product costing as well as production cost has become easy. Across processes, there is more activity-based costing. For notable events, now organizations can keep track of costs where profitability and sales reports are being generated using internal or external measurement.
The demand for SAP FICO professional is not restricted to major cities it is shared across the globe. Besides SCM experts, LE, and SAP BASIS the FICO is the most sought SAP module. In these areas, there are limited FICO professionals with strong commercial experience. There has been emerging trend in the volume of SAP FICO work. SAP FICO professionals help the end user to distinguish technical features of the module.
Due to all these factors, companies have started to implement SAP FICO module in their Business and are in continuous search of skilled professionals who can work with this software. To work with this software, it is crucial for an individual to:
Understand the working principle behind financial accounting

Master the fundamental concepts of Financial Accounting

Understand how the finance module integrates with different SAP modules

Learn few core concepts of SAP FICO module like Sub-Ledgers, Accounts Receivable/Payable, Asset Accounting
In today's world, just pursuing SAP Finance certifications without the finance background, it might prove challenging to get a job. Now, SAP customers are more sophisticated, and they are in need of functional specialists with deep expertise in their area of interests.
Hiring Managers are looking for Consultants with deeper knowledge in the functional area. To stand out from the crowd, it is best to gain some domain experience and then go for SAP FICO certification.