SAP mounts the world like a Colossus, forming the backbone of many multi-national companies' attempts to bring rationality to their sometimes massively complex business processes.
The SAP now has approaching 3,88,000 customers in 180 countries, with just over that number on its payroll, supplying solutions to 25 different industries and 12 lines of business, from its original manufacturing roots to aerospace to pharmaceutical to financial services. SAP anticipates that the fast-growing cloud business along with growth in support revenue will drive a higher share of more predictable revenue. SAP expects the total of cloud subscriptions & support revenue and software support revenue to be in a range of 70% – 75% of total revenue in 2020.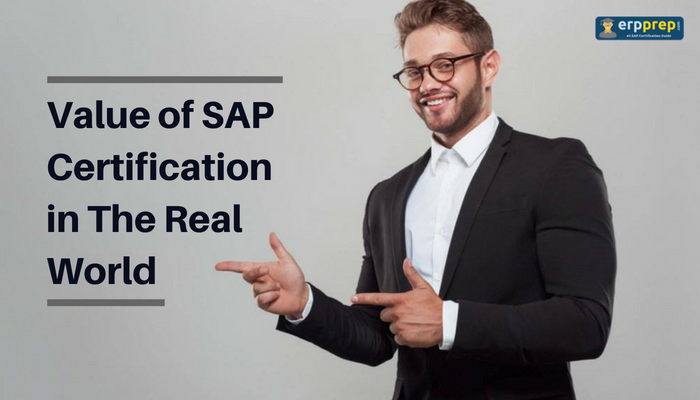 SAP is one of the most demanded technology certifications in today's world. Since it began its journey with inventory management, SAP has come a long way developing different ERP modules for various work processes in organizations. Today, SAP has software systems for almost all the departments in an organization such as SAP SD (Sales and Distribution) module for the sales team, SAP Payroll module for the payroll team, SAP HCM (Human Capital Management) module for the HR department, SAP CRM (Customer Relationship Management) for the CRM department, SAP FICO (Financial Accounting) module for the finance team and more. Also, SAP NetWeaver is developed to provide enterprises a unified system that can manage diverse data from different departments or companies. SAP aims at managing data from a single centralized system, and its number of modules ensures that the purpose is achieved. SAP implementation is at times confusing and complicated and adequate knowledge and experience in handling SAP systems is necessary to manage SAP modules. SAP certification plays an important role in building your expert knowledge in the global market. A SAP certification proves your ability to use SAP systems for managing huge databases of an organization and expert skills on SAP reporting.
Is SAP Certification is W
orth It?
Every person is often inquiring, is SAP Certification worthy of the money and effort? When you have the price scale to acquire this exam and get a certified SAP professional, then move on. It could be an excellent investment in yourself.
Besides the exam cost at least $500, you should also bear in mind the cost of SAP training that is recommended before the certification. This usually means that you ought to think about it in case you would sincerely want to go after the career in SAP area. Take the SAP certification test that could most best suit both of those your requirements.
There is always a conflict between the value of having a certification and getting actual SAP configuration skills. Many people, and particularly the SAP specialists, stated their opinion with regards to the need to have SAP Certification. You could find a lengthy discussion relating to this issue on the Internet. The opinions vary from person to person. Later on, you might discover if you need to get SAP certification or when you should focus on this intention. The stated thread points out that should you be a different IT skilled, will the certification be of any assistance to you?
The IT professionals as of late couldn't figure out if SAP certification can provide you a lot of gains or will it just be a squander of time. Is SAP certification worth it? The benefits that SAP certification may perhaps give mostly rely on the individual himself or herself. With concerns about trying to enter the SAP career path and wanting to get an immediate response to, it may not be quite useful. However, if you are targeting long-term goals and objectives, it may potentially guide you to some much better SAP position.
Should you feel you're an excellent SAP specialist, then you will find seriously no problem about acquiring a certificate? Proudly owning a certification shows your abilities, with no, must go on the trial period for companies. Most SAP gurus would suggest that you go on and get SAP certified.
So, is SAP Certification worth it? The matter remains to be relative from one individual to another. Some people are profitable due to SAP certificate they have. It can be a perfect addition to the list of qualifications. But you will also discover individuals that are not satisfied with the choice. Likely, the top problem to try and do is usually to take a look at the craze and demand for SAP gurus. From there, you may decide whether you need to go for SAP certification or not.
Benefits of Attaining
a SAP
Certification
Different SAP Modules: There are different SAP modules for different organization processes. Users can take up certification for SAP modules that fit their job profile. For example, HR professionals can take up SAP HCM certification, finance professionals can take up SAP FICO certification, and salespeople can take up SAP SD certification and so on.
Validate Your Skill in Global Market: A SAP certification is one of the most popular technology certifications and is known globally. By achieving

a SAP

certification, you validate your SAP skills in the global market.

Strengthen Your SAP Skills: To attain SAP certification one needs to qualify for the SAP certification exam that requires training and adequate SAP skills. Participants strengthen their SAP skills towards achieving the SAP certification.
Improves Job Performance: Adopting SAP systems enable organizations to manage the database and work process of different departments and branches from a single unified system. Thus, SAP certification improves one's job performance towards attaining organizational goals.