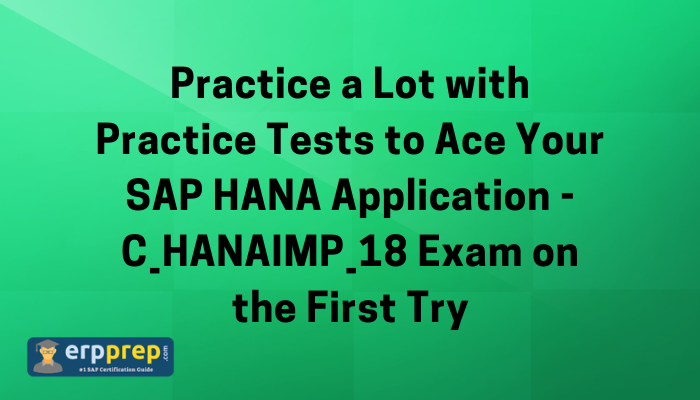 SAP Certification determines a scope of qualification that proves skills across the SAP landscape. The certification is designed to demonstrate the expertise and experience acquired by SAP HANA partners, clients, software users, and professionals desiring to work in an SAP environment. This post outlines the essential details of the SAP HANA Application - C_HANAIMP_18 Certification Exam.
About the SAP C_HANAIMP_18 Certification
The "SAP Certified Application Associate - SAP HANA 2.0 SPS06" certification exam confirms that the applicant possesses the obtained knowledge in the area of the SAP HANA 2.0 based on SPS06 for the profile of an SAP HANA application consultant. This certificate relies on the fundamental knowledge acquired through related SAP HANA training. It is preferably ideally by practical experience within an SAP HANA project team, whereby the consultant applies gained knowledge in this specialist area practically in projects.
What Resources Help You Prepare and Pass Your SAP HANA Application - C_HANAIMP_18 Exam?
SAP exams are difficult, though you can do them on your first try if you take the preparation process sincerely. You need to find the proper resources to bring you success. To pass your SAP C_HANAIMP_18 exam, use the following resources:
1. Training Courses
You can enroll in an instructor-led or self-paced course to help you master the exam concepts in detail. You can find training options on the SAP official website or take up a training course from a trusted platform for the SAP C_HANAIMP_18 exam.
2. Study Guide Books
There are books that you can use during your exam prep. SAP provides HA100 and HA300 books to boost your exam preparation.
3. Gauge Your Preparation Level with SAP C_HANAIMP_18 Practice Test
Practice tests are beneficial for any SAP certification exam preparation. They mimic the actual exam environment and allow you to practice there. Through this, you can know the areas that still require more practice. You'll also learn the exam structure, common exam questions, and how to answer exam questions successfully. The most reliable practice test for your SAP C_HANAIMP_18 exam practice is at Erpprep.com, as they are updated and reviewed by IT professionals.
4. Become a Part of Online Study Forums
Forums available online are helpful as you prepare for your exams. You can ask questions and learn from what others share or ask.
Why Can Practice Test Help You Pass SAP C_HANAIMP_18 Exam?
Using practice tests for SAP C_HANAIMP_18 exam in your preparation process is an effective way to know that you are completely prepared for the SAP HANA Application exam and get a good score. Practice tests provide you with insight into what is waiting for you at the exam and their score is to help you identify the areas you're strong in and those you still need to work on.
Once you finish a practice test, you will immediately get your result. Then you can work on areas you are still weak at. Moreover, you will also become familiar with the exam structure and the types of SAP C_HANAIMP_18 exam questions likely to be asked in the actual exam. So, practice tests are a great study resource to utilize if you've set the goal to pass the exam from your first attempt.
Benefits of the SAP HANA Certification
SAP HANA has many advantages that, unexpectedly, many people have not gotten to understand. The listed advantages will give one a reason to go for this certification.
First and foremost, the speed at which the HANA database outstrips the long-established databases in the market is incredible. Taking it from a point that most businesses are risking to adapt the use of this new method should give one a reason to obtain the certification. The SAP in-memory features are a genuine attraction.
In addition, the speed at which it works has drawn many clients, such as Customer Relationship Management (CRM), SAP Enterprise Risk Management (ERM), Supply Chain Management (SCM), and a few others. The database records a boost in performance by 2 in Online Transaction Processing (OLTP) and a factor of 10 to 100 for Online Analytical Processing (OLAP).
It is, thus, a trustworthy factor to be regarded for the certification since the rate is useful in many processes involved in a business, like; enhanced forecasting, advanced close of a phase, timely conduction of sales, enhanced level of services, and analysis of costs, and more. SAP has long been reliable in informing its clients, and this should also earn trust as an inventor. It is a body that is not comforting but is out to make reliable solutions in technology.
Moreover, SAP has created a less complex system. The system combines CRM, SCM, Enterprise Resource Planning (ERP), Supplier Relationship Management (SRM), and Product Lifecycle Management (PLM). It links them to a new set of applications for buying, organizing the workforce, traveling, transportation, and many other proceedings. It may also link them to typical requirement office and sales support applications.
Earlier utilized databases were valuable as well since they performed standard performance. With SAP, there are notable advancements in that the system's architecture has been streamlined.
It is also attended by the flexibility to alter and modify the effectiveness of enterprise applications. A substantial part of the code has been removed, and there is also a reduction in the maintenance efforts required to be met by the client.
Final Thoughts
The importance of passing the SAP C_HANAIMP_18 exam cannot be ignored. Apart from earning SAP Certified Application Associate - SAP HANA 2.0 SPS06 certification, this exam enormously benefits your career. It qualifies you to the benefit of acquiring skills that make you stand out from others. The value that these skills bring to you, your job, and your employer is infinite. Pursue this SAP certification today, and you'll never regret it!