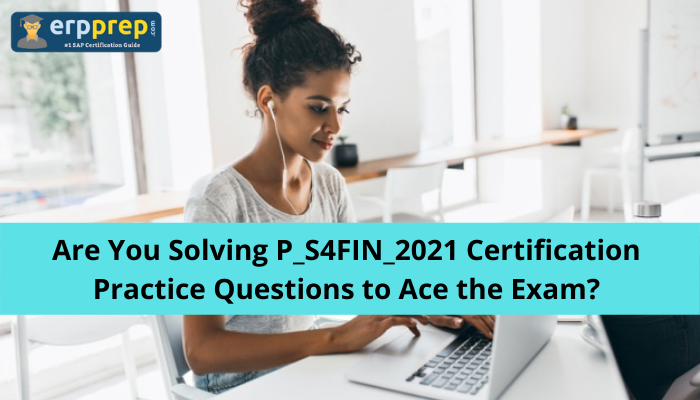 Include the proven P_S4FIN_2021 practice test questions in your study plan to earn the SAP Certified Application Professional - Financials in SAP S/4HANA for SAP ERP Finance Experts (SAP S/4HANA 2021) certification. Go through the exam acing tips and materials.
What Is Proved through the P_S4FIN_2021 Certification?
P_S4FIN_2021 or the SAP Certified Application Professional - Financials in SAP S/4HANA for SAP ERP Finance Experts (SAP S/4HANA 2021) certification exam proves your capacity to independently set up, prepare and lead an implementation project of Financials in SAP S/4HANA.
What Else Is Proved through the Certification?
The P_S4FIN_2021 certification proves that the candidate has the overall knowledge and skills needed to be a qualified supervisor of the team implementing Financials in SAP S/4HANA.
The candidate also possesses the needed actions to act as an application consultant and team member. After passing the P_S4FIN_2021 exam, the professional-level certification will be validated for 5 years.
Details of the P_S4FIN_2021 Exam:
The professional-level P_S4FIN_2021 exam is 80 questions long and you need to get a 55% mark to pass the exam. After passing the exam, you earn the SAP Certified Application Professional - Financials in SAP S/4HANA for SAP ERP Finance Experts (SAP S/4HANA 2021) certification.
What Knowledge Is Helpful to Take the P_S4FIN_2021 Exam?
If you are going to take the P_S4FIN_2021 exam, experience implementing Financial Accounting and Management Accounting for at least five years will help you. Moreover, you must understand the differences and innovations in configuration, architecture, and business process execution with SAP S/4HANA. This knowledge will help you perform all the project preparation and completion steps to convert an SAP ERP system to SAP S/4HANA.
What Topics Are Covered Under the Syllabus?
The P_S4FIN_2021 exam covers the following topics-
System Preparation and Configuration for Conversion of Financials in SAP S/4HANA

Basics of SAP HANA, SAP S/4HANA and SAP Fiori

Conversion and Post-conversion Activities for Financials in SAP S/4HANA

Management Accounting Configuration in SAP S/4HANA

Financial Accounting Configuration in SAP S/4HANA

Architecture Overview of Financials in SAP S/4HANA

Asset Accounting Configuration in SAP S/4HANA
Practical Study Tips to Pass the P_S4FIN_2021 Exam:
The core of the knowledge needed for successfully passing the P_S4FIN_2021 certification exam is the SAP Education curriculum that includes studying, joining training, and learning. However, when you pass the exam, scopes extend beyond what is explicitly within the content of the materials. The study materials help the candidate get an advanced level of familiarity with the configuration, implementation, and execution of SAP Finance business methods with the SAP ERP application.
Learn the Exam Domains from the Core:
You must check out the exam domains and weightage once you decide to appear for the P_S4FIN_2021 exam. When you plan to pass the P_S4FIN_2021 exam, you must remember that completing the P_S4FIN_2021 syllabus should be your primary thought. Focus on learning every domain, as the SAP syllabus pays attention to every domain almost equally. The more you gain the knowledge from the core, the more is the scope you would perform well during the practical applications.
Set A Study Plan:
You should be clear about your daily targets and goals that would help to learn the syllabus topics well. Make a weekly routine and set your intentions and domains or topics you want to cover within a particular time. Following books are essential, and the sources like the S4F01, S4F02 could be of great help. Make short notes while you study to recall the topics with ease during the actual exam. Make these notes in a proper manner, with index and topic names to use them for a fruitful revision.
Your P_S4FIN_2021 Study Plan must Include Short Breaks:
You need to work hard to pass the P_S4FIN_2021 exam. But, don't be in the wrong idea that continuous studying would boost your learning. Therefore, take the much-needed breaks when you feel tired during the preparation or take a break while shifting to a new topic. Focus on having small study hours and use those hours with utmost devotion.
Practice Online with P_S4FIN_2021 practice Tests:
You must go through a self-evaluation method before taking the actual exam. P_S4FIN_2021 practice tests would help a candidate gain valuable insights regarding his strength and weaknesses. You will also become accustomed to the exam structure and time management process while solving these online practice tests. Perform rigorous practice and improve the sections you are unable to score well.
SAP S/4HANA Finance Overview:
SAP S/4HANA Finance solution is SAP's flagship financial program and successor to SAP ERP Financials, and it was released in 2014. The solution boasted many process improvements for the financial world. These include real-time financial close, the introduction of a single source of financial truth, and predictive accounting. SAP S/4HANA Finance was designed to run off the SAP HANA platform and primarily uses the SAP Fiori user interface.
Benefits of Using SAP S/4HANA Financials:
Inventory Management Is Better:
As part of SAP S/4HANA logistics' operations, optimized inventory management provides real-time visibility into stock and spare part levels.
Get Profits:
Product costing across the supply chain offers users visibility of viable products. SAP S/4HANA Finance offers that visibility.
Lower the Total Cost of Ownership:
SAP S/4HANA lowers the complexity of the technology landscape with hardware reduction, maintenance, and software license elimination.
Improve Employee Productivity:
SAP S/4HANA provides easy and mobile access to sales and master data. The contact details lead to easy access to information and better usage of sales resources globally. Moreover, the integrated nature of the suite offers a streamlined and standardized corporate business process and buildup. Automation such as predictive accounting reduces person-hours spent on manual processes frees employees up to do other tasks.
Customer Lead Time Improvement:
SAP S/4HANA Finance offers faster payment runs, loan valuations, and accruals posting when talking about customer lead time. The faster linking period with customers helps to improve customer relations. Lastly, SAP S/4HANA Finance offers a scalable platform for massive data.
Days to Close Monthly Books Reduced:
SAP S/4HANA helps to create reports quickly, so the number of actions needed to achieve a monthly financial close is lowered with SAP S/4HANA Finance.
Bottom Line:
Passing the P_S4FIN_2021 exam needs a lot of experience and effort, therefore study hard and achieve it. The P_S4FIN_2021 certification is proof to the industry that you have the related subject knowledge, and you can apply this knowledge practically in projects.