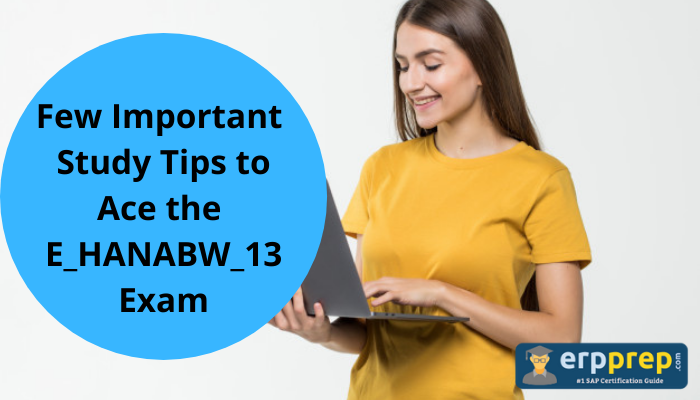 Make the most out of BW on HANA through your E_HANABW_13 certification. Get the most practical study guide and put the work to practice continuously to achieve your dream certification.
What Is Validated through the E_HANABW_13 Certification?
The E_HANABW_13, or SAP Certified Application Specialist-SAP BW 7.5, powered by SAP HANA certification exam, validates that a candidate possesses the knowledge to implement and model SAP BW powered by SAP HANA. The certification is proof that the candidate is suitable for the SAP BW application consultant's profile.
The E_HANABW_13 certification offers knowledge on both the basic knowledge through related SAP BW powered by SAP HANA training and documentation. The certification also works on practical experience earned as an SAP BW team member where the candidate can put his knowledge practically in projects.
Is There Any Prerequisite to Take the E_HANABW_13 Certification?
The E_HANABW_13 certification is a specialist-level exam and requires one to have some necessary skills. A candidate must have knowledge of C_TBW55_73, C_TBW60_74, C_TBW50H_75, C_BW4HANA_20 certifications before taking the exam.
Topics Covered under the E_HANABW_13 Exam Syllabus:
A candidate needs to learn about the following topics:
Data Provisioning into SAP HANA and SAP BW

Relevance of SAP S/4HANA to SAP BW

SAP BW on SAP HANA Data Lifecycle Management

Hybrid Modeling in Mixed Scenarios

Modeling with SAP's Reference Architecture LSA++

Getting started with SAP BW and SAP HANA

Optimization Areas in SAP BW on SAP HANA
What Can You Expect from the E_HANABW_13 Exam?
The E_HANABW_13 exam is 90 minutes long exam that asks 40 questions. The passing mark for the E_HANABW_13 exam is 57%.
Few Important Tips to Get Ready for the E_HANABW_13 Exam:
Always Prioritize the Registration Process:
If you take the registration and start preparing, chances are high; you will be more devoted to the exam preparation. Get the date of the exam at least two months after registration. You might be experienced with SAP, but ample time taking leads to hassle-free preparation.
Uncover the E_HANABW_13 Syllabus:
The preparation for any exam starts with uncovering the E_HANABW_13 syllabus. When it is about focusing on a particular topic, remember that the SAP E_HANABW_13 exam is almost equal percentage-based and asks questions from all topics. Therefore covering every section becomes important.
Set Your Daily Routine to Study for the E_HANABW_13 Exam:
Once your study plan is sorted, you can focus in a distraction-free manner for studying. You must keep at least two hours to study daily; if you devote more time, that will help to cover the syllabus topics faster. But, keep a target of studying and covering two to three topics daily. If you clear the concepts of the scheduled topics, you can move to the next topic.
If you make notes regularly, studying and remembering becomes easier. A well patterned indexed note can also be used during revision time.
Join the E_HANABW_13 Training:
Don't miss out on the scope to learn from experts. Join the training for maximum benefits.
Look for Quality E_HANABW_13 Practice Tests:
The E_HANABW_13 online practice test helps a candidate to assess his performance. Through online practice exams, a candidate gets valuable insights into his preparation. If he works well, he can improve the difficult sections into his strength.
When the initial stages like exploring the E_HANABW_13 syllabus and making a routine to crack the exam are complete, an aspirant's primary focus should shift to joining online E_HANABW_13 practice tests.
It is always better to rely on E_HANABW_13 practice tests because Dumps could be cheaper but only allow a candidate to learn the questions and answers. But taking practice tests would help you to manage your speed within a specific time.
What Is SAP BW on HANA?
SAP BW on HANA Business Warehouse (BW) powered by SAP HANA talks about using BW software suite on top of the HANA database. The functionality explores all the main features of HANA database technologies and uses BW as a modeling tool for analytical reporting and data modeling. BW software helps several databases like Oracle, IBM DB2, Teradata, Microsoft, and many more.
Some Benefits of SAP BW on HANA:
HANA in-memory database capabilities allow excellent performance in analytical reporting and data loading. All BW functions performed in SAP HANA benefit from the in-memory database and calculation engines for faster data processing.

All working BI tools such as BEx, Business Objects BI reporting tools, and Microsoft Excel are directly supported by SAP BW on HANA.

A candidate can perform complex queries with HANA optimized objects, detailed analysis, high data volume, and aggregations efficiently.

SAP HANA offers a high level of data compression. Column storage of tables needs less storage type and offers lower Total Cost of Ownership (TCO).

Business Warehouse Accelerator (BWA) is not needed while using HANA underneath BW.

BW on HANA has simplified data modeling by using in-memory-optimized objects. There is no need to load the BWA index.
Bottom Line:
BW on HANA comes with multiple benefits, and having the E_HANABW_13 certification proves your credibility to use it in your profession, which ultimately boosts your career to a new level.