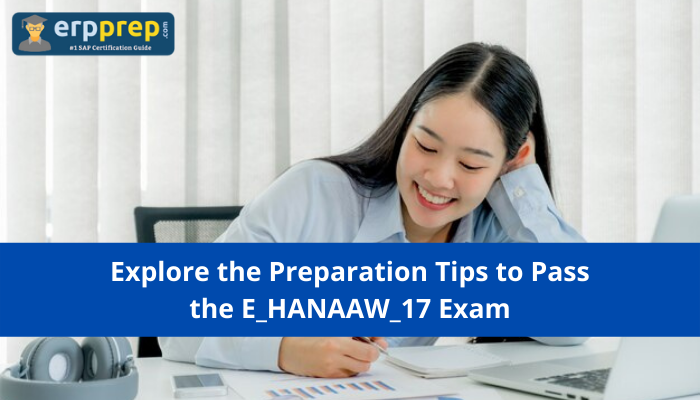 E_HANAAW_17 study guide and practice tests are here to ensure success in the exam and help you become an SAP Certified Development Specialist - ABAP for SAP HANA 2.0.
Overview of the E_HANAAW_17 Certification:
E_HANAAW_17 or the SAP Certified Development Specialist-ABAP for SAP HANA certification exam proves that the candidate possesses the knowledge of programming ABAP for SAP HANA essential to work on the profile of an SAP ABAP development consultant. The E_HANAAW_17 certification boosts up the basic knowledge gained in related ABAP-for-HANA training and documentation. The E_HANAAW_17 certification also helps you to earn practical experience and helps you to work as an SAP HANA team member. A candidate can apply his knowledge practically in projects after passing the E_HANAAW_17 exam.
Who Should Take the E_HANAAW_17 Exam?
The most suitable candidates for the E_HANAAW_17 exam would be ABAP developers looking forward to gaining a basic understanding of ABAP on HANA programming and searching for the reasons to opt for these new features.
Summary of the E_HANAAW_17 Exam:
The specialist level E_HANAAW_17 a multiple-choice exam needed to be taken within 90 minutes. You must answer 40 questions and get 56% marks to pass the exam. After passing the exam, you became an SAP Certified Development Specialist - ABAP for SAP HANA 2.0.
What Topics Are Covered under the E_HANAAW_17 Exam?
The E_HANAAW_17 exam covers the following topics-
Implications of SAP HANA on ABAP Programming

Guided Performance Analysis

Integration of SAP HANA Coding into ABAP Programs

SAP HANA Basics and Technical Concepts

SAP Development Tools for SAP NetWeaver

SAP HANA Information Models and Database Procedures

ABAP Programming based on SAP HANA Artifacts
Steps You Should Follow to Pass the E_HANAAW_17 Exam:
Step 1:
You must explore the exam syllabus and learn about all the topics. SAP syllabus is percentage-based, and every area is equally important. Therefore, you must not skip any syllabus section to attempt a maximum number of questions in the exam hall. Try to learn the topics from the core so that your exam goes well and you can apply the knowledge practically in projects with ease.
Step 2:
If you make a routine or set a goal, you can perform any task swiftly. When it comes to exam preparation, following a routine is a must to ease out your preparation level. You must devote at least two hours daily and finish a pre-decided syllabus portion each day. Making a routine won't help; regularly following the routine is a must. Making short notes are very helpful to revise quickly.
Step 3:
You must learn from the experts through SAP training. SAP exams mean that you must possess practical and theoretical knowledge both regarding the exam topics, and getting the practical knowledge helps in that regard.
Step 4:
Practice! Practice! and Practice more. If you want to become perfect regarding the syllabus sections, practicing is a must. Thus, your exam preparation is incomplete without the help of practice tests. Through the E_HANAAW_17 practice test, a candidate learns about his mistakes and gets a chance to perform better in the next practice exam. So, keep practicing and boost your confidence. You might be unable to score high in your initial practice exam attempts, but take these tests as learning and keep on exploring more.
What Are the Benefits of Getting the E_HANAAW_17 Certification?
The E_HANAAW_17 certification, helps you to get in touch with SAP HANA solution and explore the benefits. SAP HANA offers a rich set of capabilities, including database management, database administration, data security, multi-model processing, application development, and data virtualization.
How SAP HANA Helps Organizations?
Support the transactional and analytical workloads on one instance of data, with built-in machine learning possibilities to augment business operations and simplify your IT environment. Extend the footprint and workloads across on-premise and cloud landscapes with a real-time, transparent gateway to local, virtualized, or distributed data.
Data Modelling:
Get high performance with graphical models fostering integration between stakeholders and have complex analyses in real-time.
Get Multitier Storage:
Manage performance, cost, and storage while maximizing data value and accessibility to control your data effectively in the cloud.
Transactional and Analytical Processing:
Boost any type of data and run many different types of workloads.
Bottom Line:
ABAP (development) for SAP HANA talks about all developments that leverage SAP HANA's power within ABAP-based applications. In this regard, the SAP HANA platform is the primary database underlying the ABAP platform.
The continuous boost in the demand of the certified and well-versed individuals with the ABAP and its different technologies has attracted more students to register for the E_HANAAW_17 certification. The certification makes him skilled in ABAP under experts' direction and opens up multiple career opportunities.