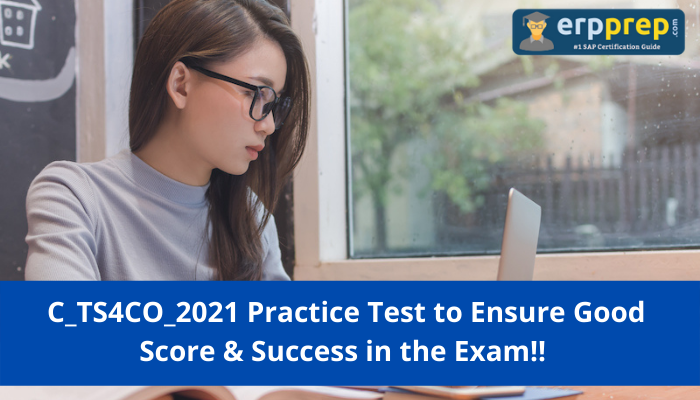 What helps to score well in the C_TS4CO_2021 exam? Hard work and rigorous practice with C_TS4CO_2021 practice tests is the best path to earn success!!!
Overview of the C_TS4CO_2021 Certification:
C_TS4CO_2021 or the SAP Certified Application Associate - SAP S/4HANA for Management Accounting Associates (SAP S/4HANA 2021) certification exam proves that the candidate has the fundamental knowledge and proven skills regarding SAP S/4HANA Management Accounting.
The C_TS4CO_2021 certification also talks about your good overall knowledge within the consultant profile to implement knowledge practically in projects under any senior consultant's guidance.
What Is the Level of the Certification?
The C_TS4CO_2021 certification is recommended as an entry-level qualification to allow consultants to get acquainted within Management Accounting projects. If you are a newbie to the SAP certification field, getting the C_TS4CO_2021 certification could be an ideal starting point for a professional career as a Management Accounting consultant on SAP S/4HANA.
What Syllabus Topics Are Covered Under the C_TS4CO_2021 Exam?
The C_TS4CO_2021 exam covers the following topics-
Profit Center Accounting

Internal Order Accounting

Organizational Assignments and Process Integration

Reporting

Profitability Analysis

Cost Object Controlling

Product Cost Planning

Cost Center Accounting
Proven C_TS4CO_2021 Study Plan to Pass the Exam:
Start the Study Plan with Registration:
The C_TS4CO_2021 certification exam could be tough to pass, but the aim of passing the exam should be your first target.
Where to start and how to start might be a question in your mind, but the preparation of any exam works best if you start it with the thought of already earning it. Make this thought valid by registering yourself for the C_TS4CO_2021 certification exam. Pearson Vue administers the C_TS4CO_2021 certification exam. Selection of the exam date shows your eagerness to take the exam, and proves your sincerity to take the exam. Be careful while choosing the exam center, and opt for the nearby one.
Learn from the C_TS4CO_2021 Syllabus:
The C_TS4CO_2021 syllabus topics are mentioned above, but a candidate must explore the complete syllabus percentage-wise. They must understand the syllabus better to make an effective study plan, they would follow until the exam day.
Take Enough Time to Get Ready:
Don't take the associate-level certification too lightly. Take ample time, at least for two months, to get ready for the exam. One must be devoted to his study hours to attain success in the first go. Find out which are the most productive hours from your daily routine, and study for at least two hours during that time.
Rely on C_TS4CO_2021 Practice Tests:
Should you rely on practice tests to ace the exam on your first attempt? Yes, it is crucial to practice before you face the actual exam. Practicing makes you familiar with the question patterns, and you learn to attempt most questions within the given time through multiple practice attempts. Time-based C_TS4CO_2021 practice tests will give you the feel of taking the real exam. Do, the self-analysis and learn more about the areas you are weak in.
Learn from the C_TS4CO_2021 Training:
Whatever is your learning capacity, getting training from the experts is essential. Training helps to boost your practical knowledge regarding the subject topics.
What Is SAP S/4HANA Management Accounting?
SAP S/4HANA Management Accounting, also known as SAP Advanced Controlling, controls the complete process of Management Accounting for any organization.
The solution works on the HANA platform, which works on cloud technology. It includes the migration of the financial methods to HANA along with all updates in the architecture of Management Accounting. The works include Master data management, Ledger Posting, data model etc.

A very important aspect of SAP S4 HANA Management Accounting is Product Costing which is used to determine the cost of production of the organization.

Like this, another important part is profitability analysis which is used to analyze the internal cost and profitability of the company.
Benefits of SAP S/4HANA Management Accounting:
Enhance Profitably and Cost with Complete Analytics:
Evaluate profit and margin contribution with predictive analytics, real-time reporting, and integrated business planning to manage profitability and analyze customer experience methodologies.
Allow Subscription-Based Revenue Models:
look for the product and service mix that best suits your customers while offering consolidated invoices, managing credit scoring, and resolving disputes with a total view of the customer.
Make Accounting and Financial Close Processes Simple:
Integrate financial and management accounting and profitability data into a single universal journal. This would help to manage joint venture accounting and close your books in real-time with less effort.
Improve Treasury and Financial Risk Operations:
Improve straight-through processing with real-time analysis, audit trails, and compliance reporting to predicting cash flow accurately, mitigate risk proactively and manage liquidity efficiently.
Approve Collaborative and Automated Finance Processes:
Improve working capital and financial health with real-time data to evaluate customer credit risk, streamline billing, resolve disputes, and prioritize collections to reduce days of sales outstanding.
Manage Enterprise Risk and Compliance Efficiently:
Integrate and automate risk management, compliance assurance, and international trade processes to optimize business operations, protect organizational assets, and improve financial performance.
Bottom Line:
Associate-level certifications are building blocks of your career, and what could be better than having an SAP certification? Therefore, grab the C_TS4CO_2021 certification, and implement your SAP S/4HANA knowledge in your career and for your organization's benefit.