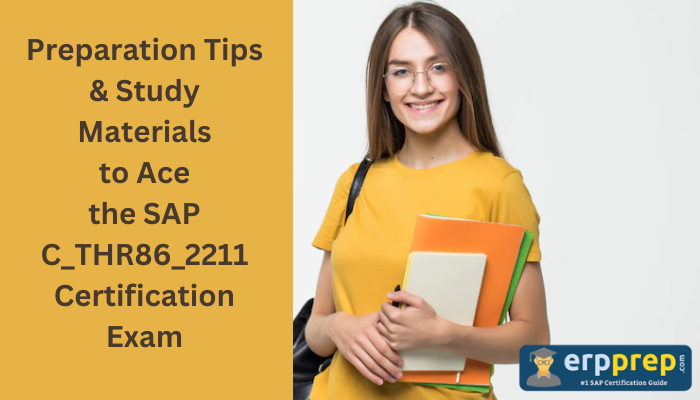 Choosing the suitable study material helps in cracking the C_THR86_2211 exam successfully. Practice tests are valid resources that help in getting the SAP Certified Application Associate - SAP SuccessFactors Compensation 2H/2022 certification in no time.
Overview of the C_THR86_2211 Certification:
C_THR86_2211 or the SAP Certified Application Associate -SAP SuccessFactors Compensation 2H/2022 certification exam is about verifying that you possess the basic knowledge of the SAP SuccessFactors Compensation application.
The C_THR86_2211 certification also proves that the candidate possesses the overall knowledge about the consultant profile of the industry solution. The certification confirms he can implement the knowledge practically in projects under the guidance of an experienced consultant.
What Is the Level of the C_THR86_2211 Certification?
The certification is recommended as an entry-level qualification to allow consultants to get acquainted with the fundamentals of SAP SuccessFactors Compensation.
What Domains Are Covered under the SAP C_THR86_2211 Certification?
The C_THR86_2211 exam covers the following domains-
Set Up Import Tables

Permissions

Implementation Test

Managing Employee-Specific Data

Compensation Plan Guidelines

Reports and Workflows

Plan Settings

Compensation Worksheets

Compensation Statements
How to Prepare for the C_THR86_2211 Certification?
Be Serious from Day 1:
Preparation for the C_THR86_2211 exam should begin with a serious approach from the start, and registration takes you one step forward in the preparation process. Once you register for the exam, your money is involved; therefore, it creates the path for a more serious approach to the exam.
Collect the Quality Study Resources:
Visiting the official page is a must if you want to learn more about the C_THR86_2211 syllabus and books in detail. Go through the syllabus domains; you must thoroughly cover the syllabus with online or offline study resources. SAP exam gives almost equal importance to all syllabus domains; therefore, exploring each section and learning from them becomes essential to attain success. Once you have learned from the C_THR86_2211 syllabus topics, keep on boosting your overall knowledge by solving sample exam questions.
Focus on Your Study Goals:
If you are serious about taking the C_THR86_2211 exam, you should plan it properly from the beginning and never attempt random studying. Random studying would take much time to cover any syllabus section. Therefore, focus more on making a study plan at the beginning. Having a study schedule helps you to stay organized throughout the preparation, and you can mention your daily targets on the schedule.
Take Ample Time and Accomplish Your Daily Goals:
Preparation of two months could be enough for a candidate who is devoted to his schedule. Accomplishing your daily targets becomes essential if you want to cover the syllabus within a specific time. Focus on two to three topics at a time and cover them from the core by learning them and writing important notes. Therefore, stay devoted to your study routine if you want to pass the exam on your first attempt.
Learn from SAP C_THR86_2211 Training for Better Practical Skills:
SAP always suggests combining practical training with study to easily pass the C_THR86_2211 exam. Therefore, join the C_THR86_2211 training, learn from the experts, and move one step forward to get the SuccessFactors Compensation certification.
Practice with C_THR86_2211 Practice Tests:
How could you assure your success in the C_THR86_2211 exam? Having quality study materials and learning about the exam structure could help you stay one step ahead in exam preparation. If you reach the exam hall without prior knowledge, it may land you in trouble. Because you will face the 80 questions for the first time, time management could become a severe issue. C_THR86_2211 practice tests are the best source to get valuable insights into your preparation. You will gain valuable insights regarding your strengths and weaknesses through regular practice, which will help you improve further regarding the exam. Therefore, rely more on the practice test materials over dumps to get maximum scores in the exam.
Overview of SAP SuccessFactors Compensation:
SAP SuccessFactors Compensation solution helps build and manage strategic compensation programs that align with the needs of employees, businesses, and an organization's budget.
Benefits of Using SAP SuccessFactors Employee Compensation:
Align Compensation Programs Better:
Accept compensation programs depending on evolving business needs and strategic goals.

Use forecast and model base, bonus, and LTI plan designs for finding the optimal balance between business methods, competitive pay, and affordability.

Use budgets in ways that support strategic goals and differentiate parts of the organization and employee performance levels.
Manage Global Compensation Budgets Effectively:
Earn visibility into budget utilization across your organization with roll-up reporting. Decision-making gets better with access to relevant employee data and compensation metrics.

Drive consistent execution of compensation methods across the organization with central oversight, guidance, and scope to better compensation programs for local markets.

Create rewards packages to incentivize employees with bonus programs based on team, business, and individual performance goals.

Lower risk with configurable workflows, approval rules, validation checks, and reports that improve process efficiency, enhance budget accuracy, and help assure compliance.
Bottom Line:
Employee compensation is one of your biggest investments and making sure that the investments impact the bottom line is vital. When integrated with the broader talent management method, compensation can engage employees, inspire them to perform better, improve execution, and assure retention of top talent. Therefore, earn the C_THR86_2211 certification to prove your skills, and contribute to the employee management process successfully.