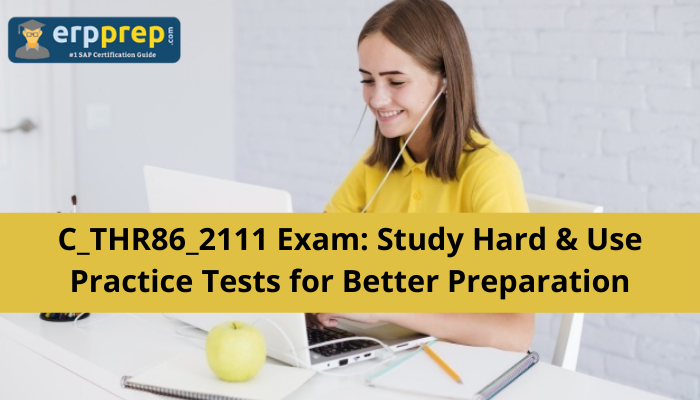 Ensure yourself of passing the C_THR86_2111 exam and becoming SAP Certified Application Associate - SAP SuccessFactors Compensation 2H/2021. Study from sample questions and assess yourself through practice tests for maximum benefits in the exam.
Overview of the C_THR86_2111 Exam:
C_THR86_2111 or the SAP Certified Application Associate - SAP SuccessFactors Compensation 1H/2021 certification exam checks if the candidate possesses the basic knowledge about the SAP SuccessFactors Compensation application.
The C_THR86_2111 certification proves the candidate's basic and overall understanding within the consultant profile of the industry solution to implement his knowledge practically in projects under the guidance of an experienced consultant.
Target Audience for the C_THR86_2111 Certification:
The C_THR86_2111 exam is suggested as an entry-level certification; therefore, any fresher can take the exam. The C_THR86_2111 certification helps consultants get familiar with SAP SuccessFactors Compensation fundamentals.
What Topics Are Covered under the C_THR86_2111 Exam?
The C_THR86_2111 exam covers the following topics-
Set Up Import Tables

Permissions

Implementation Test

Managing Employee Specific Data

Compensation Statements

Compensation Plan Guidelines

Plan settings, Rewards, and Recognition

Reports and Workflows

Compensation Worksheets
How Should You Study for the C_THR86_2111 Exam?
Focus on Learning from the C_THR86_2111 Training:
Learning from the C_THR86_2111 training always helps a candidate to prepare in a better manner. You might be a good student, or you might be part of any coaching group, but learning from training would boost your practical knowledge.
Plan out Your Exam:
Preparation without proper planning and proper intention might land you nowhere or could waste your time. Therefore, get the registration done if you are interested in taking the exam. Fixing a date would give you the exact idea about the time you have and would help to set a schedule for yourself. Taking enough time for at least two to three months would help a candidate get ready easily.
Prepare the C_THR86_2111 Syllabus without Skipping Any Section:
Some IT exams are highly focused on a few topics, so the syllabus leaves the chance to skip a few topics. But for SAP certifications, the syllabus distribution percentage is very close, making every section important for getting questions. Therefore, prepare the core sections to attempt the maximum number of questions in the exam hall.
Set Aside Few Hours for Study:
Making a routine helps to keep us organized for the whole day. Therefore, if you set aside your study hours, you can focus more effectively on the preparation process. Think about the hours you feel most productive and devote two to three hours to study during that time. For the utmost benefit of your study time, utilize these hours in a distraction-free manner.
Boost the Memorization Power:
Only studying is not important for competitive exams; smart and effective studying is the need of the hour. Recalling the complete syllabus is needed during the exam, and a good memory helps in this regard. A candidate can boost up his memory power through a simple habit of writing. Make out notes from the essential topics. These notes are handy during recision too.
Boost Your Confidence through C_THR86_2111 Practice Tests:
Getting familiar with the exam structure is essential; if you are keen to manage time during the exam, knowing the exam structure helps a lot. Regular assessment helps a lot to determine if you are ready to take the C_THR86_2111 exam. Therefore, complete the syllabus topics and enroll for C_THR86_2111 practice test sessions to get insights into your preparation level.
Get the real-exam experience through practice tests and gradually boost your confidence through valuable insights. Many aspirants use the C_THR86_2111 dumps; they study from it but miss the valuable scope of learning about their strengths and weaknesses.
What Is SuccessFactors Compensation?
SAP SuccessFactors compensation management is an SAP software that helps make the best and effective plan for determining the deserved compensation of every employee.
How Does SAP SF Compensation Help Businesses?
SuccessFactors Compensation aids business leaders, compensation managers, and HR professionals to get the best results. The software dramatically helps improve budget accuracy, reduces risk, and ties their greatest expense employee pay to actual business results.
The software is different from personal productivity tools like Excel or other solutions that simply reinterpret Excel spreadsheets. SuccessFactors Compensation works on and simplifies compensation planning, offers visibility and insight for total compensation management, and uniquely allows a pay-for-performance culture.
Here Are Some Benefits of Using SAP SF Compensation:
Get comprehensive insight with Total Rewards statements while using SF Compensation.

Learn more on financial and business goals and compare target metrics to actual results. The method helps to determine payouts using step scale models or linear interpolation.

Plan about business and fiscal results to model different bonus payouts.

Make easy-to-understand reports of bonus calculations for managers and employees.

Training, compensation, and employee data can be combined with additional business data for more comprehensive compensation visibility and solutions.
Bottom Line:
Suppose an organization wants its employees to work with their entire caliber and give their best performance to the Organization. In that case, they must focus on giving them the best of the Compensation. SAP SuccessFactors compensation management software allows that the user is on the right path to assess the right compensation for the employees. Getting the C_THR86_2111 certification helps the certification holder to get attention from potential employers and get a lucrative career with SAP.