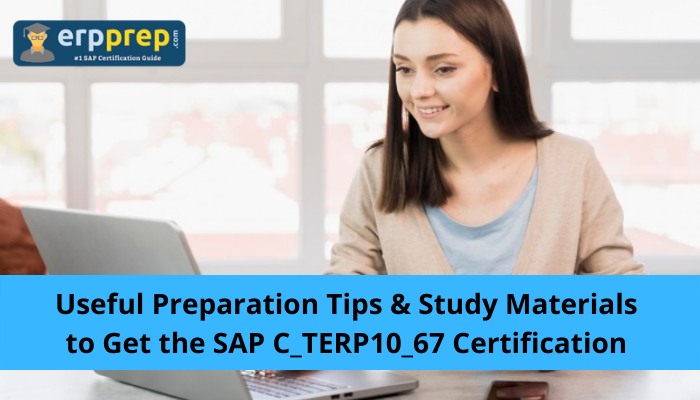 Get information on some of the useful study tips to pass the C_TERP10_67 exam. Grab the sample questions and keep on assessing with the C_TERP10_67 practice test for success in no time.
What Is Proved through the C_TERP10_67 Certification?
C_TERP10_67 or the SAP Certified Application Associate - Business Foundation & Integration with SAP ERP 6.07 certification exam proves that the candidate possesses the knowledge regarding SAP ERP Business Processes Foundations area. Practical knowledge of the solution helps the candidate pass the C_TERP10_67 exam easily.
What Topics Are Covered Under the C_TERP10_67 Certification?
The C_TERP10_67 exam covers the following topics-
Automation of Business Processes and ERP Basics

Human Capital Management

Management Accounting

Project System

Financial Accounting

Internal Orders, Fixed Assets, and Enterprise Asset Management (EAM)

Order to Cash Processing

Plan to Produce Processing

Purchase-to-Pay Processing

Reduced Costs
Study Tips to Pass the C_TERP10_67 Exam:
Prioritize Your Study Goals:
Syllabus completion should be your priority if you pass the C_TERP10_67 exam. Take the preparation slow while grasping the syllabus. Make a study plan for covering the syllabus with ease. You can always make your study plan enjoyable with the help of a chart, where you can write down the syllabus topics and mark them according to your progression. Choose two to three topics or more depending on your time for daily study. Mark the topics for review in a different color. Highlighting the chart would keep you reminded to focus on the lacking sections again. Place the chart at a place where you can see it every morning, and set your intentions accordingly.
Follow Your Study Plan Rigorously:
You should religiously stick to your daily routine once you make your mindset about the C_TERP10_67 exam. Following a study plan means studying for two-three hours daily with a serious approach. You can use online resources like the TERP10 book and make notes while you study. Studying combined with notes making helps to boost your memory.
Don't Deprive Yourself of Taking Breaks:
It is true that you need to work hard, but don't be too hard on yourself. Study without breaks fails for most of the candidates. If you are preparing an entirely new C_TERP10_67 syllabus topic and trying to learn the topic from the core, a steady study could sometimes make your brain hang while learning the new things. So if you feel annoyed during the C_TERP10_67 exam preparation, a short break with a cup of coffee or just a 5 minutes walk in the fresh air would level up your energy again.
Don't Skip the Training:
Who would miss a chance to learn from the experts? SAP training allows you to learn from the experts directly and boost your preparation level.
Check Your Preparation Level with C_TERP10_67 Practice Test:
Stop guessing and get to know your preparation level directly with C_TERP10_67 practice tests. Practice tests are the best tools for self-assessment. Many candidates study from dumps and miss out on having real exam experience.
The aspirants must enroll online for the C_TERP10_67 practice tests to get familiar with the actual C_TERP10_67 exam. The reliable C_TERP10_67 practice tests are designed by experts and help a candidate to get valuable insights regarding his strengths and weaknesses about the exam topics. Practicing continuously helps a candidate to gain confidence gradually regarding all syllabus sections.
Distraction-Free Study Is Essential:
With the rise of technology every day, we can no longer keep ourselves free from distractions. Whatever work we plan to complete, we get lost by our phone messages after some time. But if you are willing to pass the C_TERP10_67 exam on the first attempt, you must study devotedly during the pre-scheduled study hour. If you are entirely devoted to learning, spending only two hours daily for two months could earn you success.
What Is the Benefit of Getting the C_TERP10_67 Certification?
Having the C_TERP10_67 certification allows the scope to work with SAP ERP, which offers multiple benefits to an organization.
ERP Reduces Cost:
ERP software is a substantial investment, but it can actually reduce costs in the long. The user does not need to invest in multiple different systems, including infrastructure, staff, licenses, and support; rather, he can focus on investing in a single efficient SAP ERP solution. Moreover, using a single system reduces training demands for end users.
Better Productivity:
Applying an SAP ERP solution can drastically reduce employees' time and effort for completing their day-to-day work. Moreover, it can reduce or completely cut down daunting manual processes and allow team members to shift their attention to more essential operations.
The SAP ERP solution allows businesses to standardize their own systems and processes, and this further helps improve efficiency and productivity. With SAP ERP most operations are automated, thus helping to improve the productivity of the employees.
Better Collaboration:
If you want your business to grow, you should obtain strong collaboration between the company's departments. Of course, the collaboration needs more effort and time.
Using the SAP ERP solution will streamline the method of collaboration by offering employees from all departments get access to the needed information anytime.
The fact that data from every department is in a single centralized location helps communicate across the entire company much more effectively. Now, every employee can access company data effectively, and the process, in turn, helps employees become more engaged and improve overall productivity.
Bottom Line:
SAP Business Foundation and Integration offer companies comprehensive control, ensuring their trading partner operations flow smoothly and efficiently. With business integration, organizations can reduce shipment delays, foresee supply chain bottlenecks, and gain comprehensive visibility via a centralized view of revenue-driving B2B processes, enabling more end-to-end responsiveness and better customer service. Therefore, get the C_TERP10_67 certification and boost your organization's performance with your SAP BFI knowledge.