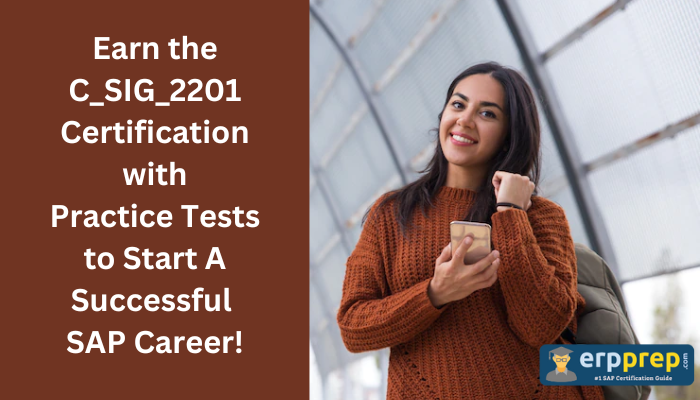 Passing the SAP C_SIG_2201 exam is crucial if you want to implement SAP Signavio in your career or business. Using C_SIG_2201 practice tests with study helps you to become SAP Certified Application Associate - SAP Signavio in no time.
What Is the C_SIG_2201 Certification All About?
C_SIG_2201 or the SAP Certified Application Associate - SAP Signavio certification exam is all about proving your SAP Signavio core knowledge. Having the C_SIG_2201 certification proves that the candidate has the overall knowledge and needed skills to join as a member of the SAP Signavio implementation project team under a mentor's guidance.
What Is the Level of the C_SIG_2201 Certification?
The C_SIG_2201 certification exam is suggested as an entry-level qualification. Once you pass the C_SIG_2201 exam, the certification stays valid for five years.
What Domains Are Covered Under the C_SIG_2201 Syllabus?
The C_SIG_2201 exam covers the following topics-
SAP Signavio Process Collaboration Hub

Business Process Management

SiGNAL

Process Mining

SAP Signavio Process Intelligence

SAP Signavio Process Governance

SAP Signavio Process Manager

Process Modeling
How to Get Ready for the C_SIG_2201 Exam?
Start with Registration and Explore the Syllabus Domains:
Registration should be your first step so you can count the exact time left for the C_SIG_2201 exam and plan it accordingly. Therefore, get registration done with Pearson Vue and be assured that you will take the exam.
As a C_SIG_2201 candidate, you must first go through the C_SIG_2201 syllabus domains. The C_SIG_2201 exam syllabus is mostly distributed in 8 to 12 percentage patterns. Therefore, focus highly on each domain to attempt a maximum number of questions in the exam hall.
Follow A Time Table to Make Your Preparation Smoother:
Setting a particular study time helps you to manage the preparation better. Therefore, prepare to have two to three hours of study time daily. Following a daily routine and accomplishing your goals help you quickly cover the syllabus. Taking ample time helps in learning in a stress-free manner.
Join the SAP Training:
Your grasping power could be high; you might still face challenges while learning the exam domains. SAP offers C_SIG_2201 exam training. You can learn directly from the experts through training, and your theoretical and practical base knowledge will be better.
Practice Tests Help You to Achieve the C_SIG_2201 Certification:
Never forget to evaluate yourself through the C_SIG_2201 practice tests. Practice tests should become your habit to learn more about your preparation level. Practice tests will help you immensely to discover your strengths and weaknesses. As these tests are time-based, they help you to experience the actual exam. Rigorous practicing would allow you to take the exam on time and score better. Try to score high while you practice, but do not get disheartened if you cannot score well. Take these experiences as learning, and prepare better for the more challenging sections.
What Is SAP Signavio?
SAP Signavio solution helps the user to run business process transformations end-to-end and allows the organization to drive strategic change and reinvent the customer experience. The solution enables you to model, analyze, execute, learn proactively, and improve business operations.
How Does SAP Signavio Help Businesses?
The SAP Signavio Process Transformation Suite combines different solutions that help businesses.
SAP Signavio Journey Modeler:
The SAP Signavio Journey Modeler helps businesses understand stakeholder experiences regarding the corner of the business. The modeler focuses on each person's journey, sums up the information, and provides models that can be used to improve different operations.
SAP Signavio Process Collaboration Hub:
The SAP Signavio Process Collaboration Hub supports stakeholders with a method to brainstorm and work together to check what to change and how to use those changes. It includes notifications, commenting, presentations, and more.
SAP Signavio Process Governance:
The SAP Signavio Process Governance solution helps a way to make sure that their functions are compliant with various regulations.
Bottom Line:
The SAP Signavio solutions listed above focus on gathering feedback from stakeholders when planning out a business's daily functions and future. Users can crowdsource business process information and easily determine what works best, what needs to be improved, and what should be cut as the company grows. Therefore start your associate-level C_SIG_2201 certification preparation and have a better SAP career.