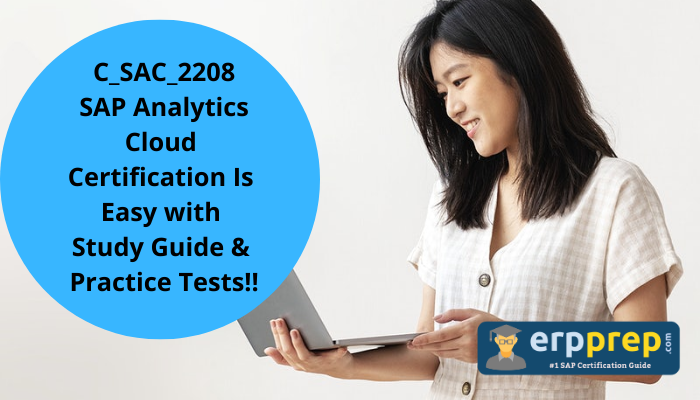 If you want to get the C_SAC_2208 certification, you must follow some proven study tips and incorporate valuable practice tests in your preparation. Learn more about the SAP Analytics Cloud solution through this blog.
Know More About the C_SAC_2208 Certification:
C_SAC_2208, or the SAP Certified Application Associate - SAP Analytics Cloud certification exam, talks about your core and fundamental knowledge needed to work as an associate-level SAP Analytics Cloud consultant.
What Else Is Proved through the C_SAC_2208 Certification?
The C_SAC_2208 certification also proves that the candidate has overall knowledge and technical skills to join as an SAP project team member and implement his knowledge.
Who Can Take the C_SAC_2208 Certification Exam?
The C_SAC_2208 certification is recommended as an entry-level qualification; therefore, any candidate who wants to gain more knowledge regarding SAP Analytics Cloud can opt for the certification.
Details of the C_SAC_2208 Exam:
Passing the C_SAC_2208 exam earns you the SAP Certified Application Associate - SAP Analytics Cloud certification. The associate-level C_SAC_2208 exam is 180 mins long and asks 80 questions, and you must obtain a 57% mark to pass the exam.
What Syllabus Domains Do You Need to Cover During the C_SAC_2208 Exam Preparation?
The C_SAC_2208 exam covers the following topics-
Overview and Core Functionality

Predictive Analytics

Data Preparation: Data Model

SAP Analytics Cloud Analytics Designer and Microsoft Office Integration

Business Intelligence

Content presentation, Sharing, Collaboration

SAP Analytics Cloud Administration, Connections and Integration
Preparation Tips to Pass the C_SAC_2208 Exam:
Check out the Syllabus Weightage Distribution:
The weightage of the syllabus domains decides which topics are essential. But, it does not hold much value regarding the SAP exam syllabus. For SAP exams, most of the syllabus domains are divided into almost equal weightage. Therefore, you must learn all sections to attempt a maximum number of questions.
Get A Study Plan to Cover the Syllabus within Time:
If you want to take the SAP exam, you can't study for unlimited time for obvious reasons. A study plan will help you to cover all the exam topics within a certain period. You get more clarity on the exam preparation and study time once you register for the exam. With registration, you get to know the exam date, and you can plan accordingly.
Quality Studying Is Vital to Ace the C_SAC_2208 Exam:
Devote Yourself to quality studying if you want to pass the exam on your first attempt. Though an associate-level exam, you must take at least two to three months in exam preparation. You must learn all the syllabus topics from the core to pass the exam easily and perform well during the practical applications.
Stay Focused about Your Study Hours:
How much time should you devote to studying? The answer varies according to different candidates. If your grasping power is high, study for two hours daily and learn the domains. If you are slow to learn, you must dedicate a few more hours to exam preparation. But, focus on daily learning and try to study simultaneously every day as a routine. Your consistency regarding the study hours would benefit you in the long run.
Join SAP C_SAC_2208 Training:
Don't miss out on the scope to learn from the experts practically through SAP training. You should be good in both the theoretical and practical aspects of the exam.
C_SAC_2208 Practice Tests Proved to be Better Material than Dumps:
The study material you choose helps immensely in deciding your success time. When it comes to study material choice, practice tests have always been the better choice than dumps. The C_SAC_2208 practice tests are time-based, and when the aspirant keeps solving them regularly, it helps them get accustomed to the actual exam structure. Through rigorous practice with the time-based C_SAC_2208 practice exams, you will get valuable insights regarding your preparation level and become a pro in time management. On the other hand, dumps won't be able to offer insights regarding your strengths and flaws.
What Is SAP Analytics Cloud?
SAP Analytics Cloud is a single solution that combines all the required cloud analytics features. These features include augmented analytics, predictive analytics, business intelligence (BI), and enterprise planning.
Benefits of Using SAP Analytics Cloud:
Support for the Last Mile of Decision-Making:
With SAP Analytics Cloud, equip everyone, even untrained nontechnical business people, with machine-generated analytics and insights, without requiring them to look for it.
Use Conversational Analytics:
Ask questions in a conversational way and data visualizations, get instant answers and explanations with natural language processing and generation.
Use Machine Learning Algorithms:
Use machine learning algorithms to automatically explore relationships, hidden patterns, and outliers in your data and go from insight to faster actions.
Intelligent Predictive Analytics:
Predict potential outcomes and generate forecasts at the push of a button without needing data science skills to free up data scientists for higher-value activities.
Concluding Thoughts:
SAP Analytics Cloud helps the entire organization, but it specifically gives senior leadership a wide, detailed view of company metrics that can predict outcomes.

Decision-makers in organizations can visualize information through easy-to-know dashboards and reports generated by SAP Analytics Cloud. Business intelligence and predictive analytics software offer possible results in different scenarios using complex algorithms throughout the business process.
Therefore, grab the C_SAC_2208 certification for a career boost, and put your SAP Analytics Cloud knowledge to benefit your organization.