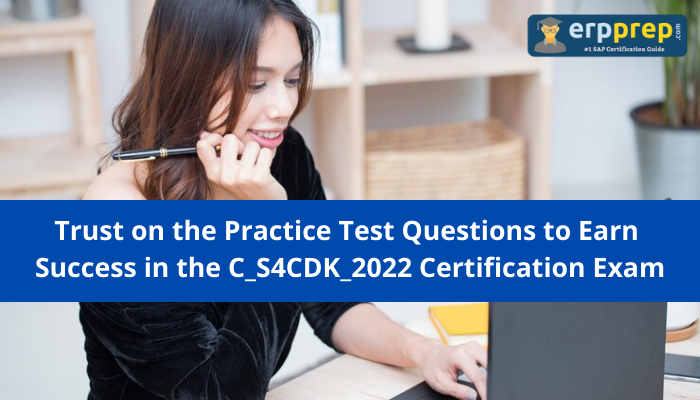 How to speed up your C_S4CDK_2022 exam acing time? If you include quality practice tests and follow a rigorous schedule, you can pass the exam in a minimal time.
What Is Proved through the C_S4CDK_2022 Certification Knowledge?
C_S4CDK_2022 or the SAP Certified Development Associate - SAP Cloud SDK Extensibility Developer certification exam confirms the candidate's fundamental and core knowledge needed to work on the SAP Cloud SDK developer's profile.
The C_S4CDK_2022 certification also proves that the candidate has an overall knowledge and in‐depth technical skills to join as a member of the SAP project team under a mentor's guidance.
What Is the Level of the Certification?
This C_S4CDK_2022 certification exam is suggested as an entry-level qualification therefore any candidate new to the field of SAP can opt for the certification. The certification you get after passing the exam stays valid for five years.
Topics Covered Under the C_S4CDK_2022 Certification Exam:
The C_S4CDK_2022 exam covers the following topics-
Multi-Target Applications Development

SAP S/4HANA Cloud and Extensibility Overview

SAP S/4HANA Cloud Activate Methodology

Performance Testing

Advanced Extensibility Scenarios

Security

DevOps and Continuous Delivery

Basic Extension Apps

Side-by-Side Extensibility

In-App Extensibility
How to Get Ready for the C_S4CDK_2022 Certification?
Make Your Exam Taking Approach Concrete:
If you are keen to take the exam, make your attempt solid with the registration process. While starting the preparation for the C_S4CDK_2022 exam, choose your exam date to plan your study well. Deciding a date for the C_S4CDK_2022 exam through registration will give you an instant boost to take your study path seriously. Once your money is involved in the exam preparation, it is obvious that you become somewhat serious about getting ready for the exam
Cover the Syllabus Topics Thoroughly:
You must cover the syllabus topics from the core to earn easy success in the exam. You must check out the syllabus percentage distribution to understand the importance of each section. But for SAP exams, the 8-12% distribution of the SAP syllabus in most cases makes it mandatory to focus equally on all syllabus sections. You can follow the online resources provided on the SAP official page.
Focus on the Study Schedule with Devotion:
Don't decide the toughness of the exam depending on its level. Though the exam is of associate-level, it could still feel difficult to persons who are new to the field of SAP. Therefore, create a study schedule at the beginning of your preparation that would have all your daily plans and topics noted in a single place. Try to accomplish these daily goals with utmost devotion for a hassle-free preparation at the last moment.
Make Notes from the Essential Topics:
You must write down the important points from the syllabus topics for memorizing the topics better. If you make these notes in an indexed pattern, you can use them later for a faster revision.
Join the SAP Training:
You must be good with theoretical knowledge as well as with practical knowledge. Joining the C_S4CDK_2022 training helps in maximizing your practical knowledge regarding the exam objectives. The netter is your practical knowledge, the better is the scope to perform better in future projects.
Take C_S4CDK_2022 Practice Tests Seriously:
Studying and working hard doesn't guarantee success. C_S4CDK_2022 practice tests could help you out to pass the exam with ease. Keep continuous track of your preparation level through these mock exam attempts. The main purpose of these C_S4CDK_2022 practice tests is to make you familiar with the exam pattern. Moreover, you get valuable insights regarding your strengths and weaknesses through these time-based practice tests. Try to score well in the practice exam attempts to ensure a good score in the actual exam attempts. Don't get tense if you are unable to score well, rather focus on the insights and work hard to score better.
What Is SAP Cloud SDK?
The SAP Cloud SDK is a toolset that helps interact with SAP solutions when developing cloud-native extension applications. SAP SDK allows you to integrate SAP solutions such as SAP S/4HANA Cloud, SAP SuccessFactors, and SAP C/4HANA in your Cloud-native applications and deliver those applications continuously and effectively.
Benefits of Using SAP Cloud SDK:
Integrate and Extend SAP Solutions:
SAP Cloud SDK makes it easy to connect and communicate with many SAP solutions. Client libraries for solutions and services such as SAP S/4HANA take care of low-level tasks such as authentication and allow developers to focus on their business logic.
Abstraction for SAP Cloud Platform:
SAP Cloud SDK provides a layer of abstractions for features of SAP Cloud Platform such as logging, multitenancy, and connectivity. It also includes project templates for different execution environments and SAP Cloud Platform implementations.
Bottom Line:
Associate-level certifications are the path to prove your knowledge regarding a specific solution and get a better job. The C_S4CDK_2022 certification allows you to demonstrate SAP S/4HANA Cloud SDK knowledge and maximize your organization's potential. Therefore, get ready and pass the exam.