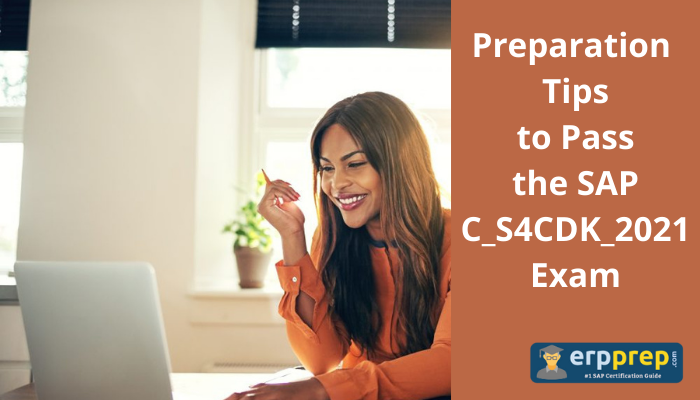 How to get your C_S4CDK_2021 certification? Getting the C_S4CDK_2021 certification is easy if you have a study guide and practice test at work.
What Is Validated through the C_S4CDK_2021 Certification?
C_S4CDK_2021 or the SAP Certified Development Associate-SAP Cloud SDK Extensibility Developer certification exam validates that the candidate is versed with the fundamental and core-level knowledge needed for the SAP Cloud SDK developer profile.
This C_S4CDK_2021 certification also confirms that the candidate has the overall knowledge and in‐depth technical skills to become part of any project and contribute to any project's success under any senior consultant's guidance.
What Is Covered Under the C_S4CDK_2021 Exam Syllabus?
The C_S4CDK_2021 exam covers the following topics-
Multi-Tenancy

SAP S/4HANA Cloud and Extensibility Overview

SAP S/4HANA Cloud Activate Methodology

Advanced Extensibility Scenarios

Performance Testing

Security

Basic Extension Apps

Side-by-Side Extensibility

In-App Extensibility

DevOps and Continuous Delivery
Details of the C_S4CDK_2021 Certification:
The C_S4CDK_2021 exam is a multiple-choice pattern exam and comprises 80 questions. As the certification exam is suggested as an entry-level qualification, any beginner candidate can take the exam. After passing the exam with a 65% mark or more, a candidate becomes SAP Certified Development Associate-SAP Cloud SDK Extensibility Developer.
Preparation Strategy to Pass the C_S4CDK_2021 Exam:
Planning a strategy, rigorous practice and hard work are important if you are keen to pass any IT exam like the C_S4CDK_2021.
Choose the C_S4CDK_2021 Exam Date through Registration:
Getting clarity on the exam date makes the preparation journey easy. If you are unsure about the date, the preparation process gets delayed. Therefore, get the preparation date selected at the beginning of your preparation and make a solid schedule to ace the exam.
Explore the C_S4CDK_2021 Syllabus Domains:
Your success in a multiple-choice-based exam is highly dependent on your memory power. Therefore, learning the topics from the core is important, and covering every syllabus section is important. SAP C_S4CDK_2021 syllabus is distributed in almost equal percentages and needs a candidate to cover every section to attempt a maximum number of questions.
Create A Schedule:
Making a schedule and approaching the exam with a strategic method helps to pass the exam in no time. Select the most productive time of the day and set aside 2-3 hours for daily study. Be persistent in the study schedule and study daily. You might come across schedules and experiences of several successful candidates, but make the schedule according to your preference. Regular studying and covering 2-3 topics would save a candidate from any last-minute rush. Dedication and completion of all the syllabus topics is necessary to save a candidate
Get Breaks to Boost Your Energy Level:
Yes, it is important to study hard, but don't forget you deserve a break. A candidate might have decided to continuously study for 2-3 hours, but taking a short break is important once you feel tired. A few minutes' walks in the nature or just getting out of your study place would give you a better feel. Some aspirants prefer to have a cup of tea or taking a music break. Do whatever feels right to boost up your energy level.
Join the C_S4CDK_2021 Training:
Don't skip the chance to learn from SAP experts and join the C_S4CDK_2021 training to understand the syllabus topics better.
Practice with C_S4CDK_2021 Practice Test Makes You Confident:
It is easy to feel confident once you cover the C_S4CDK_2021 syllabus topics. But are you ready? It is important to check your preparation level with the C_S4CDK_2021 practice tests. Get the real exam experience through practicing, and earn insights into your strengths and weaknesses. Don't just stop by assessing yourself; work on the weak sections to turn them into your strength. Take multiple attempts for the questions you are unable to answer. Through rigorous practicing, build up your knowledge gradually.
Overview of the SAP Cloud SDK:
The SAP Cloud SDK is a toolset for working with SAP solutions while developing cloud-native extension works. The toolset allows a candidate to integrate SAP solutions such as SAP SuccessFactors, SAP S/4HANA Cloud, and SAP C/4HANA in your Cloud-native applications and deliver those applications continuously and effectively.
Importance of the C_S4CDK_2021 Certification in the Business Field:
The C_S4CDK_2021 certification empowers a candidate to use SAP S/4HANA's amazing properties. C_S4CDK_2021 certification and the knowledge of SAP S/4HANA through it helps businesses turn the digital age difficulties into brand-new possibilities. The business suite improves the flexibility to try out new business models, speeds up app development, and facilitates collaboration.

The pace of business keeps changing, putting high demands on ERP systems. Being competitive requires speed, agility, and the ability to create. SAP S/4HANA is able to address these demands. The next-generation business suite makes the digital core of a modern business by combining business methods with a single source of truth and an intuitive user experience.

The SAP S/4HANA Cloud SDK works on the SAP Cloud Platform SDK for service development. The solution offers SAP S/4HANA's specific end-to-end possibilities, tools, and codified processes, for example, for assuring quality and interoperability) to allow application developers to create SAP S/4HANA side-by-side extensions easily. The SDK talks about the generalized knowledge and experience from building several productively running SAP S/4HANA side-by-side extensions on the SAP Cloud Platform. Amongst others, these extensions include partner-built applications as well as SAP real spend.
Bottom Line:
Earning the C_S4CDK_2021 certification boosts your resume performance, and you get a chance to use the knowledge for the benefit of your organization. Therefore, earn the certification and get exposed to new possibilities.