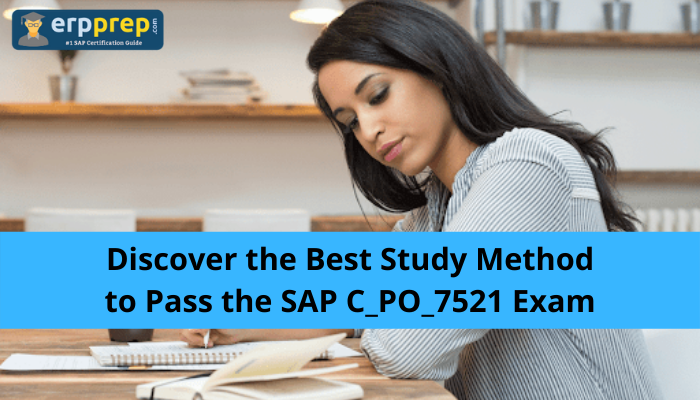 Are you worried about the preparation for the C_PO_7521 exam? Study hard and incorporate trusted practice tests to ace the exam in no time.
C_PO_7521 or the SAP Certified Technology Associate - Process Orchestration certification exam confirms that the candidate is skilled with the necessary tools, methods, and basics for creating orchestration processes using Java technology. The C_PO_7521 certification proves that the candidate possesses an overall understanding and in‐depth technical skills to join as a member of a project team under a mentor's guidance.
Who Can Take the C_PO_7521 Exam?
The C_PO_7521 exam is suggested as an entry-level certification. Therefore any candidate who wants to work with SAP Process Orchestration is a suitable candidate for the C_PO_7521 exam.
What Topics Are Covered under the Syllabus?
The exam covers the following topics-
Basic Concepts for SAP Business Process Management Integration Flow (iFlow)

Integration Objects in the Integration Directory

Roles and Authorizations of a BPMN Process

SAP Processes Integration Architecture

SAP Business Rules Management (BRM)

SAP Business Process Management Development Steps

Configuration of iFlows in NetWeaver Developer Studio (SAP NWDS)

Operations and Process Monitoring in SAP Process Orchestration

Mappings

Business Processes Modeling and BPMN 2.0 (Business Process Management Notation)

Basic Concepts System Landscape Directory (SLD) and Enterprise Service Repository (ESR)

The Role of the Advanced Adapter Engine Extended (AEX)
How to Get Ready for the C_PO_7521 Certification?
Discover about the C_PO_7521 Exam Pattern:
Researching about the exam pattern is essential; you can plan the exam in a hassle-free manner when you know the exam structure well. The SAP Process Orchestration exam comprises 80 questions. The single or multiple-choice based exam needs you to get a 65% mark to get SAP Certified Technology Associate - SAP Process Orchestration certified.
Read the instructions carefully in the exam hall to answer the questions within 180 minutes. Pearson Vue conducts the SAP process orchestration C_PO_7521 exam, therefore enroll your name with Pearson Vue and select the exam day according to your convenience. Registering early would help you to plan the study effectively.
Take Enough Time to Get Ready for the C_PO_7521 Exam:
You might be very interested in studying new topics and learning them, but it would be better to devote quality time to studying. Never rush to prepare for the exam; if you have registered already, keep in mind to set a gap of at least two months to cover the syllabus well.
Follow Books and Cover the C_PO_7521 Syllabus:
Syllabus completion is essential if you want to succeed in the C_PO_7521 exam. You can follow the valuable book links. Make a schedule to cover the syllabus topics easily. Chart out the topics, cover them one by one and write the important points as notes. If you devote quality time to notes making, you can use them later during revision.
Be Sure about Your Study Time:
If you don't aside the study hours, you might get busy doing other works. Therefore, set the most productive hours from your daily schedule as study time. Long study hours could make a candidate exhausted, focusing on shorter study hours but with utmost devotion.
Join Social Forums for More Input:
SAP certifications are highly popular. Join SAP communities, groups, or forums for a regular discussion on C_PO_7521 exam-related topics. If an aspirant keeps discussing with other forum members, it will give him more clarity regarding the syllabus topics. Group discussions will help a candidate to remember the topics for longer.
Take C_PO_7521 Practice Tests Seriously:
Studying and working hard doesn't assure success. Online C_PO_7521 practice tests play a major role in clearing any IT-related exam such as SAP PO. The practice tests are a combination of real exam-type scenario-based questions. As the C_PO_7521 practice tests are time-based, taking the online tests regularly will help a candidate get familiar with the actual exam. Use these practice tests for self-assessment and don't rush to get full marks at the beginning.
Overview of SAP Process Orchestration:
SAP Process Orchestration software aids custom process applications and integration situations. Being the process orchestration layer of SAP's Business Technology Platform, the solution can help the user to improve process efficiencies and respond to changing demands.
What Are Some Benefits of Using SAP Process Orchestration?
Lower Down Cycle Times:
Enhance the speed and flexibility of your business operations by creating a custom process solution.
Reduce the Cost of Ownership:
Lower down costs and development effort with rules, processes, and integration management from one unified situation.
Manage Compliance:
Improve the enforcement of your legal regulations and corporate policies by using automated rules.
Bottom Line:
SAP Process Orchestration or the C_PO_7521 certification allows a candidate to use SAP ERP in his work. Having the C_PO_7521 certification proves your credibility among potential candidates. Getting the certification leads you to earn a beautiful career path, therefore grab the certificate and carve a successful career.