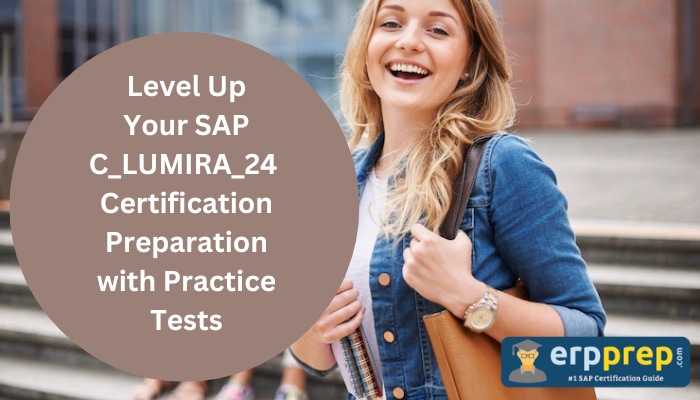 Pass the C_LUMIRA_24 exam to prove your in-depth and practical knowledge regarding SAP LUMIRA. Knowing the exam structure is important, and practice tests help in reaching your certification goal in no time.
What Is the SAP C_LUMIRA_24 Certification All About?
C_LUMIRA_24, or the SAP Lumira Designer certification exam, is about proving a candidate's fundamental and core knowledge required to work on the SAP Lumira Application Consultant's profile.
The C_LUMIRA_24 certification also proves that the candidate possesses the overall knowledge and in‐depth technical skills to join as an SAP project team member under a mentor's guidance.
Who Can Take the C_LUMIRA_24 Certification Exam?
The C_LUMIRA_24 certification exam is suggested as an entry-level qualification; therefore, it is open to anyone who wants to explore SAP more.
Topics Covered Under the C_LUMIRA_24 Certification Exam?
The C_LUMIRA_24 exam covers the following topics-
Optimizing the performance of applications

Advanced application design

Dynamic Components

Composites

Optimizing applications for mobile devices

Scripting in Applications

Data sources

Fundamentals of SAP Lumira

Script-free applications
Some Practical Tips to Ace the C_LUMIRA_24 Exam:
Create Your Study Schedule to Ace the C_LUMIRA_24 Exam:
You must learn the syllabus topics from the core if you want to pass the C_LUMIRA_24 exam. Therefore, make a study schedule and focus on the topics. The SAP C_LUMIRA_24 exam syllabus is almost divided into equal percentages. Therefore, make a schedule where you can focus on the syllabus domains well and cover the syllabus domains within a specific time.
Stay Consistent with the Study Hours:
Consistency is the key to your success. Only planning for an exam is not enough; you must stay devoted to your study plan. Don't be in fear of devoting your full day and night to exam preparation. If you are serious enough, only two hours of study could help a lot.
Another beneficial addition to your timetable will be pointing out the topics you want to study at a particular time. Pre-decide the topics for better time management and productivity during your study hours.
Make Memorization Better with Notes:
If you study with notes, your recalling capacity is definitely going to get a boost. Another benefit of using notes is your revision material becomes ready while you study. You don't need to go through the complete syllabus; only following the notes will do.
Learn from SAP C_LUMIRA_24 Training:
SAP offers the official training for the C_LUMIRA_24 exam. You might feel stuck in learning the SAP exam topics; in that case joining the training would help you become clear about the syllabus domains. SAP official page also offers valuable study resources to pass the C_LUMIRA_24 exam. Therefore, join the training and learn from the experts.
Practice More to Become Stronger with the Syllabus Domains:
You must study hard and make notes regarding the C_LUMIRA_24 exam topics, but you must develop the most important habit of taking online practice tests to strengthen your learning. You could feel very confident after covering the syllabus domains, but you stay unaware of the preparation level until you get the real exam experience. With the time-based C_LUMIRA_24 practice tests, you become familiar with the real exam structure, and your time management skills improve.
The result sections of the practice tests point out the weaknesses and strengths of a candidate. A candidate can focus on the result section and learn about his mistakes to score better.
What Is SAP Lumira?
SAP Lumira is a solution that accelerates decisions by making impactful interactive charts, infographics, maps, dashboards, and business intelligence (BI) applications smoothly.
The solution harnesses company-wide data so you can gain and share unprecedented insight into today's digital economy. SAP LUMIRA software blends self-service BI discovery and visualization with interactive dashboards and analytic applications. The all-in-one solution rapidly promotes insight across the organization.
What Are the Benefits of Using SAP Lumira?
Business & IT Team Collaboration Is Better Now:
Offer faster insights easier with a simple interface for data connectivity, self-service data visualization, and advanced development tools.
Offer Access to Governed, Secure Data:
SAP LUMIRA allows IT to manage, govern, and offer fresh data to business users to discover hidden insights in real-time and have decision-making, reducing the need for shadow IT.
Work Beyond BI visualization in the Cloud:
SAP LUMIRA helps to blend dashboards, on-premise data discovery, and analytic applications with business user access to all analytics across the organization with SAP Analytics Hub.
Bottom Line:
Certification on your resume has always been a great support. A specific certification proves your skills to employers and opens the path for multiple careers. Therefore, study hard and become SAP C_LUMIRA_24 certified.