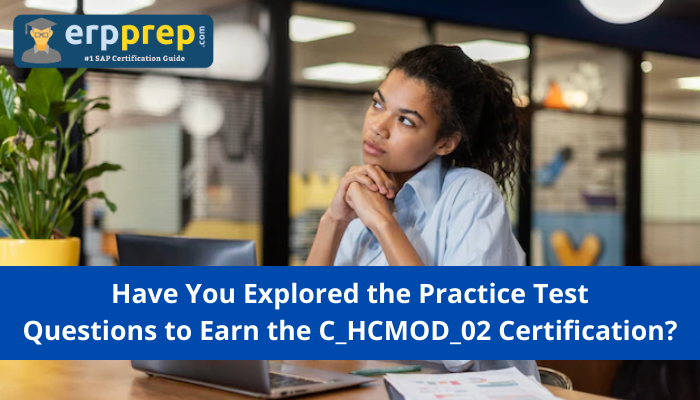 How to make your C_HCMOD_02, SAP Certified Application Associate - SAP HANA Cloud Modeling certification easy? You can study hard and rely on the proven practice tests to ace the exam.
What Is Verified through the C_HCMOD_02 Certification?
C_HCMOD_02 or the SAP Certified Application Associate - SAP HANA Cloud Modeling certification exam verifies that the candidate is versed with the knowledge of SAP HANA Cloud QRC03/2021 for the profile of an SAP HANA Cloud application consultant.
The C_HCMOD_02 certificate builds on the basic knowledge gained through related SAP HANA Cloud training and preferably gets boosted by practical experience within the SAP HANA Cloud project team. With the certification, the aspirant gets ready to apply his HANA Cloud knowledge practically in projects.
What Else Is Proved through the C_HCMOD_02 Certification?
Moreover, the C_HCMOD_02 or SAP Certified Technology Associate - SAP HANA Cloud Modeling certification exam proves the skills and knowledge of the candidate to implement calculation view graphical modeling and managing modeling content in SAP Business Application Studio. This knowledge is helpful to work as a consultant.
What Topics Are Covered in the C_HCMOD_02 Exam?
The C_HCMOD_02 exam covers the following topics-
SQLScript in models

Secure data models

Optimize performance of models

Manage and administer models

Configuring modeling functions

Build calculation views

SAP HANA Cloud modeling basics
Preparation Tips to Ace the C_HCMOD_02 Certification:
Stay Determined to Take the Exam:
If you keep on thinking about taking any exam, only planning could delay the exam-taking approach. Therefore, set the determination with C_HCMOD_02 registration. Once you are registered, you know the exam date, and it helps you to plan the exam well.
Take Sufficient Time to Appear for the C_HCMOD_02 Exam:
You must plan prior if you want to appear for the C_HCMOD_02 exam. It is recommended that you begin studying at least two months before the scheduled exam date. Taking time to appear for the exam would help to cover the syllabus topics in a smooth manner.
Learn the C_HCMOD_02 Syllabus Topics from Core:
Start your preparation with a study schedule to learn the syllabus topics from the core. Don't get worried that you need to devote your whole day to exam preparation. If you are devoted enough, you can study for only two hours daily and grasp the syllabus topics well. Decide the domains you want to cover on particular days, so you can avoid study time hassles and use your time productively. You should not stop learning from the syllabus only; include additional resources like sample questions in your preparation.
Visit the Official Site for Valuable Information:
You must always visit the official page to know more about the passing percentage. The C_HCMOD_02 exam is 80 questions long exam, and the candidate must obtain a 64% mark to pass the exam. The official page provides valuable book sources and training links to help your preparation.
Join the Online Study Groups:
Being part of an online group could help you immensely. There are many SAP C_HCMOD_02 exam-related groups and forums that could help a candidate get ready. You can share your knowledge within the group, ask questions and get valuable tips from your seniors through online forums.
Assess Your Learning with SAP C_HCMOD_02 Practice Test:
The most important step of the C_HCMOD_02 exam preparation is assessing your preparation through the C_HCMOD_02 practice tests. You can get valuable insights regarding your preparation level and decide which topics need your attention more. If you keep on solving the C_HCMOD_02 practice tests, you can have a real exam-like experience. Experts design the C_HCMOD_02 practice tests that assure you that you have the industry suitable questions.
You might face difficulty while taking the C_HCMOD_02 practice exams, but take these tests as learning and keep on improving with time.
Don't miss out on the Chance of Getting Practical Experience from C_HCMOD_02 Training:
A candidate can study and get ready theoretically, but getting practical knowledge is highly dependent on SAP C_HCMOD_02 training. Therefore, combine practical training with your preparation and get valuable insights from the experts through training.
What Is SAP HANA Cloud?
SAP HANA Cloud is a comprehensively managed in-memory cloud database as a service (DBaaS). It integrates data from across the enterprise, allowing faster decisions based on live data, as the cloud-based data foundation for SAP Business Technology Platform.
You can build data solutions with modern architectures and get business-ready insights in real-time. As the data foundation for SAP Business Technology Platform, the SAP HANA Cloud database provides the power of SAP HANA in the cloud.
Benefits of SAP HANA Cloud for Businesses:
Have Faith in Your Business Data:
Tap business-ready information by making one true source and allowing security, privacy, and anonymization with enterprise reliability.
Make Better Decisions by Acting on Live Data:
Address your needs, process business data of all types, and do advanced analytics on live transactions without tuning for fast, improved decision-making methods.
Integrate Data Across the Enterprise:
Connect to distributed data with native integration, develop applications and tools across clouds and on-premise, and store volatile data.
Bottom Line:
Certifications are helpful to earn you recognition among peers and boost your knowledge base. Earning the C_HCMOD_02 certification helps you learn about SAP HANA Cloud Modeling and use it for the further benefit of your organization. Therefore, grab the certification and get a career boost.