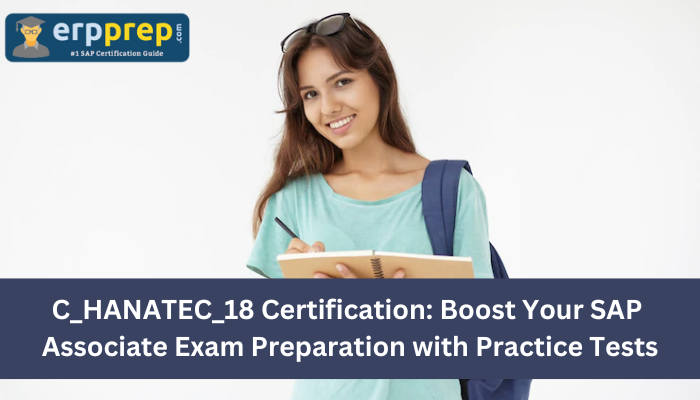 Clearing the C_HANATEC_18 exam is easy now. Practice test materials are incredibly beneficial to help you ace the SAP HANA Technology 2.0 (SPS06) exam in no time.
Overview of the C_HANATEC_18 Certification:
C_HANATEC_18 or the SAP Certified Technology Associate - SAP HANA 2.0 SPS06 certification exam validates that the candidate has the needed knowledge regarding the SAP HANA 2.0 SPS06 to work well as an SAP HANA consultant.
What Knowledge Is Built through the C_HANATEC_18 Certification?
The C_HANATEC_18 certification boosts the basic knowledge earned through related SAP HANA training, which gets refined by practical knowledge within the SAP HANA project team, whereby the consultant uses the earned knowledge practically in projects.
Moreover, the C_HANATEC_18, SAP Certified Technology Associate - SAP HANA 2.0 certification exam confirms the candidate's knowledge to install SAP HANA needed by the SAP HANA technology consultant profile.
How Long the Certification Stays Valid?
The certificate for passing the C_HANATEC_18 exam stays valid for five years.
What Are the Syllabus Domains Covered in the C_HANATEC_18 Exam?
The C_HANATEC_18 exam covers the following topics-
SAP HANA Monitoring and Troubleshooting

Database Migration Options for SAP HANA

SAP HANA Database Security

SAP HANA Backup and Recovery

SAP HANA Architecture and Deployment Options

Sizing, Installation, update, and post-installation tasks for SAP HANA and SAP HANA cockpit.

SAP HANA High Availability and Disaster Recovery

SAP HANA Database Administration
Practical Study Tips to Pass the C_HANATEC_18 Exam:
Proceed with Proper Planning:
If you proceed without proper planning, your energy gets drained in the long run exam preparation. This might also consume more preparation time. Therefore, as the C_HANATEC_18 aspirant, your first step is to do the registration. Registration means you are serious about taking the exam. This will give you the ultimate motivation to get prepared for the exam.
Learn the C_HANATEC_18 Syllabus Topics from Core:
What you learn plays an important role in exam preparation and during your practical experiences. SAP keeps the domain distribution the same for all sections; therefore, it is essential to cover all syllabus domains.
Maintain A Study Schedule:
You must stay organized to achieve your certification goals, and a schedule helps in that regard. Set your study time and devote at least two-three hours for easy execution of the preparation. Find out the most productive hours from your daily routine, and use these hours in a distraction-free manner for exam preparation.
Make Memorization Easy with Notes:
A multiple-choice exam needs you to study well and remember the topics are equally important if you want to pass the exam. Therefore, invest your time in notes making. These notes are handy and help in faster revision.
C_HANATEC_18 Practice Tests Are Great Confidence Boosters:
It might not be enough if you only study and explore the exam structure. Once you get familiar with the exam pattern, it helps a lot to do time management better. Regular evaluation will help to determine if you are ready to take the C_HANATEC_18 exam.
Therefore, cover the syllabus domains and enroll for C_HANATEC_18 practice test sessions to get insights into your preparation level.
Practice tests are the study resources that help to get real exam experience and make you aware of your strengths and weaknesses. Dumps are also there to prepare for the C_HANATEC_18 exam, but a candidate misses out on the self-evaluation process. Therefore, stick to practice tests and become a time management pro until the exam day.
What Is SAP HANA?
SAP HANA is a practical, all-encompassing database platform that businesses use to analyze, store, and process large amounts of data. SAP HANA is cohesive, with a digital environment, and it supports transactional and advanced analytics on a single data instance.
What Are the Benefits of Using SAP HANA?
Total Data Management Is Easy:
SAP for businesses works with a whole host of database management solutions designed to ease out the entire IT environment. SAP HANA database administration helps to monitor your data continuously and optimize it to ensure it is secured and constantly available.
Solve Queries Fast:
As SAP HANA stores and takes out data from RAM rather than a hard drive, it can solve queries in large applications in minimal time. This feature offers a vastly superior user experience, allowing real-time data virtualization, all very smoothly.
Faster Scalability:
If your business grows, your data storage, access, and processing possibilities must also scale. That's why it is an excellent thing that one of SAP HANA's benefits is the possibility to easily scale based on concurrent users and associated data volume across network conditions. The feature helps in the growth of the data without much worrying.
Cost-Effective Solution:
Highly advanced columnar storage format and data compression help SAP HANA to offer a very cost-effective process to manage large data sets. It also assures no data is duplicated and data silos are reduced, further offering persistent optimal performance.
Enquire Large Sets of Data:
Using massively parallel processing (MPP) SAP HANA can very quickly query large sets of data. In essence, it can store and rapidly process tasks for multiple data types like graphs and documents.
Bottom Line:
Whether you use on-premise, multiple, public or private cloud platforms, there's not a fraction of functionality lost. SAP HANA offers aspirants multiple deployment options to adapt to any situation or data challenge businesses face. Therefore, you can trust getting certified with SAP C_HANATEC_18 certification.