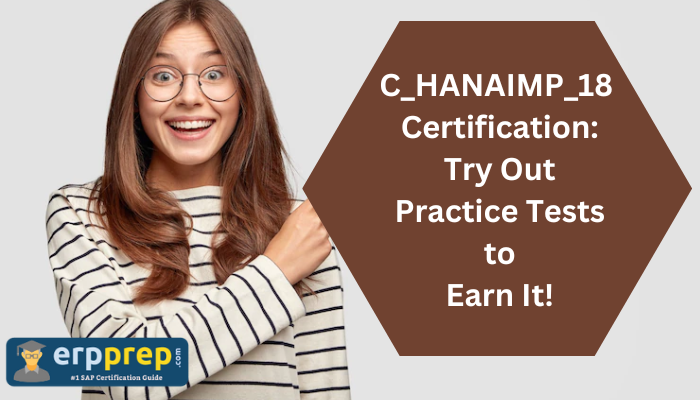 Passing the C_HANAIMP_18 certification is key to earning your SAP Certified Application Associate - SAP HANA 2.0 SPS06 certification, and practice test questions can help you to prepare better. Learn more about the C_HANAIMP_18 certification preparation and the usage of SAP HANA in this blog.
Overview of the C_HANAIMP_18 Certification:
C_HANAIMP_18 or the SAP Certified Application Associate - SAP HANA 2.0 SPS06 certification exam proves that the candidate has the needed knowledge regarding the SAP HANA 2.0 based on SPS06 to work on the profile of an SAP HANA application consultant.
The C_HANAIMP_18 certification builds on the basic knowledge earned through related SAP HANA training and is preferably refined by practical experience within the SAP HANA project team. The consultant can apply his knowledge practically in projects under the guidance of a mentor. The certificate issued for passing the C_HANAIMP_18 exam will be valid for five years.
Topics Covered Under the C_HANAIMP_18 Exam Syllabus:
The C_HANAIMP_18 exam covers the following topics-
Building calculation views

Describing the Technology and Deployment Scenarios of SAP HANA

Securing models

Working with SQL and SQL Script in models

Managing and administering models

Optimizing the performance of models

Configuring modeling functions
Preparation Tips to Pass the C_HANAIMP_18 Exam:
Visit the Official Page to Explore the C_HANAIMP_18 Syllabus:
The C_HANAIMP_18 official page is where every important detail regarding the exam structure and syllabus is given. SAP exams usually distribute the syllabus topics in an almost equal manner. Therefore, try to have a grasp of all the syllabus domains from the core. You can find valuable book links on the official page. Online or offline materials, whatever your choice, focus on covering the syllabus domains.
Choose Your Productive Hours:
Create the best suitable study plan depending on your productive hours. You could be a working professional or a student; check out your productive time and plan a C_HANAIMP_18 exam schedule. Take the time of two to three months and balance preparation and regular work accordingly. With the help of a study schedule, you can prepare well and manage all your work.
Study Devotedly for a Few Hours:
Many candidates fear preparing for competitive exams, as they assume to devote the whole day to exam preparation. But, if a candidate studies for 1 to 2 hours daily with devotion, he could also grasp the syllabus well.
Make studying easy with the help of a schedule and decide what you want to study on a particular day. When you follow a schedule rigorously, you can avoid confusion and prepare better. Therefore, you could study more effectively within the limited hours. Setting a writing habit is one of the best things to improve your learning. If you write the C_HANAIMP_18 topics as notes, you can use them later during revision.
Learn from the C_HANAIMP_18 Training:
You must possess sound practical knowledge to apply your skills practically in the future. Therefore, join the SAP training and eliminate your confusion with the help of SAP experts.
Have You Tried C_HANAIMP_18 Practice Tests?
Where do you stand in the exam preparation? Practice tests help to keep track of your weaknesses and strengths. Therefore, make yourself exam-ready with real-time practice questions. Solving C_HANAIMP_18 practice tests would guide you to insights regarding your strengths and weaknesses, and you will get a scope to improve further. Your exam-taking speed will also improve with regular practice, and you will be able to attempt a maximum number of questions.
What Are the Benefits of Using SAP HANA Solution?
Simplify Your IT Environment:
SAP for businesses offers a host of database management solutions that help simplify your entire IT environment. With SAP HANA, all the data from your SAP ERP is constantly monitored and optimized, and SAP HANA protects the data and makes it available to users.
Excellent Speed:
As SAP HANA stores and pulls data from RAM rather than hard storage, the solution can resolve queries within a second, even in large-scale applications. The speed allows for a vastly superior user experience, allowing the virtualization of real-time data, all at the drop of a hat.
Faster Scalability:
A growing business needs its' data storage, access, and processing scopes scaled. One major benefit of SAP HANA is the ability to easily scale based on current users and associated data volume across network situations. It helps all the data models to grow without slowing down.
Cost-Effective Solution:
The advanced data compression and a columnar storage format help SAP HANA to offer a very cost-effective method of managing large data sets. It also assures no data is duplicated and data silos are reduced, further contributing to persistent optimal performance.
Process Large Sets of Data:
SAP HANA uses massively parallel processing (MPP) and is able to query large sets of data very quickly. In essence, it can store and rapidly perform processing tasks for multiple data types like graphs and documents.
Bottom Line:
Associate-level certifications prove your skills in a specific domain and offer you the scope to participate in projects. Therefore, grab the C_HANAIMP_18 certification to improve your SAP HANA skills and knowledge and get better career opportunities.