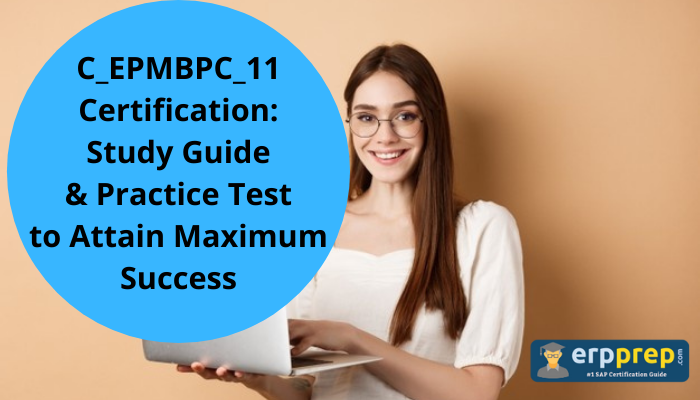 Getting the C_EPMBPC_11 certification is simple if you apply the correct tools like the study guide and practice test in the exam preparation.
Overview of the C_EPMBPC_11 Certification:
The C_EPMBPC_11 certification exam tests if the candidate knows about SAP Business Planning and Consolidation 10.1 and 11.0. The C_EPMBPC_11 certification confirms that the Associate Consultant possesses good vast understanding and knowledge of SAP Business Planning and Consolidation, version for SAP BW/4HANA and SAP Business Planning and Consolidation in SAP Business Planning and Consolidation 10.1.
The certification knowledge allows the successful Associate to apply his gained skills to execute a variety of appropriate functions. These functions include customization, implementation, maintenance-related issues within a project team, and contributing positively to the success of a project under an experienced senior consultant's guidance.
Prerequisite to Take the C_EPMBPC_11 Exam:
A typical SAP Business Planning and Consolidation 10.1/11.0 associate consultant can benefit from the exam if he has a maximum of three years of experience in the field.
You don't need to have any project experience if you are a well-knowledgeable person.
C_EPMBPC_11 Exam Syllabus Topics:
The BPC exam deals with the following topics-
Environments and Dimensions

Architecture

Process Control

BPC Web client consolidation

Analysis for Office

Data Manager

Administration

Models

BW Integration

Integrated Planning

EPM add-in

Business Rules

Script Logic and Calculations
What Should be The Strategy to Pass the C_EPMBPC_11 Exam?
Begin with Registration:
Don't get confused about the starting point of your preparation. You should always start with registration to keep a serious approach towards any exam preparation. You have registered means you know the exam date, and you can plan accordingly for the preparation.
Learn the C_EPMBPC_11 Syllabus Topics from Core:
How many questions a candidate can attempt in the exam solely depends on his C_EPMBPC_11 syllabus knowledge. Some people only study to pass the exam, don't do it, and try to learn the topics from the core, as it would help in the long run, during practical works and implementation.
Maintain A Schedule for C_EPMBPC_11 Syllabus Completion:
If you maintain a schedule for syllabus completion, your preparation could become interesting. Preparations are not always easy; you need to devote two to three hours for daily preparation. Therefore make your timetable where the topics for daily completion are already mentioned. Don't make the study routine for the sake of only making a routine; follow it regularly and accomplish the regular study goals to cover the syllabus from the core.
Join the C_EPMBPC_11 Training:
C_EPMBPC_11 training gives you the exposure to learn from industry experts. If you plan to prepare by yourself, you might get confused about some topic areas. But, training helps you gain clarity about the areas.
Keep Practicing Online with C_EPMBPC_11 Practice Test:
Self-assessment is highly important; you can do it easily by taking online practice exams. C_EPMBPC_11 practice tests offer valuable insights into your SAP BPC exam preparation. You can learn about your strengths and weaknesses and can put more effort into transforming the weaker sections into strengths. Therefore keep practicing with the time-based practice test to better manage the total time during your actual exam.
What Is SAP BPC?
SAP BPC is an SAP module that offers planning, budget, forecast, and financial consolidation possibilities. SAP BPC means Business Planning and Consolidation that provides a single view of financial and operational data and a unified solution to support Performance Management processes like adjust plans and forecasts or speed up the budget and closing cycles.
What Is the Benefit of Having the C_EPMBPC_11 Certification?
The C_EPMBPC_11 certification helps an organization grasp BPC knowledge-based candidates, which helps to sort out different organizational issues.
Any organization needs financial planning, budgeting, and forecasting as essential attributes to run a business successfully. SAP BPC software offers everything in one package.
Strategic Planning Is Simple with SAP BPC:
SAP BPC helps the management team to formulate its vision, mission, core values, and objectives. The team creates strategic plans to uphold its competitive benefits in the marketplace.
Budgeting Becomes Organized:
When it is about the growth of any organization, it is not just a prediction of future results but also a plan of actions and expected operations of the organization over the coming year. Budgeting with BPC is done for proactive management and measurement of corporate performance.
BPC Helps in Reporting:
BPC assures performance progress is monitored, problems are anticipated, and continuous improvement efforts are promoted.
BPC Helps in Forecasting:
Forecasting is the act of predicting outcomes. It is done throughout the year to reflect changes that have happened both in the internal and external environments. It checks how the internal or external environment impacts the original plans and budgets. The main objective is to offer more accurate information for less risk management planning and decision making.
Bottom Line:
Getting certified enhances your skills to work efficiently within any organizational setup and offers enormous career advantages. Therefore, grab the associate level C_EPMBPC_11 certification and move one step ahead in the career ladder.