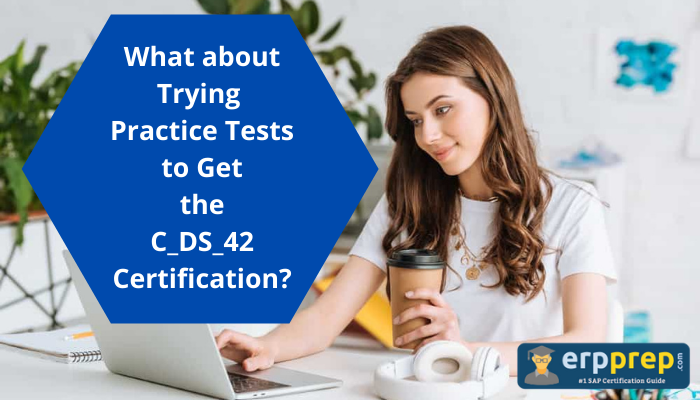 Pass the C_DS_42 certification exam, and use the knowledge of SAP Data Services practically in your SAP Certified Application Associate - Data Integration with SAP Data Services 4.2 career. Explore the valuable practice tests that help you get the certification in no time.
Overview of the C_DS_42 Certification:
C_DS_42 or the SAP Certified Application Associate - Data Integration with SAP Data Services 4.2 certification exam validates your proven skills and fundamental knowledge in administering and managing SAP Data Services and implementing ETL projects.
What Areas Are Measured through the C_DS_42 Certification Knowledge?
The C_DS_42 exam measures a candidate's knowledge of SAP DataServices. It starts with understanding Data Integration concepts and will test the required skills to apply performance tuning and sizing methods. Your knowledge to implement complex design methodology, perform Data Transformation, and troubleshooting and recovery are tested.
What Are the Syllabus Topics Covered Under the C_DS_42 Exam?
The C_DS_42 exam covers the following topics-
Change Data Capture

Data Integration Concepts

Advanced-Data Transformation

Complex Design Methodology

Recovery and Troubleshooting

Basic Data Transformation

Performance Optimized Design

Data Management
What Are Some Practical Study Tips to Get the C_DS_42 Certification?
Create Your C_DS_42 Exam Study Schedule:
Making a schedule holds high value regarding exam preparation. If you make a schedule before jumping into the C_DS_42 exam preparation, it will help to stay organized during the whole exam preparation time. If you start preparing without the registration, it might not give you the needed boost, and distractions could come your way. But once you do the registration, it proves your seriousness to take the C_DS_42 exam and helps to stay motivated until the exam day.
Cover the C_DS_42 Syllabus without Skipping Any Section:
Your success in the exam lies in grasping the syllabus topics from the core. A firm grasp of the syllabus is needed if you want to attempt a maximum number of questions during the actual exam. SAP modules could feel hard to understand if you are new to the field of SAP. Therefore, get the study schedule at the beginning and focus on learning from every syllabus section to avoid attempting any questions in the exam hall.
Improve Your Practical Experience with C_DS_42 Training:
Joining the C_DS_42 training session is one of the best paths to study, especially for SAP C_DS_42 certification exams. When you practically deal with any software or technology for some time, you earn the skills to deal with the solution easily. SAP C_DS_42 training aids in learning from the experts directly and practically boost your subject knowledge.
Determine the Study Hours:
Every candidate's grasping speed is different. You could work somewhere, or you might be a student. Every aspirant has a different productivity level and different work times. Select the most productive time from your daily routine, make a target to devote at least two to three hours to daily study, and try learning a few topics from the core during these study hours.
Should You Make Notes?
If you keep on studying only and you can't recall the topics at the end of the day, you won't be able to get well in the C_DS_42 exam. Therefore, recalling the topics become essential to earn maximum benefit. Have a specific notebook where you can mention the short notes and keep the notes ready for a better revision.
Build Confidence through C_DS_42 Practice Tests:
Have you prepared well to take the C_DS_42 exam? Regular assessments can help you learn where you stand in the C_DS_42 exam preparation, and you must act accordingly. Start attempting practice exam questions once you earn a good grip of the syllabus. The main work of practice exams is to make you familiar with the actual exam structure.
When you start preparing and consider getting an evaluation, choosing the C_DS_42 practice tests over dumps is always a better decision. You can enhance your knowledge with the dumps but cannot go through the self-assessment process using dumps. The rigorous practice would offer valuable insights, and you can build your confidence high by working on the guided syllabus domains.
Overview of SAP Data Services:
If you are in need of best-in-class functionality for data integration, quality, and cleansing, the SAP Data Services software is for you.
SAP Data Services software provides the best-in-class functionality for quality, cleansing, data integration, and more. The solution helps you gain a trusted, ever-ready resource for business feedback and use it to streamline works and maximize efficiency.
What Are Some Benefits of Using SAP Data Services?
Obtain Data for a Broader Perspective:
Get contextual feedback and receive the true value of your data. Make a complete view of your information by accessing data of any size and from any source.
Become Excellent in Information Management:
Enhance decision-making and operational efficiency by correcting, standardizing, and matching data to reduce duplicates. Look for relationships and correct quality issues proactively.
Connect data to Get Insights:
Get connected to in the cloud, critical data on-premise, or within Big Data. Have intuitive tools to combine operational, analytical, machine-generated, and geographic data.
Bottom Line:
With SAP Data Services, you can open up meaning from unstructured text data to improve business insights by helping various SAP and non- SAP information sources. Therefore, get the C_DS_42 certification and start a career to use the potential benefits of SAP Data Services.