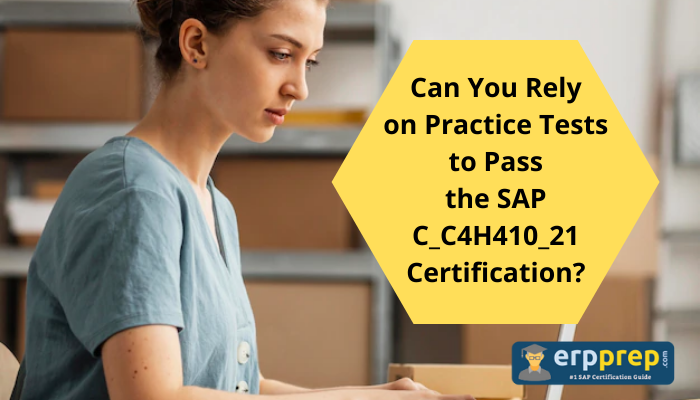 You can earn the C_C4H410_21 certification by including useful materials like practice tests in your preparation and building your knowledge gradually.
What Is the C_C4H410_21 Certification All About?
C_C4H410_21 or the SAP Certified Application Associate – SAP Sales Cloud 2111 certification exam is all about confirming your fundamental and core knowledge regarding SAP Cloud for Customer administration and proven skills about SAP Sales Cloud.
The C_C4H410_21 certification also proves that the candidate possesses the core knowledge required to become an application consultant and can implement the associated prerequisite skills practically under the supervision of an expert consultant in a project situation.
Topics Covered Under the C_C4H410_21 Syllabus:
The C_C4H410_21 exam covers the following topics-
Territory Management

Visit Planning and Execution

Sales Planning and Forecasting

Personalization and Extensibility

Lead and Opportunity Management

Reporting

Implementation Basics and Fine Tuning

Data Migration and Integration

Master Data (Account, Contact, Product, and Pricing)

Sales Contracts Quotation and Sales Order Management

User Management and Notification Process
Study Tips to Get the C_C4H410_21 Certification:
Be Serious about Taking the Exam:
Prove that you are serious about taking the C_C4H410_21 exam by an early registration with Pearson Vue. Once you get registered with Pearson Vue, you can calculate the exact time you have for the exam preparation and study accordingly.
Focus on Covering the C_C4H410_21 Syllabus Topics from the Core:
Try to focus on learning the syllabus topics from the core, as your grasp of the C_C4H410_21 syllabus topics will decide how many questions you can attempt in the exam hall. To break the monotony of your study routine, make a study chart and mention the daily targeted topics. Some people believe in random studying, and they waste a lot of time deciding the topics they want to cover on a particular day. Therefore, pre-decide how you want to cover the syllabus and act accordingly. Highlight the topics that are already covered and get rid of the monotonous study pattern.
Create A C_C4H410_21 Exam Study Schedule:
Study schedules are crucial if you want to stay organized during exam preparation. Making a study schedule is very easy, but it won't help if you can't follow the routine rigorously. Fix a few hours for study and devote your time daily to use those hours productively. You can make notes to improve your memorization power.
Join the SAP C_C4H410_21 Training:
Enroll for the C_C4H410_21 training to boost up your practical knowledge. You can learn from the Oracle C_C4H410_21 experts and clear your doubts regarding the subjects.
Practice More Online to Boost Your Confidence:
You might be confused about your C_C4H410_21 exam preparation level. Taking the self-evaluation would help to clear all your doubts. You must always try to get a good score while you take the practice exams. Don't get disheartened if you can't score well in the initial attempts. These C_C4H410_21 practice tests should be your learning phases, and you must work on your strengths and weaknesses and gradually boost your confidence. Taking regular practice tests would boost your confidence and time management approach, and you will be able to score high on the sections you lack. Set your study routine in a manner that you get enough time to learn from the practice test and work on your weaknesses.
Overview of SAP Sales Cloud:
SAP Sales Cloud is a modern sales enablement solution. The solution is made by and for sales professionals with native collaboration and an intuitive user interface. To overcome today's challenges, SAP Sales Cloud empowers sales professionals to:
Collaborate in context
Obtain deep customer insights
Benefits of Using SAP Sales Cloud:
The sales team needs to have the right set of tools that offer the insights needed to quickly check key decision-makers and make a complete knowledge of customer objectives. SAP Sales Cloud fully helps your sales team by breaking down silos of customer information in the back office and delivering it to the sales team through their mobile devices.

SAP Sales helps boost your sales team with the right information to understand which customers to contact, how to work on their points, and how to nurture each situation to completion.

With SAP Sales Cloud, you can streamline and automate critical selling methods and empower sellers with intelligent recommendations. Get a unified view of every customer. Have a seamless offline and online mobile experience—intelligent recommendations, insights, and analytics.

SAP Sales Cloud offers the platform for sales operations to be standardized and controlled worldwide. The SAP CRM system works on the entire sales method, from the opportunity to order. Even sales planning can be clearly displayed and edited on the platform.
Bottom Line:
Associate-level SAP certifications are your starting point for learning about new SAP solutions and implementing them for your career growth and the organizations you would work for. Therefore, grab the C_C4H410_21 certification and open up the path for a career boost.