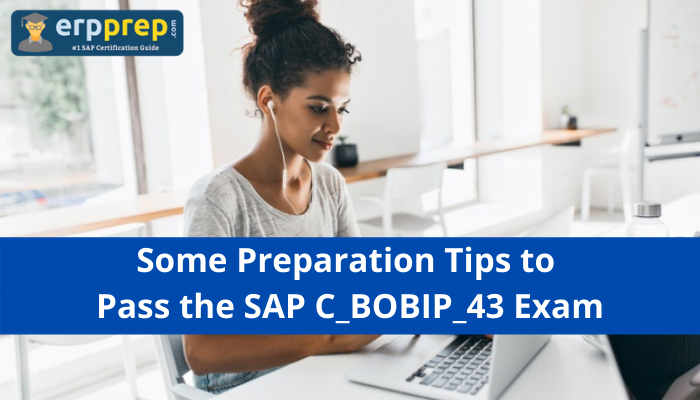 There is undoubtedly a need for obtaining the C_BOBIP_43 certification to use SAP BOBI in your work. Acing the C_BOBIP_43 exam becomes easy if you have the study guide material and practice test within your reach.
Reasons to Get the SAP BusinessObjects Business Intelligence Certification:
SAP BOBI, BusinessObjects business intelligence (BI) solutions curriculum can help get clarity and insight into your data to make efficient data-centric business decisions. The solution can empower business users by offering them trusted information that will help them win in this economy, maintain operational sustainability and financial growth through enhanced streamlining of operations, and reduce BI TCO (Total Cost of Ownership).
Overview of the C_BOBIP_43 Certification:
The C_BOBIP_43, SAP Certified Application Associate - SAP BusinessObjects Business Intelligence Platform 4.3 certification exam confirms that the candidate has proven skills and fundamental knowledge in designing, deploying, and running SAP BusinessObjects Business Intelligence platform 4.3.
The C_BOBIP_43 certification exam measures the candidate's knowledge of the SAP BusinessObjects Business Intelligence platform. These operations start with the tasks involved in supporting SAP Business Intelligence platform users and groups to access corporate data through the SAP Business Intelligence platform's web portal. It tests the candidate's skills in configuring and managing servers in an SAP Business Intelligence platform deployment and designing and deploying an SAP Business Intelligence platform system.
What Is Covered Under the C_BOBIP_43 Syllabus?
The C_BOBIP_43 exam deals with topics like-
Authentication, Authorization, and Security

Troubleshooting

Installation and Backup

Monitoring and Auditing

Content Management

Information Flow

Platform Configuration

Design and Deployment

Platform Functionality

Architecture and Administration
How to Pass the C_BOBIP_43 Exam?
Go through the Registration Process First:
Pearson Vue administers the C_BOBIP_43 exam. If you invest in the registration first, your mind stays focused on the exam preparation.
Be Flawless about the C_BOBIP_43 Syllabus Topics:
Prepare yourself with the syllabus topics flawlessly. The success in the C_BOBIP_43 exam success depends on covering the syllabus topics thoroughly. Passing the C_BOBIP_43 exam depends on your knowledge about the syllabus areas and the power of attempting maximum questions. A candidate can attempt most of the exam questions when he has covered all syllabus sections with utmost devotion.
Keeping your preparation level intact till the exam day depends highly on your memorizing power. You can easily remember the syllabus topics for longer if you read and write them down for future use.
Study Schedule Helps to Keep the Preparation Process Organized:
A study schedule should be planned before you start studying for the C_BOBIP_43 exam. How many hours you study does not matter, but you can easily manage the preparation and cover the syllabus topics within the targeted time if you productively use short study hours. Take at least two months to prepare for the C_BOBIP_43 exam and study for at least two hours. If you need more time, you can increase the time gradually.
C_BOBIP_43 Practice Tests Are There Make You Confident:
Practicing plays an important role in boosting up your preparation level. You may have great grasping power, and you can engage in multiple hours of study. But you must evaluate yourself. Online C_BOBIP_43 practice tests offer valuable insights into your preparation. These tests are time-based and give you the experience of taking the real-time C_BOBIP_43 exam. A candidate's target should be scoring high in the C_BOBIP_43 practice exams attempts, but scoring low should not demotivate you from your path. Take these tests as guidance and work on the areas in which you feel low confidence.
What Is SAP Business Objects Business Intelligence?
SAP Business Objects BI is a solution that allows users to access, format, analyze, navigate, and share information across the organization. The activity comprises reporting, query and analysis, dashboards and visualization, and the BI platform – including search capabilities.
What Are the Benefits of using SAP BOBI?
Reduce Total Cost of Ownership Value:
SAP Business Objects BI solutions lower BI TCO (Total Cost of Ownership) by offering a single, integrated, scalable, highly available, business intelligence enterprise platform with an efficient service-oriented architecture (SOA).
Manage Business Intelligence Operations Effectively:
Using SAP Business Objects BI solutions better streamlines the business intelligence operations by enhancing the business user information request method. An organization's IT department should spend less time interpreting and intercepting information requests. The solution lets your users define information requirements, create queries, analyze and share information with less reliance on IT.
Having Long Term Operational Sustainability and Financial Growth Is Possible:
SAP Business Objects provides a framework of data extraction and analysis that helps business leaders make data-centric managerial decisions that will help improve the bottom line and maintain operational stability and efficiency over the long term.
Bottom Line:
You might be a business owner or a job seeker; better decision-making helps you in both areas. SAP BusinessObjects Business Intelligence (BI) suite allows you to share insights and make better decisions. So get ready and be C_BOBIP_43 certified.