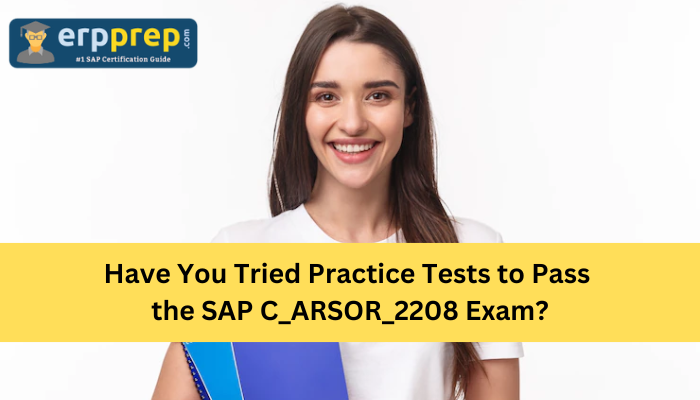 If getting a good score in the C_ARSOR_2208 exam is your target, you must have suitable study materials, and practice test exams prove to be one of them. Learn more about passing the exam and preparation tips through this article.
Overview of the C_ARSOR_2208 Certification:
C_ARSOR_2208, or the SAP Certified Application Associate - SAP Ariba Sourcing exam, assures that an aspirant possesses the fundamental and core knowledge needed to work on the SAP Ariba Sourcing Associate Application Consultant's profile.
What Else Is Proved through the C_ARSOR_2208 Certification?
The C_ARSOR_2208 certification also proves that the candidate possesses overall knowledge and necessary technical skills to work as a project team member under a mentor's guidance.
What Is the Level of the C_ARSOR_2208 Certification?
The C_ARSOR_2208 certification exam is suggested as an entry-level certification and helps to take part in the SAP Ariba Sourcing design and implementation projects. A candidate must be aware that the C_ARSOR_2208 version of the exam works with the Stay Current with SAP Global Certification program. When an aspirant qualifies for the current exam version, they must be ready to participate in the subsequent stay current process. The aspirant must take the bi-annual Stay Current Assessment for all subsequent SAP Ariba Sourcing releases via the SAP Learning Hub to maintain the SAP Ariba Sourcing application associate certification status and badge.
Topics Covered Under the C_ARSOR_2208 Syllabus:
The C_ARSOR_2208 exam covers the following topics-
Project Creation and Management

Product Sourcing

Auctions

Administration

Event Management: Advanced Features

Event and Auction Creation
Preparation Tips to Pass the C_ARSOR_2208 Certification Exam:
Learn the C_ARSOR_2208 Exam Syllabus Topics from the Core:
If you are keen to get the C_ARSOR_2208 certification, being accustomed to the syllabus topics is your first task. SAP exam syllabus domains are mostly divided into equal percentage patterns. Therefore, you won't have much scope to focus on one section, and learning the syllabus domains from the core will be an added advantage.
Take the Help of A Study Routine:
Covering the syllabus domains is essential, and what could be better than a study schedule to help an aspirant? When you are organized, you can learn way more than usual within a shorter span. Many aspirants study for a longer time, but it is not fruitful. The key to success is to study for a shorter span productively. You can focus on two to three syllabus topics on a particular day and make notes out of the topics to boost your learning.
Go with C_ARSOR_2208 Practice Tests Over Dumps for Self Assessment:
You must keep track of your preparation level. Self-assessment is the best way to check what you have learned, and practice test materials help a lot in the process. Through rigorous practice, you will get to know which syllabus domains need more of your attention. A candidate gets the actual exam experience while solving the C_ARSOR_2208 practice questions. Moreover, their time management skill gets better with time-bound materials. Dumps are another source of preparation material, but it is a study-only material. Therefore, you won't get the scope to check your speed or gain insights into your strengths or weaknesses.
Take the Help of SAP C_ARSOR_2208 Training:
Your learning gets a practical boost with SAP training, and it helps you learn directly from the experts. Therefore, join the related training and boost your skills and knowledge.
What Is SAP Ariba Sourcing?
SAP Ariba Sourcing is a solution that helps to discover qualified suppliers, boost sourcing cycles, and make the most competitive, best-value agreements for sustainable sourcing savings.
Organizations need the right strategic sourcing environment to get best-value sourcing agreements that offer sustainable savings. The situation must be connected to a powerful supplier network and built with superior tools, information, and expertise. SAP Ariba is the solution suitable for that purpose.
Benefits of Using SAP Ariba Sourcing:
Standardize the Processes:
With SAP Ariba Sourcing, users and organizations can standardize processes, track sourcing activities, reduce sourcing cycle time, and achieve sustainable savings.
Get Best in Class Sourcing:
Blend best-in-class sourcing and negotiation technologies. Users can access a global network of suppliers and unparalleled strategy and category expertise to automate and streamline critical sourcing lifecycle tasks.
More Savings:
Blend sourcing, contract management, and supplier management possibilities to become more efficient and capture more savings when sourcing indirect materials.
Bottom Line:
SAP Ariba Sourcing is the market-leading solution for sourcing direct and indirect materials and services. Therefore, get the C_ARSOR_2208 certification to put your SAP Ariba Sourcing knowledge more into action.