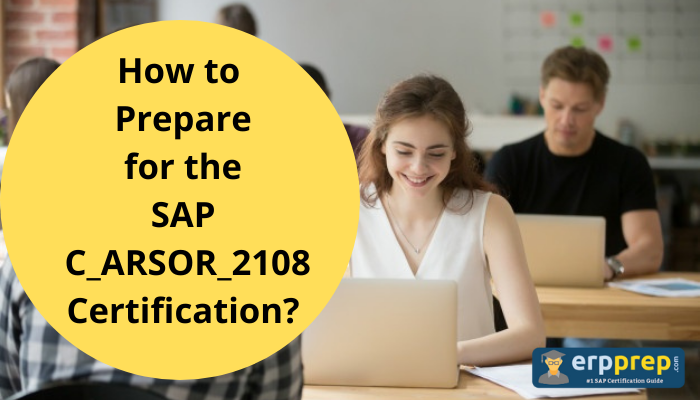 Passing the C_ARSOR_2108 exam gets simple now with the practical study tips in action. Go through this article to get an overview of the certification.
What Is the C_ARSOR_2108 Certification All About?
C_ARSOR_2108 or the SAP Certified Application Associate - SAP Ariba Sourcing exam checks and confirms if the candidate has the fundamental and core knowledge required to work on SAP Ariba Sourcing Associate Application Consultant's profile.
The certification proves that the candidate has an overall understanding and necessary technical skills to take part as a member of a project team under the guidance of a senior.
What Is the Level of the C_ARSOR_2108 Certification?
The C_ARSOR_2108 certification exam is recommended as an entry-level qualification to participate in SAP Ariba Sourcing design and implementation projects.
How to Keep the Certification Working?
Please note that the 2108 version of the exam is a part of the Stay Current with SAP Global Certification program. Once a candidate passes the version of the exam, make sure that he starts your stay current process with the subsequent quarter. He will be required to take the quarterly Stay Current Assessment for all subsequent SAP Ariba Sourcing releases via the SAP Learning Hub to maintain your SAP Ariba Sourcing business consultant certification status and badge.
What Topics Are Covered under the C_ARSOR_2108 Exam?
The C_ARSOR_2108 exam covers the following topics-
Project Creation and Management

Product Sourcing

Auctions

Administration

Event Management: Advanced Features

Event and Auction Creation
Explore the C_ARSOR_2108 Study Guide:
You Must Be Confident about the C_S4CS_2108 Syllabus Topics:
A candidate must explore the C_ARSOR_2108 syllabus topics and chalk out a solid plan to pass the exam. But the C_ARSOR_2108 aspirants can't choose few topics and leave the other topics because the SAP C_ARSOR_2108 syllabus is almost equal percentage-based. Therefore, have a focus on covering all syllabus topics from the core. Your learning approach should be futuristic. Try to grasp the knowledge in a manner that you can apply during practical works.
Creating C_ARSOR_2108 Exam Schedule Helps to Prepare In A Hassle-Free Manner:
Make a schedule depending on the syllabus. You must decide how you want to cover each topic and learn it for future use. If the candidate prepares short notes on essential topics and writes them down in an indexed pattern, they can use it for revising faster.
Don't Forget to Take Breaks:
As a C_ARSOR_2108 aspirant, a candidate must work hard, but that does not mean he should not take a break during the study hours. Set your study approach realistic by including two to three hours daily. It is important to study hard, but studying for longer hours without taking breaks could be devastating.
If You Are Creating Schedule, Follow It Rigorously:
Making a schedule is an easy task, but the real task is following the schedule. Every candidate should have a study goal, which they need to accomplish within specific weeks or months. Once they plan and create a schedule to cover the topics, the targets are easily achieved.
Make Practicing Your Priority and Evaluate Yourself:
Is the aspirant ready for the C_ARSOR_2108 exam? Let the C_ARSOR_2108 practice tests decide your preparation level. After completing the C_ARSOR_2108 syllabus and gaining knowledge from different sample questions, a candidate's priority should be practicing online. Most of the C_ARSOR_2108 practice tests are created in a manner that gives you the feel of taking the actual exam every time. Many people opt for dumps and regret not practicing and jumping into the exam hall.
What Is SAP Ariba Sourcing?
A candidate needs the right strategic sourcing environment to negotiate best-value sourcing conditions, the kind that offers sustainable savings. The situation should be connected to a powerful supplier network built with superior expertise, tools, and information.
The SAP Ariba Sourcing is a solution that meets the criteria. With a tight connection to Ariba Network and connections to more than 6.7 million organizations, SAP Ariba Sourcing and SAP Strategic Sourcing Suite offer the user two options for the features and benefits they need to deliver the best sourcing results ever.
Both solutions offer guided sourcing capacity that can expedite and improve the creation, monitoring, and awarding of requests for information (RFI) and request for proposal (RFP) sourcing events.
Benefits of Using SAP Ariba Sourcing:
Get Discrete Manufacturing:
Learn how you can speed up time to market for new products and gain greater pricing and forecasting visibility while increasing savings.
Process Manufacturing Is Simpler:
Download this datasheet to find out how SAP can help you accelerate time to market, shorten source-to-contract cycle times, and reduce direct spend costs.
Manage Retail:
SAP sourcing solutions allow the user to accelerate time to market for private-label products, reduce source-to-contract cycles by up to 50%, and more.
Bottom Line:
There is no doubt that SAP certifications are the greatest career booster. But, there are multiple certifications that help to deal with different SAP solutions. If you are keen to work on the SAP Ariba solution, the C_ARSOR_2108 certification could be a great career choice.