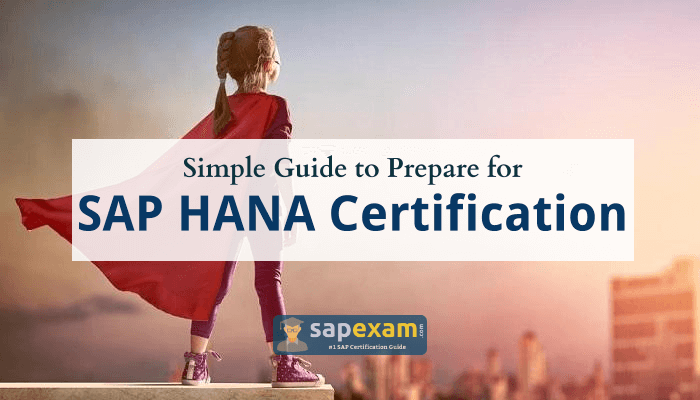 It is just five years since SAP HANA was introduced and the certification has surely climbed the ladder of popularity and success. Candidates who have opted for HANA certification reportedly are glad that they did as it opened up the door of opportunities for them. Both beginners and professionals can go for HANA certification and notice the difference in their career. However, it is not easy to prepare for the certification and beginners might get confused at times. The internet is full of information about the certification, but one might not be able to understand from where to begin. Here is something that will help you prepare for SAP HANA certification:
Let's know what is SAP HANA
If you have just come across this four letter word, then know what exactly HANA is. SAP introduced HANA on the basis of in-memory technology. With this, customers were able to analyze larger volumes of data in a matter of few seconds. HANA certification is quite expensive. Hence, it is advised that candidates who are deciding to opt for it should clearly learn about it in detail. This certification is unique and offers vast career opportunities. In spite of this, it is advisable to talk about the course with an experienced HANA consultant before opting for it. Also, one should plan for performing real-time developments upon SAP including BusinessObjects, ABAP and BW. This proves to be quite useful. You also need to decide upon your expertise. You can refer list of popular SAP HANA certification and respective URL to refer its syllabus
Selection of SAP HANA Career
As a platform, SAP HANA certification can be categorized into three different areas viz. Administrator, modeler and application developer.
An administrator is one who is responsible for SAP HANA database installation and configuration along with database maintenance, monitoring, backup and restore and user management as well.
Whereas a modeler needs to have an idea about several data provisioning techniques that are available to bring data from varied sources to SAP HANA. A modeler also needs to build information models i.e. modeling objects based on requirements of the business and involve in performance tuning, different reporting tools, data security that can connect to SAP HANA and many other things.
An application developer is one who needs to work on programming languages viz. Jquery, Java Script, HTML and other languages for building web applications that run on SAP HANA Database platform.
How to prepare for the SAP HANA Certification?
Here are a few steps that will help you prepare for the SAP HANA certification exam.
First, you need to source the list of all the topics that are covered in the exam. When you are aware of the topics and areas that are tested in the exam, you can perform better. You also need to know how the exam is distributed among the topics. For this, check the official link of the examination.

Second, you need to decide if you will take the SAP course or will opt for self-study for the examination. There are several sources available, online and offline, that will help you in self-preparation for the examination.

Third, you need to source information regarding different things related to the SAP exam like the time duration, a number of questions that are asked and the percentage required for passing the same. For this, you need to check the official link.

Fourth, you need to perform good practice on this site with real time scenario based questions which are hard to crack in an exam. This gives you an idea on how to prepare for the examination in a better manner.

Fifth, you need to read blogs and sources of information related to the study that is available online. Read about the experience of the candidates who have already passed the exam. This will help you get an idea of what to expect in the examination and prepare for the same accordingly.

Sixth, you need to practice and practice more for the examination. There is no alternative to hard work when it comes to preparing for SAP HANA certification. You need to read all the documents thoroughly and get familiar with HANA, HANA studio and other related. Practice on the same as much as possible. Hands-on experience is very important as most of the questions asked in the exam are scenario-based. When you have the good practice on HANA, it becomes easy to answer such questions.

And in the end, you need to check all the documents related to the certification exam. There are sources available on how to register for the exam, purchase training, know e-learnings and even manage the training on the official website of SAP HANA certification.
Is passing the exam enough?
No, just passing the exam with required cut-off is not sufficient. Try to achieve max score, which can help you to clear all doubt and make your firm understanding on respective subject defined in the syllabus. Online practice exams for SAP HANA certification is the best way to clear all doubts and provides a platform to identify your weak areas.
SAP certification exam concentrates more on the detailed conceptual ability. You need to master technical syllabus for clearing the exam. However, you should aim for a long-term career and gain knowledge for the same. For this, it is necessary that you perform real-time full-scale implementation project. This helps in expanding your knowledge and skills on the subject, and you gain overall problem-solving ability.
Choosing the right institute
SAP HANA is a very popular course, and many institutes are offering the course. You need to choose an institute that offers you complete training; an SAP authorized training center is the best. While picking, you need to compare the syllabus from the SAP training. The most preferred choice for this certification should be e-learning along with a full-scale project. The website of the institute must be checked for relevant blogs and white papers. Planning is a must for HANA certification, and hard work in the same will help you build a great career. Instead of copying others, you need to differentiate between the black and white and choose what suits you in the end.