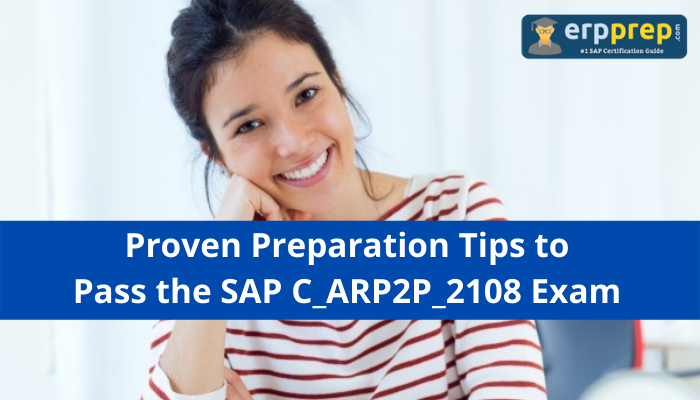 Are you looking for the C_ARP2P_2108 exam acing materials? Here is the helpful study guide and practice test material for maximum benefit. Go through the article to gain clarity on the C_ARP2P_2108 certification.
What Does the C_ARP2P_2108 Certification Check?
C_ARP2P_2108 or SAP Certified Application Associate – SAP Ariba Procurement certification exam checks if the candidate possesses the basic knowledge regarding SAP Ariba Procurement solutions. This certificate also proves that the candidate possesses an overall understanding of the SAP Ariba Procurement application consultant's profile and can use his practical knowledge in projects under the observation of any senior consultant.
Is the C_ARP2P_2108 Certification of Entry Level?
The C_ARP2P_2108 certification is suggested as an entry-level qualification to help consultants to get accustomed to the basics of the SAP Ariba product line.
The C_ARP2P_2108 version of the exam is part of the Stay Current with SAP Global Certification program. Once a candidate passes this version of the exam, he must make sure to start his stay current process with the subsequent quarter. The candidate will be needed to take the quarterly Stay Current Assessment for all related SAP Ariba Procurement solution releases through the SAP Learning Hub to maintain his SAP Ariba Procurement business consultant certification status and badge.
Syllabus Topics Covered under the C_ARP2P_2108 Exam:
A candidate needs to learn the following topics to pass the C_ARP2P_2108 exam-
Administration

Guided Buying

Invoicing

Contract Compliance

Buying

Integration

Consulting
What Are Some Useful Preparation Tips to Pass the C_ARP2P_2108 Exam?
Register and Start Your C_ARP2P_2108 Preparation:
Pearson Vue administers the C_ARP2P_2108 exam. Get started with the registration process to plan an effective study schedule. Once you choose an exam date, you know exactly how much time you have to prepare for the exam.
Gain Confidence about the C_ARP2P_2108 Exam:
An aspirant must be confident about the C_ARP2P_2108 syllabus topics. The success in the C_ARP2P_2108 exam success depends on covering the syllabus topics thoroughly. Attempting the C_ARP2P_2108 exam questions is highly associated with your knowledge. The more you learn the syllabus topics, the more you can get your certification with ease. SAP syllabus is divided into equal percentages, and you can face questions from each section. Therefore, focus more on learning the syllabus topics from the core.
Have A Realistic C_ARP2P_2108 Study Schedule:
A candidate must make a realistic study schedule to ace the C_ARP2P_2108 exam. There is no need to devote your whole day in exam preparation; keep the schedule realistic and devote two to three hours daily in a productive manner to cover entire syllabus sections. Have a target of covering two to three topics, daily but remember some topics could feel hard and take more time to cover. In any case, try to follow your schedule rigorously to get prepared well for the exam.
Learn from the SAP Training:
SAP Training could be helpful to boost the confidence of a candidate. Avail of the training to gain clarity on the practical aspects of the exam.
Enroll for Practice Tests:
Join a C_ARP2P_2108 practice test to evaluate your preparation level. The time-based C_ARP2P_2108 practice test helps a candidate to learn about the areas he can't answer. Not only this, the assessment through practice tests help to level up your confidence in no time. A candidate learns about time management through certification knowledge.
What Is SAP Ariba Procure to Pay?
SAP Ariba and procure-to-pay software solution with SAP Ariba automates the entire purchasing life cycle and offers users one place to search for indirect services and goods. These services include requisitions, managing catalogs, and POs to receiving goods and paying invoices that a candidate can deliver to his organization.
Benefits of Using SAP P2P:
Get Improved User Experience:
With guided buying that is as comfortable as online personal shopping; service entry sheets that are user-friendly; and customized currency, and dashboard settings that help users do their works better.
Improve Control and Visibility:
Blending the procure-to-pay method end-to-end with Ariba Network gives a user greater insight through workflow, comprehensive spend analysis, and reporting, even when operating multiple ERP systems. Manage team members, documents, tasks, messaging, approvals, sub-projects, and transactions more efficiently and effectively.
Save Costing:
SAP P2P policies are built into the guided buying process and budget checks that can be done during the shopping and approval process to help realize sustainable costings. The spot buys capability allows you to more efficiently manage spending on non-sourced goods, those one-off or emergency purchases that can be so hard to maintain.
Greater Productivity and Efficiency:
Getting yourself out of paper-heavy methods through automation helps minimize errors, gear up approvals, and free up team members to focus on more strategic solutions.
Bottom Line:
Getting the associate-level certification is always a booster for your career. A candidate earns knowledge from the C_ARP2P_2108 certification and proves his potential knowledge to employers. Therefore, get ready and grab it.