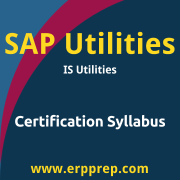 You can collect all the information about SAP ISU Certification Exam (C_FSUTIL_60) from this page. The SAP ISU certification is mainly targeted to those candidates who are from SAP for Industries & business consulting background and wants to build their career as a SAP ISU consultant. The SAP ISU Certification Exam verifies that the candidate possesses fundamental knowledge and proven skills in the area of SAP IS Utilities. This exam validates that the candidate has a good and overall understanding within this consultant profile, and can implement this knowledge practically in projects under guidance of an experienced consultant.
SAP ISU Certification Details:
SAP ISU Certification Exam Topics:
C_FSUTIL_60
Topic Areas

Topic Details, Courses, Books

Weighting

Billing and Invoicing

Create billing rate categories and rate types, define billing rates, prices and discounts. Process an individual bill. Process an invoice.

IUT110 (EHP7 FOR ERP 6.0)

> 12%

Create master data

Create technical master data objects and business master data objects. Adapt and enhance data objects for complex requirements and create master data for deregulated markets.

IUT210 (EHP7 FOR ERP 6.0)

> 12%

Customer Service

Log remarks about customer contacts and interaction records, process move-in and move-out requests, and create a service order.

IUT110 (EHP7 FOR ERP 6.0)

> 12%

Configure basic functions

Create regional structures, set up scheduling, create agent determinations, set up batch scheduling, and set up standard reports for financial reporting.

8% - 12%

Device Management: manage devices

Display all devices for a customer and identify the device categories, and view the device connection data. Install, remove and replace a device, and determine device location.

IUT110 (EHP7 FOR ERP 6.0)

8% - 12%

FI-CA: Manage payments

Display the dunning history of a contract accountand create an installment plan. Display financial information about a customer account.

IUT110 (EHP7 FOR ERP 6.0)

8% - 12%

FI-CA: Post items

Post receivable items, payments using a payment lot, and payments at cash desk. Post a return.

IUT110 (EHP7 FOR ERP 6.0)

8% - 12%

Validate integration

Test integration with SAP General Ledger and integration with SAP CRM.

IUT110 (EHP7 FOR ERP 6.0)

8% - 12%

Device Management: process meter readings

View meter reading results and process scheduled and un-scheduled meter readings.

IUT110 (EHP7 FOR ERP 6.0)

< 8%
The SAP Education has created this certification exam for the assessment of SAP skills, such assessments are defined based on the understanding of SAP IS Utilities. The SAP offers certification for associate, professional, and master levels, they have defined this certification levels considering the candidate's actual experience and domain expertise. To ensure success in SAP ISU Certification Exam (C_FSUTIL_60), SAP recommends combining education courses and hands-on experience to prepare for your certification exam as questions will test your ability to apply the knowledge you have gained in training and professional experience.