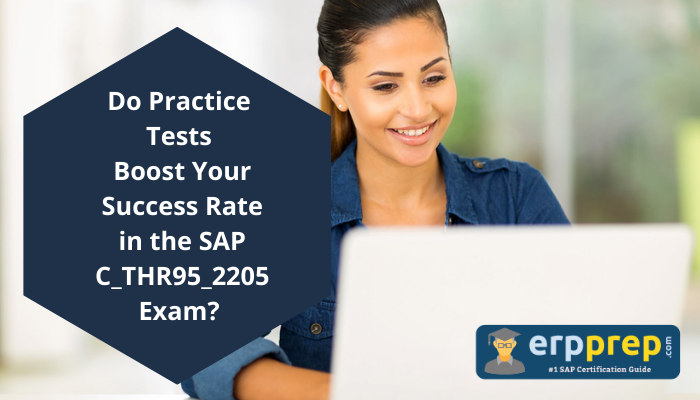 What is the best path to success in the C_THR95_2205 exam and earning the SAP Certified Application Associate - SAP SuccessFactors Career Development Planning and Mentoring 1H/2022 certification? The best path is to study hard and incorporate proven practice tests in the preparation.
Overview of the C_THR95_2205 Certification:
C_THR95_2205 or the SAP Certified Application Associate - SAP SuccessFactors Career Development Planning and Mentoring 1H/2022 certification exam is all about confirming the candidate's basic knowledge about the SAP SuccessFactors Career Development Planning application.
The C_THR95_2205 certification proves that the candidate possesses the basic and overall knowledge about the consultant profile of the industry solution and can practically use his expertise in projects under the guidance of a senior consultant.
Target Audience for the C_THR95_2205 Certification:
If you are interested to learn about SAP SuccessFactors Career Development Planning and Mentoring, the C_THR95_2205 certification is for you. The C_THR95_2205 exam is entry-level; therefore, anyone can take this exam.
What Are the C_THR95_2205 Syllabus Topics?
The C_THR95_2205 exam covers the following topics-
Learning Activities

Career Paths v2

Career Development Planning Permissions and Provisioning Enablement

Mentoring

Career Development Planning Tools

Career Worksheet v12

Career Development v12 Template
Preparation Tips to Pass the C_THR95_2205 Exam:
Stay Assured to Take the C_THR95_2205 Exam:
Once you are assured of taking any exam, you can put maximum effort in the exam preparation. Taking the registration puts you in that position. Many aspirants plan for an exam and might back out due to overwhelming challenges. But, when you get registered with Pearson Vue, your money gets involved in the registration process, which could make you a bit serious about the exam preparation. Therefore, make registration a priority, and proceed seriously for the exam.
Understand the C_THR95_2205 Syllabus Topics from the Core:
Understanding the syllabus topics is essential, irrespective of the level of the certification. The syllabus distribution of the C_THR95_2205 exam is so that it requires us to learn from all the sections. Therefore, try understanding all the syllabus domains and make your learning effective with writing practice. If you are strong enough in the understanding of the syllabus domains, that will help you to work better as a consultant.
Proceed with Study Plan to Cover the Syllabus:
While doing the preparation for the SAP C_THR95_2205 exam, one must make a study plan at the beginning to have a stress-free study schedule. For more productivity during the study hours, you must chalk out the daily topics and work on them with utmost devotion. Try to follow a daily study schedule that mentions your study time and topics, all in one place. Following the study schedule would help you stay organized till the actual exam day. Remember that schedule making is helpful, but one must follow the study chart rigorously to earn maximum benefits.
Prepare from Sample Questions to Maximize Your Knowledge:
You should not stop yourself from learning from the syllabus topics only. Once you get knowledge from the syllabus topics, your next task should be to maximize the learning from other materials. C_THR95_2205 sample questions are one of the best resources to help explore the syllabus domains from a broader perspective. You can learn new things, or you will be confident in solving the sample questions.
Join the C_THR95_2205 Training:
Earning practical knowledge is essential if you want to earn success on your first attempt. You need to be strong in both theoretical and practical aspects to ace an SAP exam. Therefore, join the practical training and take one step towards success.
Check Your Preparation Level through Practice Test:
Before you get to the actual C_THR95_2205 exam, do not forget to check if you are prepared enough to take the C_THR95_2205 exam. Performing online C_THR95_2205 practice tests would help you in this regard. Online practice test exams are designed mostly by industry experts and are time-based, so you face an actual exam environment while solving them. Work on the valuable insights offered in the result section to improve further in the guided domains.
What Is SAP SuccessFactors SuccessFactors Career Development Planning and Mentoring?
SAP SuccessFactors Career Development Planning and Mentoring is a solution that helps organizations minimize risk by developing the needed talent to achieve today's business goals while offering the visibility and planning possibilities necessary to support future growth.
Benefits of Using SuccessFactors Career Development Planning and Mentoring:
The solution helps uncover hidden talent through a companywide talent search leveraging complete employee talent profiles.

Organizations can identify employee competency and skills levels with easy-to-use assessment tools.

With SuccessFactors, they can accurately identify top (and bottom) performers using a configurable nine-box matrix.

Objectively assessing employee performance vs. potential with dynamic, drag-and-drop calibration is easy.

Evaluate the risk and impact of crucial talent loss, and get visibility into your bench strength.

Empower employees to explore career paths proactively, look for readiness, and address gaps through targeted development plans.

Speed up development and foster growth with intelligent mentoring programs that automatically match mentees and mentors.
Bottom Line:
If organizations want to excel in today's competitive global market, using SuccessFactors Career Development Planning and Mentoring solution is beneficial. Because organizations that successfully sort out their next generation of talent and engage and retain current employees can create a distinct business benefit. Therefore, get the C_THR95_2205 certification and take one step forward for a fruitful career.