A firm or company either a manufacturing or production unit, or otherwise a trading and supplying one needs a stock place, accounting the stock both of raw materials and other inventories. Inventories may be those utilized for production spots or the finished ones which have to be transported.
All these need to be accounted for and to be under the purview of the planners in the firm who look after the demands and supplies, purchase raw materials and account all type of inventories. Right from the day of accounting inventories in an arithmetical way to the present day of robots and sophisticated software inputs, the management of stores or inventories is known as warehouse management, which is a strong branch of the supply chain management.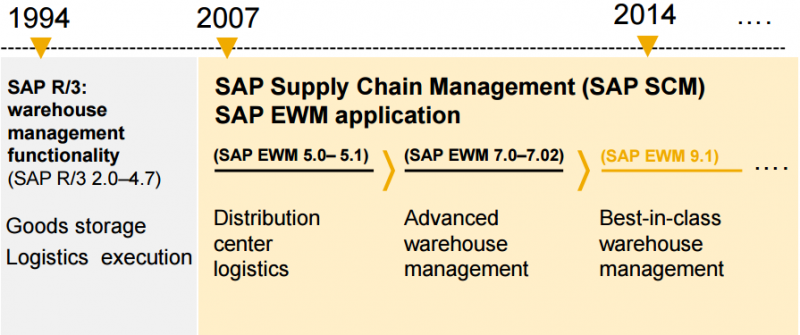 Present day managerial task, to establish business success ensures the right speed of flow of information on demand and the market target, secondly the data on the products in progress and the completed and the flow of the money from end user and the investor to meet out these jobs.
The warehouse management keeps its success story on the above the three flow perceptions in general. A lot of developmental studies have been done on this ware house management and software leaders of the world give a lot of inputs through their expertise, research and development based on the feedback from warehouse point to the retailer end.
What is SAP EWM?
This is not anything quite different from the normal warehouse inventories accounting and data management. It is only the developed software approach of the inventories' accounting with logistics support from and to the warehouse.
Known as Extended Warehouse Management this application software gives links to all its potentially related branches viz., factory unit of production, store for raw materials, delivery spots, logistics or transporting unit from factories, accounting of all these functions and the details of the destination.
This application software SAP EWM rests the managers the required input with most accuracy on raw materials in hand, demand details, available logistics support and other related information. This makes the business people make correct and required decisions for movements of products, so that the Supply Chain Management functions effectively.
The SAP EWM application is not static and the software has been designed to accommodate all inputs in a flexible manner. This has been loaded in a way that it caters to the needs of so many branches and the end users at various places. The input from each one of them is synchronized and if necessary indicate the necessary step to be taken with caution.
The program is foolproof to that level that every second of time the input from the data loader is updated to make the responsible person to know the position of the stock in hand, inventory in the work in progress, products in the shipping process and the delivered quantum which shows the money to come.
In a way, it can be understood, the EWM of a leading software company like SAP, optimizes the available time, manpower, money and other resources and most importantly the logistics support in the best possible fashion.
Since the market was highly competitive, and to make the functions of various branches in warehouse management, SAP, after its research findings brought out its SAP EWM, which is presently operated by companies worldwide. In a way it can be told that global level traders wanted the optimum utility of stocks and inventories and they have found this EWM a boon to their business needs and success.
Why business get benefited with SAP EWM solution?
There are very many small, medium and giant size software application providers globally, and it is an established fact that SAP, for more than four decades has been providing a lot of new application software and various platforms for uploading and operation for different business kinds and trades people.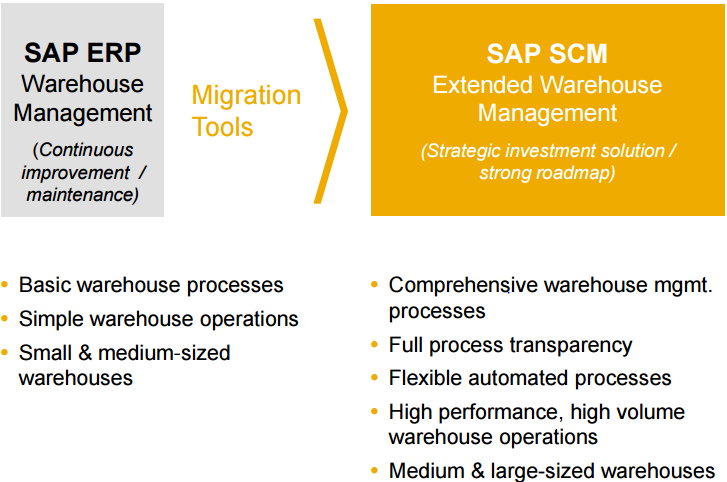 Interestingly it is noticed that SAP has been providing new platforms for legendary software giants also for their enhancement. In such a way, when warehouse management had been handled by different software applications, SAP had brought out their new product of software called SAP EWM, which has been found by the global business community.
A business statistics confirm that SAP's warehouse management system has got nearly 5000 business and trade customers worldwide and it goes on. The success story began with the new research findings of SAP people in getting the feedback of the problems encountered in warehouse data compilation and solutions.
The multi level data of stock and inventories at store, at work in progress and at shipping process posed problems and SAP found out the EWM as their warehouse management solutions. SAP did not design the EWM to replace the existing warehouse management applications, but made visible and result oriented corrections to that and it became vibrant and successful.
In the Supply Chain Management which is the logical measurer of logistical activities of the finished products, EWM has been made as one of the finest of SAP's programs. From 2007 onwards, this has been delivered to so many companies of small and giant size companies.
SAP EWM had been designed to accommodate the possible changes if found necessary to overcome deficiency of any kind understood by the practical actions. The actual users of this application indicate that this Extended Warehouse Management offers them transparent and no-frill data on stock in hand or raw materials in hand.
The feasibility of accounting and financial angles mingled in this management comforts the planners to have their best decisions. The end support of SAP clears ambiguity from the customers also. With more inventory control out of this software process of SAP, cost cutting is possible and optimum utilisation of resources is assured too.
What are career opportunities with learning SAP EWM?
Those who have got SAP environmental knowledge of different things do not find any difficulty in any industry or manufacturing unit or corporate institution, since the knowledge thus possessed gets them the key to solutions of various kinds at the given times and places.
The confidence level of such persons compared with others are said to be high. This is the best known reason that people of SAP applications find their career building or career fixing very easy and positive. Warehouse management is an abstract phrase if the latest applications in that branch of industrial activity are not properly thought of.
SAP EWM Certification and related training facilities fulfill the skill set into desired candidates. Elaborated and extended training program leads candidates for enhanced knowledge. It facilitate practical session with complete business scenario aims to explain all functionalities of SAP EWM package. SAP EWM Certification online practice exams helps candidates to prepare to face all possible questions in final exam.
SAP EWM on that matter has not been probed and researched by any other company as SAP. The German software legends have made their EWM application suitable to small, medium and big size industries and corporate.
This made the job seekers to seek and possess SAP EWM and get lucrative placements in USA, Canada and many parts of Europe. India is the latest destination people are turning more towards SAP ERP and SAP EWM.
Since SAP EWM has made the learners to have multi level and cross functions within and outside the premises of an industry, they are supposed to have the most advantageous skills and cater to the needs of the trade. This is also one of the strongest reasons where manufacturing is undertaken, or inventories are stored and distributed, SAP EWM hands get a preferred signal than others.
With more than 5000 customers world wide, and the customers' base is in almost all developing and developed countries, and they are of small, medium and big units, the career opportunities for SAP EWM knowledge is only best assured. Also, the scientific environment of warehouse management under an-all inclusive and precise software guarantees that.