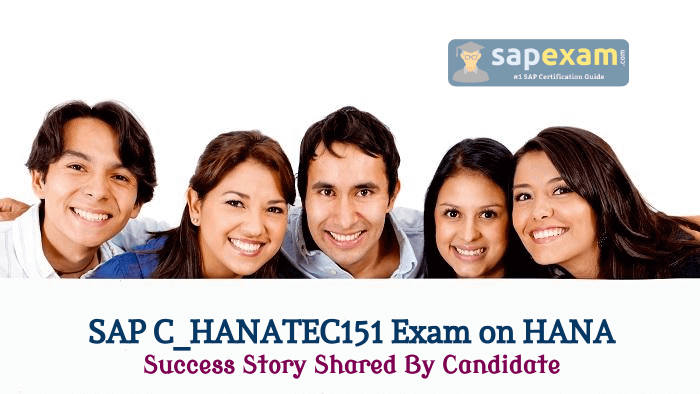 Ravi Srinivasan is from Chennai. We really appreciate his feedback on SAP HANA certification (C_HANATEC151). He has shared his experience here.
You can also share your certification experience with other if you have cleared your SAP certification exam. Your minor effort will really guide other participants to understand the SAP certification exam pattern.
About the certification center
Name of Center:
Dexler Information Systems, Bangalore, India
(In his words) "I have attended the SAP exam in the almost 30+ members capacity room with two instructor and wonderful environment including the proper systems allocation."
About Certification
Name of Certification: C_HANATEC151 - SAP Certified Technology Associate - SAP HANA (Edition 2015)
Format of Certification Exam:
(In his words) "The two types of questions are provided in the exam such as Single answer system using Option button and More than one answers using Check box. Totally, 80 questions in 3 hours. Minimum pass requirement is 60%. Score is calculated according to the cut off marks from each and every topic in the syllabus."
His Experience During the Exam:
(In his words) "I was very stressful before attend the C_HANATEC151 because of pattern of the questions especially more than one answers needed. I have prepared all the topics in the syllabus and ready for the exam Even though I struggled in the real time practices with the scenarios."
(In his words) "Fortunately, I came to know about SAPEXAM.com before go for the real time exam from one of my friend's suggestion. Really, It was very useful to handle the pressure in the exam and get more score with C_HANATEC151 online practice exams.
I have prepared the syllabus using the books provided by SAP and I have practiced the Online premium Exams in SAPEXAM.COM. I would Suggest SAPEXAM.com for who are all going to take up the SAP HANA C_HANATEC151 Certification exam."
His Result: He has passed SAP HANA C_HANATEC151 certification with 90%