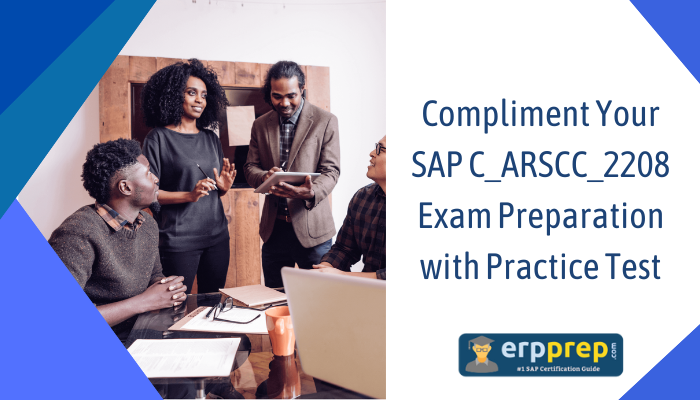 SAP Ariba Supply Chain Collaboration puts together SAP's supply chain expertise and SAP Ariba's network of customers and suppliers to digitize straight materials and supply chain collaboration. By passing the SAP C_ARSCC_2208 certification exam, you can learn the core objective of the SAP Ariba Supply Chain Collaboration tool in the world of SAP logistics. Explore how the purchase-to-pay (P2P) procedure works utilizing Ariba, and explore exceptional supply chain functions such as supplier-managed inventory (SMI), subcontracting, consignment, and third-party warehousing.
Overview of SAP Ariba Supply Chain Collaboration C_ARSCC_2208 Certification Exam
The SAP Certified Application Associate - SAP Ariba Supply Chain Collaboration exam confirms the applicant's basic and core knowledge required for an SAP Ariba Associate Business Consultant profile.
SAP Ariba Supply Chain Collaboration Certification confirms that the applicant has n comprehensive understanding of participating as a project team member. SAP C_ARSCC_2208 certification exam is favored as a qualification to partake in all SAP Ariba Supply Chain Collaboration design and implementation assignments.
The exam comprises 80 questions. The exam duration is 180 minutes, and you must score at least 63%. The registration fee for this test is $536.
The intention of each SAP C_ARSCC_2208 exam question is to gauge your skills and knowledge in different professional areas. The topics include:
Purchase Order Collaboration (> 12%)

Subcontracting and Multi-tier (> 12%)

Supplier Managed Inventory (> 12%)

Quality Collaboration (> 12%)

SAP Ariba Supply Chain Collaboration Overview (8% - 12%)

Forecast Collaboration (8% - 12%)

Scheduling Agreement (8% - 12%)

Returns (< 8%)
Tips to Pass SAP C_ARSCC_2208 Exam
If you want to crack the SAP C_ARSCC_2208 exam smoothly, there are particular things that you need to know.
1. Know the SAP C_ARSCC_2208 Exam In and Out
First of all, learn about the exam. If you take the SAP C_ARSCC_2208 exam, you need to know every detail about the exam. Without knowing these key points, it will become quite challenging for you to design a preparation schedule. The SAP C_ARSCC_2208 certification exam isn't a walk in the park, which is why any information you get about the exam will be beneficial. One of the first things you need to know about the exam is its structure and syllabus topics.
2. Devise a Study Plan
Many different objectives are part of the SAP C_ARSCC_2208 exam, and it is essential to cover them as swiftly as possible. With so many exam syllabus topics to master, it will be tough for you to manage your work life and studies. That is why you should design with a realistic plan. Make sure you stick to your schedule strictly. Start preparing for the exam as soon as possible.
3. Obtain the Appropriate Study Resources
To do well on the SAP C_ARSCC_2208 exam, you need to have the right study resources. The availability of study resources for the SAP exams is plentiful, and you won't have to worry about it. If you explore the official SAP website, you will find many learning options. This includes materials such as study guides, recommended training, and books.
4. Use SAP C_ARSCC_2208 Practice Tests
Practice tests are created to help you identify what topics you've mastered and which ones still require more attention. If you attempt the actual SAP C_ARSCC_2208 exam without taking any practice test, you are at risk. So, if you want to pass the exam on the first try, take as many practice tests as possible.
5. Time Management Is Crucial
Moreover, you may think that answering 80 questions within 180 minutes will be simple, but this is not true. The SAP Ariba Supply Chain Collaboration exam questions can become difficult and time-consuming, so if you begin to waste precious minutes or even seconds, it will harm you in the end. One of the best means to take the exam is to ensure that you start by answering the easy questions first. Don't waste much time on tough questions because it isn't worth it. Instead, you should move on to the next one and revisit the previous one if you have the time left.
6. Give Yourself A Break
One of the essential things throughout your SAP certification exam preparation process is not only to load yourself with loads of information but also to take breaks and give yourself days off. Make your schedule so you can deal with all the studying without stressing yourself. Make your first days of learning by gauging yourself. Add some practice tests and books for a start, and try to study for two hours every day. You need to determine if it will be appropriate for you or not, try to modify the assigned time and add some breaks or conversely. You need to discover which style and format of learning will be perfect for you and then follow it at any cost.
Conclusion
Passing any SAP certification exam can be a difficult ask. Without the appropriate preparation tools, it could be a bit of a challenge. However, Erpprep.com delivers you more than just a confidence boost as it can significantly increase your odds of passing the SAP C_ARSCC_2208 exam on your first attempt by providing updated practice tests. With such a helper, you'll become a step closer to earning SAP Certified Application Associate - SAP Ariba Supply Chain Collaboration certification.