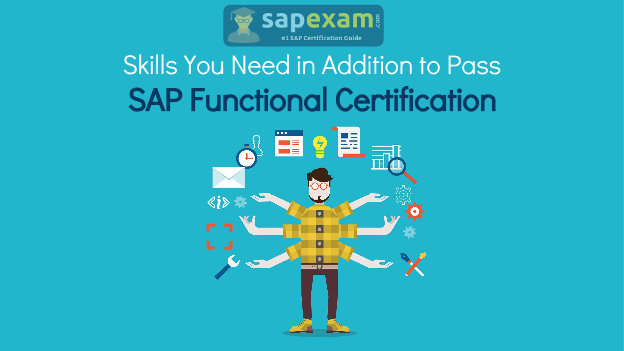 SAP Certifications which are based on ERP solutions, typically SAP functional modules. Enterprise Resource Planning that lets an organization to succeed data bases for dissimilar procedures from a single combined system. ERP system was established originally to achieve inventory control, but over the years; various software was established for multiple classified processes in a company for better data organization and work process.
Today, there are many top providers of ERP system and SAP is leaders in building business software towards organized effort and data processing in organizations. SAP is founded in 1972 and many SAP ERP processes units has appeared that are intended directing on numerous dissimilar processes including SAP ERP sales and marketing, sales and distribution, customer relationship management, financial management with controlling, business intelligence and more. Let's get an overview of few of the SAP functional modules.
SAP has developed smart education with robust training program and certification system to meet their huge demand of professionals. These certified professionals supply their service where SAP implementation are going on with the help of SAP partner channel.
SAP consultant qualifies as one of the highly in-demand jobs in this domain. To become a SAP consultant, you need to have a lot of dedication, commitment, expertise and have to put in lots of effort. Following are skills each functional consultant need to develop apart from their academic qualification
Business knowledge
SAP professionals are expected to have knowledge regarding processes surrounding each business function. Along with having thorough business process knowledge, it is also important to understand the business flow.
Configuration Skills
You need to have a thorough understanding of the system, not only from the system's point of view but also consider the impact from the end user's point of view. Try to configure systems as much as possible and explore the various options available in the system, so that you can also master the troubleshooting skills.
Communication Skills
About 90% of your success depends on your communication skills. Being a SAP professional, being good at spoken English is not enough; you ought to be able to communicate using business and technical language terminologies. Also, you have to have good command over technical aspects. Apart from possessing system knowledge, it is also important to have the ability to listen, analyze and communicate effectively. Also, business writing is one the key skills that SAP professionals must possess. Creating clear, concise reports play an important role while working as a SAP professional.
SAP has defined training and certification to develop a better understanding of business requirement and how to fit business process into the respective functional module of SAP. Due to this reason SAP has defined mandatory training followed by certification in few region to filter huge applicants for certification.